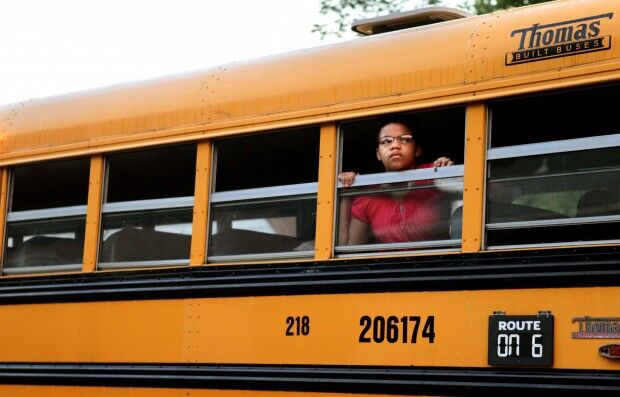 JEFFERSON CITY — Frustrations with education during the COVID-19 pandemic have added urgency to some Missourians' calls for increased school options.
During a Missouri Senate Education Committee meeting Tuesday, parents told stories of special needs unmet, failing school districts and difficulties adjusting to online learning. They spoke in favor of legislation that would expand charter schools and use tax credits to encourage scholarship funds.
Proponents of the proposals suggested they could improve accountability for public schools by increasing competition, while opponents argued that the legislation lacked sufficient oversight and testing requirements.
Sens. Bill Eigel, R-Weldon Spring, and Andrew Koenig, R-Manchester, both filed legislation that would establish the Missouri Empowerment Scholarship Accounts Program.
The scholarship accounts "really empower parents to be able to customize their child's education," Koenig said. While public schools work well for many children, some are failing and others might not be a good fit, he argued. "All schools can't be all things to every child."
Under Senate Bill 23, sponsored by Koenig, taxpayers who donated to "educational assistance organizations" could receive a tax credit of up to 85% of their donation.
The organizations would then provide scholarships to qualified students enrolled in approved schools, which normally could not be the public school district where they reside or a charter school. Home schools and in-state private schools could qualify.
Senate Bill 25, sponsored by Eigel, proposes a similar program, but with a 100% tax credit and broader eligibility requirements.
Eigel's proposal also would allow charter schools in the state's four charter counties — St. Louis, St. Charles, Jefferson and Jackson — and any municipality with 30,000 or more residents. A fiscal analysis of the bill found that it would allow charter schools in an additional 56 school districts and could divert more than $100 million from traditional public schools.
Charter schools are publicly funded and there is no cost to attend, but they are not subject to many traditional public school regulations.
At the beginning of the meeting, Sen. Cindy O'Laughlin, R-Shelbina, said Eigel's and Koenig's proposals would be combined into a substitute bill, which was not yet publicly available.
Eigel said during the hearing that it would cap the tax credit at $100 million and build in automatic increases for following years if 90% of the credits were claimed. The legislation also adds the ability to recall school board members and places term limits on members of the State Board of Education, he said.
Some parents and grandparents at the meeting described their relief at having the resources to move to a new district, afford a private school or transfer to a charter school when their child's school wasn't working for them, while recognizing that not everyone can do the same.
Stephanie Bell, a parent from Ashland, said she reluctantly moved her family from Jefferson City in search of better schools.
"There are other parents who are in my position who are unsatisfied and feel like they're not getting quality education, and don't have the option to just pick up and move," she said.
Several senators at the meeting, almost all unmasked, openly sympathized with parents' frustrations. O'Laughlin in particular suggested that schools that refused to offer in-person learning during the COVID-19 pandemic weren't meeting their responsibilities and should be pushed to do so.
Opponents argued it would be hard to compare outcomes for students that switched schools using the Empowerment Program. They also said charter schools created inefficiencies by duplicating services, lacked oversight from locally-elected school boards, could be selective in what students they served and in some cases ranked low in performance.
Koenig raised his voice at opponents as he listed public schools with failing test scores that he said lacked the accountability competition could provide. Charter schools' performance should be compared with the district they were located in rather than statewide, he said, and other solutions hadn't been found for failing public schools.
"There is a way to get students in struggling schools to improve, and it's been done within the public school system," a representative of the Missouri State Teachers Association countered.
Efforts to expand charter schools have stalled in past years, facing bipartisan opposition. Last year, bills sponsored by Eigel and O'Laughlin were approved by committees before the legislative session was derailed by the COVID-19 pandemic.At the end of the meeting, O'Laughlin offered a bill aimed at allowing home schooled students to participate in public school activities.
Two students spoke in favor of O'Laughlin's proposal, which would punish schools that belong to activities associations that exclude home-schooled students or require them to take a minimum number of classes.
Schools that don't comply would not receive funding under the foundation formula, the major way the state distributes money to public schools.