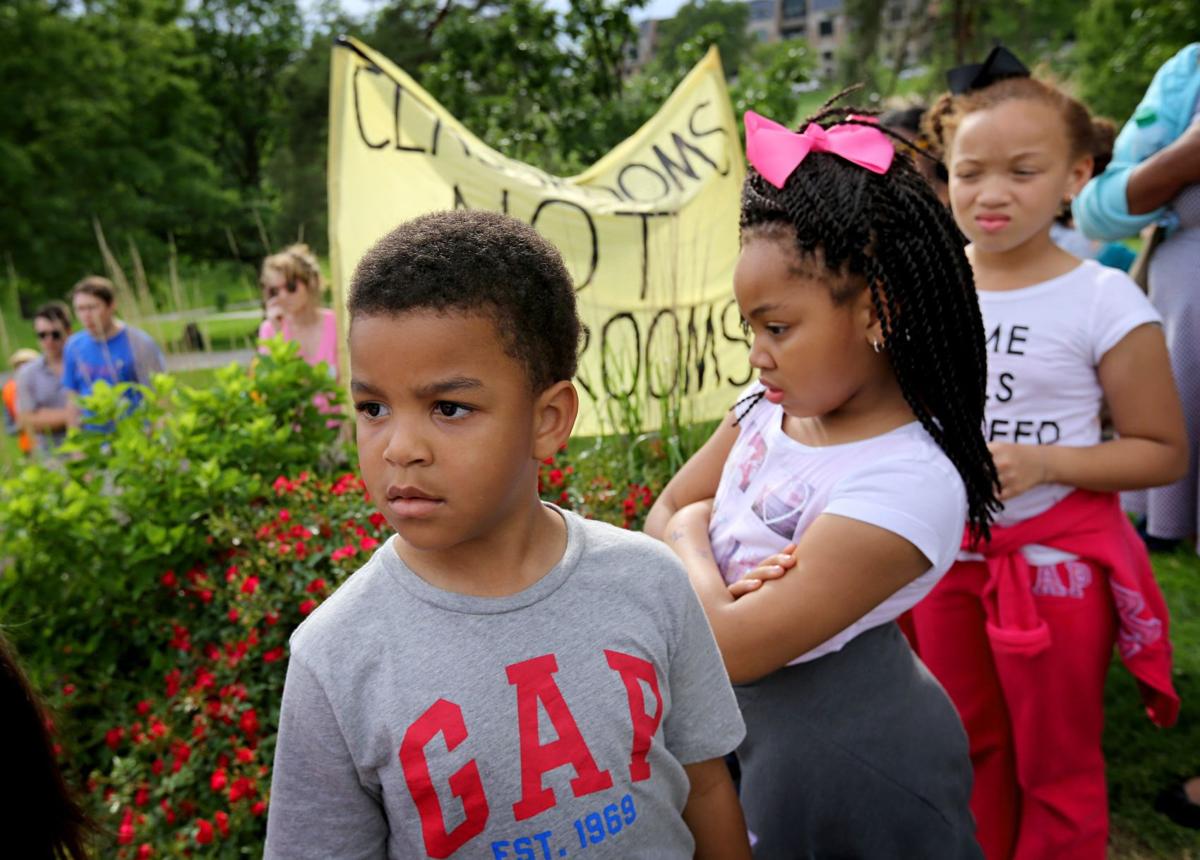 Local school leaders are scrambling to figure out changes to Missouri law coming Jan. 1 that some say could result in students being charged with felonies for bullying or getting into a fight at school.
The changes stem from legislation passed in 2014 that also increases maximum fines for felonies and misdemeanors and creates a fourth degree of assault. The changes do not mention schools, and it's unclear how schools and law enforcement will interpret them. Many school administrators were learning about the changes this week.
Starting Jan. 1, third-degree assault and some cases of harassment will become class E felonies. Harassment will be a felony, rather than a misdemeanor, if the victim suffers "emotional distress" from an act committed with that purpose. The state considers harassment to be a form of school bullying, and harassment is among the offenses school districts are technically required to report to local law enforcement.
At least two area school districts, Hazelwood and Ferguson-Florissant, have already interpreted that definition to mean that any student, no matter their age, who gets in a fight can be charged with a felony.
Both districts issued dramatically worded messages that warn families their children can be charged with felonies for fighting.
"You have the power to decide if you want a good future full of hope and promise or a future with a criminal record that follows you and limits your options. … If you choose to fight, starting Jan. 1, the stakes are higher."
Legal counsel for the Missouri School Boards' Association, considered to be the key legislative adviser for Missouri schools, is worried the changes could criminalize students and reinforce the school-to-prison pipeline — the phenomenon in which youths, particularly those of color, are punished by institutions early on and are more likely to become incarcerated.
"I think that we are working very hard to stop the school-to-prison pipeline, and I think this might inadvertently increase the number of children who are referred to law enforcement," said Kelli Hopkins, a Missouri School Boards' Association attorney.
Hopkins said the term "knowingly" sets a higher standard for what can be third-degree assault. For example, a 5-year-old or a student with special needs might not "knowingly" cause injury to somebody, she said. Generally, courts don't hold children to that standard until they reach their teen years.
Hopkins said she's more concerned about the harassment statute, because harassment, which can include school bullying, soon will be a felony in some cases, and school districts are supposed to report harassment to law enforcement. Because it is so loosely defined, Hopkins said, she is concerned that even calling someone names could technically qualify as harassment.
"This is a serious, serious thing for school districts," she said.
But many school districts haven't indicated that they will change how they report offenses to police.
State law requires school districts to report more than two dozen kinds of criminal acts to police if committed on school property, on a school bus or at a school function. Those include drug possession, possession of a weapon, harassment and assault in the first, second and third degrees.
But many districts handle incidents such as school fights on their own, using discipline and anti-bullying policies. Some also have agreements with police that outline factors to consider before reporting third-degree assault, such as the age and maturity of the students involved, how intentional a student's act was and whether an act was done in self-defense, said Kate Nash, a lawyer at Tueth Keeney, a law firm that works with more than 150 Missouri school districts.
"You want to follow the law and make sure you're doing the right thing, but the law is always open to interpretation," Nash said. "At the same time, educators are balancing the impact this will have on the young person's life."
Schools sometimes leave it up to parents of students involved to decide whether they want to go to police or pursue charges. That was the case when a student put hot glue on another student last month at Ladue Horton Watkins High School, said Susan Downing, district spokeswoman.
"We try to treat our students as children. We look at law enforcement as something that deals mostly with adults," said Sharifah Williams, spokeswoman for Normandy schools. "We don't want to add any more people to the pipeline."
Be the first to know
Get local news delivered to your inbox!