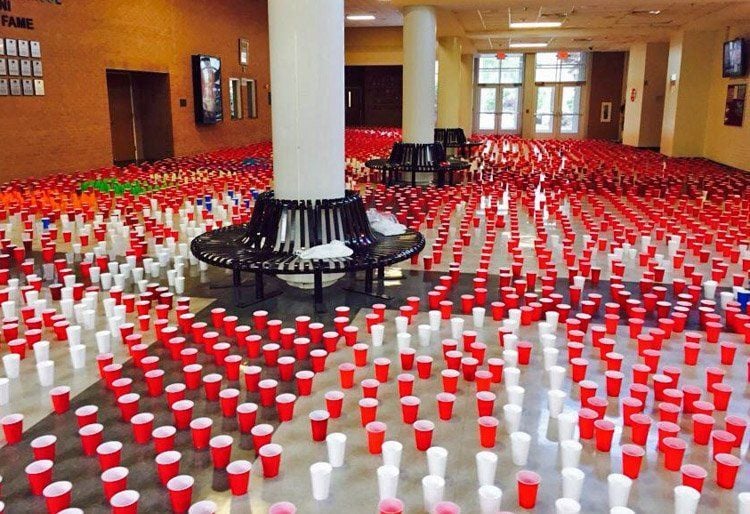 The senior prank has become enshrined in the pantheon of high school rituals, along with prom, homecoming and the commencement speech.
Every year, as graduation approaches, school administrators face a challenge: how to accommodate a healthy amount of teenage silliness in a way that minimizes property destruction.
Most of the time, the jokes stay within the bounds of decency and good humor. A Saran-wrapped car. A stairwell filled with cups of water. A group of students who bring their dogs on the last day of school.
This year, seniors from Holt High School in Wentzville uprooted three 35-year-old trees from planters in an atrium near the school's cafeteria and tried to replant them in a softball field outside.
The stunt late Tuesday or early Wednesday so badly damaged the trees' root structures that they were destroyed. And when property damage occurs, pranks become crimes.
Ten Holt High seniors — all adults — were arrested Thursday and released pending application for warrants.
And that wasn't the only prank that went awry this graduation season.
In Kirkwood, authorities say someone spray-painted signs, buildings and cars Tuesday after Kirkwood High School's annual "Toga Night."
Toga Night is an unsanctioned event when rising seniors play pranks on the rest of the school, Principal Michael Havener explained. He said the school tries to discourage it.
Police are still searching for the culprits, who could also face charges.
Some school administrators have realized it is to their advantage to cooperate with students on pranks, even lending a hand.
Mary LaPak, a spokeswoman for the Wentzville School District, said school officials at Timberland High, another of the district's three high schools, allowed the band to march through the halls playing the anthem "The Final Countdown" by the 1980s heavy metal band Europe.
Kirkwood High School also had an approved prank this year that didn't cause damage.
On Thursday, Havener said students were surprised to find about 2,015 plastic cups filled with water in the school commons that spelled out "SENIORS."
"We do not come out and tell the rest of the students," Havener said. "There's still that surprise factor when students arrive."
With the exception of the Toga Night fiasco this year, Havener said the strategy of collaborating with students on pranks has worked well to reduce destruction.
"I would say there's been instances of odors, dead animals, live animals being placed on campus," he said. "Those stand out the most. However, by coordinating it, we don't have those any longer."
Havener was vague about punishment, saying only that Kirkwood school officials would consider a "wide range" of discipline for any student who was involved in the vandalism.
LaPak also declined to discuss any possible punishment the Wentzville district might impose on the students.
She said that administrators at Holt High had let students know that they would work with them on possible pranks. But that invitation was rebuffed.
"This is not something we obviously had any heads up about," LaPak said.
Neither district could put a dollar figure on the property damage.
The 10 Holt High students were removed from their classes Thursday and taken into custody. Wentzville Police Maj. Paul West said police would release the students' names next week, once the paperwork has been completed.
The trees, called schefflera, or more commonly umbrella trees, cost $100 for a 4-foot-tall tree, LaPak said. But the trees at Holt High were 20 to 25 feet tall — heights that umbrella trees rarely reach.
"They are pretty much irreplaceable," LaPak said.