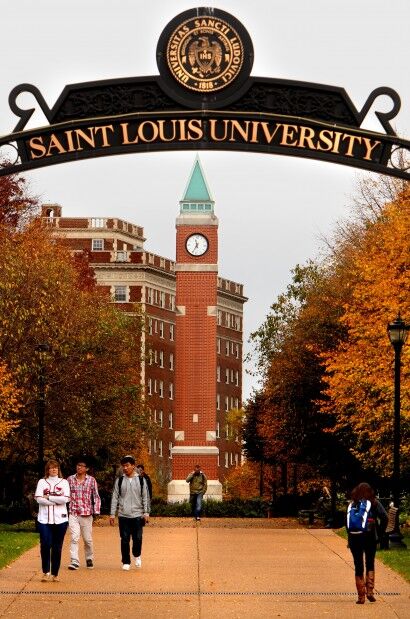 Faculty at St. Louis University have taken a first step toward forming a union, setting the stage for a union election possibly within the next 25 days.
The news came a day after Washington University reached a tentative deal with adjunct faculty for higher pay and increased job security.
The group trying to unionize at SLU is broader. It includes adjuncts — who are part-time employees — and full-time faculty classified as nontenure track instructors.
Union organizers are calling the two groups, together, contingent faculty.
The Service Employees International Union Local 1 has been pushing its unionization campaign throughout the St. Louis area and nationwide for more than three years. On Thursday, the union submitted a petition to the National Labor Relations Board on behalf of SLU faculty.
The NLRB will hold a hearing April 22, during which the union and the university can argue over which employees should be included in the unionization effort.
The university, however, has the option to agree to a union election voluntarily and forgo the hearing.
Either way, NLRB administrator Leonard Perez said there will likely be an election within the next 25 days, barring extraordinary circumstances.
The unionization push among college instructors has been going strong for the last several years, especially among adjunct faculty.
Adjuncts are considered the working poor of the academic community. They typically have advanced degrees but earn less than $30,000 a year and work on short-term contracts.
Many do not know whether they will have a job beyond their current semester.
They represent a source of cheap labor for universities around the country. Some estimates say adjuncts make up as much as 76 percent of the faculty teaching in the U.S. higher education system.
Their full-time counterparts — faculty who are classified as nontenure track — make more money, but in many cases, lack job security and a clear path to promotions.
While the two have not been grouped together for recent unionization pushes at Washington University, St. Louis Community College and St. Charles Community College, there is precedent for it.
Adjuncts and full-time, nontenure track faculty recently formed unions at Loyola University Chicago and the University of Chicago.
Christy Bagwill, a nontenure track chemistry instructor at SLU, said she is among a group of instructors who object to the two groups being lumped together.
As a full-time employee with benefits and a retirement plan, Bagwill said she is not in the same fight as adjunct instructors.
Bagwill's concern is that divisions could arise between tenure-track and nontenure track faculty if a union were to call for a strike or a walkout.
"I'm not for or against what the adjuncts are trying to do," she said. "It's just that I don't think we should be grouped together. It's not my fight."