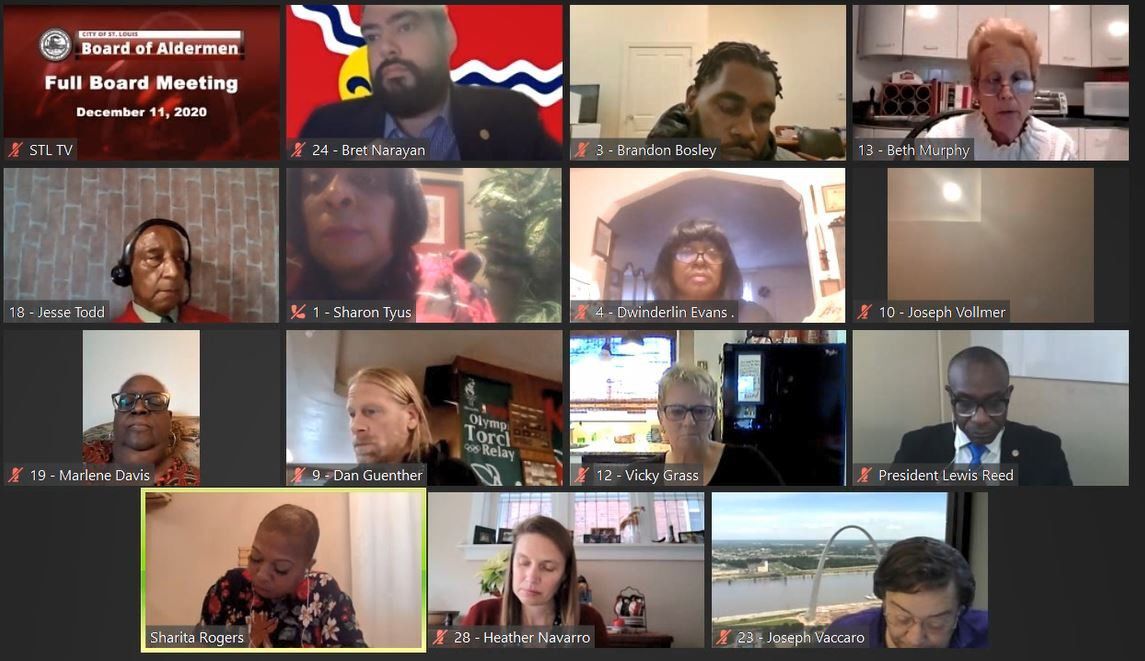 ST. LOUIS — The St. Louis Board of Aldermen overwhelmingly passed a resolution on Friday opposing a proposal to close several buildings in the St. Louis Public Schools.
The resolution also expressed the board's concern about the expansion of charter schools in the city, some believe at the expense of the public school system. The resolution included a seemingly tongue-in-cheek proposal to force future charter schools to open in closed school buildings so they can share the cost of maintaining the buildings "when they close in a few years."
The plan would displace about 2,000 students, with staff members likely filling vacancies at other schools. The closures have been under consideration for years, but the state-appointed school board left the decision to the elected board, which regained control of the district in mid-2019. The district held six town hall meetings earlier this year before the pandemic stalled the process.
On Friday, the aldermen voted 19-1 to suspend its rules to pass the resolution on the same day it was introduced; Sarah Wood Martin, D-11th Ward, voted no, and Annie Rice, D-8th Ward, abstained. The board then passed the resolution in a voice vote without audible dissent. Martin texted a reporter later to clarify that she had voted no, and Rice said she didn't vote.
The resolution emphasized that of the 10 schools slated to close, seven are on the north side. Three of those are in the 4th Ward, including Farragut and Hickey elementary schools and Sumner High School in the Ville neighborhood.
"Your doing this will cause a terrible demise in my ward," Dwinderlin Evans, D-4th Ward, said. "I've got millions of dollars of development that's coming and they want to close my schools. I'm sorry, I get emotional, but this is ludicrous and it shouldn't happen."
Marlene Davis, D-19th Ward, said: "We are trying to grow north St. Louis, and if you don't have a school like the 4th Ward (or) maybe one school, nobody wants to come and invest in your community. Not any type of business. Nobody will want to live in your community."
Sharon Tyus, D-1st Ward, who sponsored the resolution, said, "You should not be able to get rid of Sumner without a fight. It's going to be a fight."
Asked for a response to the resolution, Dorothy Rohde-Collins, the School Board president, said in an email the timeline leading to next Tuesday's vote "was carefully planned with the goal of transitioning students and staff to receiving schools, developing next year's budget, and entering into contracts fully informed."
She added that the board looked forward to future city legislation that would support and protect the city schools "to ensure we are never faced with these decisions again."
The resolution said "the closing of public schools not only disrupts and often has a negative impact upon the education of the students attending those schools that are closed but also often devastates the surrounding community making it impossible to attract proper development or carry out current development plans and leaving big empty properties that become a haven for criminal and nuisance behavior and buildings that are not properly maintained by the School Board."
The aldermen also proposed a solution to the problem of vacant school buildings: require any new charter school that opens in the city to occupy one of the buildings "so that at least when they close in a few years, which many of them have done, they would help maintain the vacant empty buildings owned by the St. Louis Public Schools."
The resolution referred to charter schools as "public schools that are not required to follow some rules and regulations that apply to traditional public school districts but are paid from funds that would be given to the St. Louis City Schools."
Davis said she could see charter school operators opening schools catering to specialties but "we don't need every single solitary school to be charter … that is not right. It is not fair. It is not democratic at any kind of way. And especially because … charter schools don't stay open nor do they perform well."
Charters have a mixed record in St. Louis. About half of the 30-plus charter schools that have opened since 2000 have been shut down for academic or financial failure. Carondelet Leadership Academy was the latest to shutter in June, displacing 400 students and 50 staff members.
Doug Thaman, executive director of the Missouri Charter Public School Association, said charter school operators would love to operate in former city school buildings, but the St. Louis School Board has historically blocked them.
And Robbyn Wahby, executive director of the Missouri Charter Public School Commission, said, "The growth of charter schools is the one thing that has provided options for families to stay in the city and neighborhoods they love and communities they love. I hope this is the first of many conversations about the need for more high quality schools."