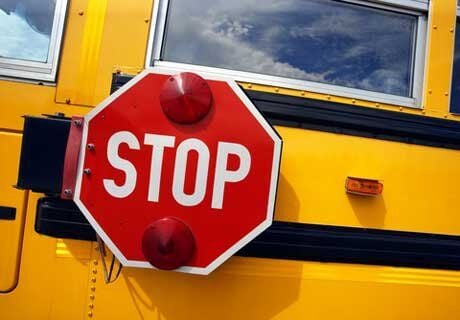 The nation's largest and longest-running school desegregation program that has allowed more than 60,000 African-American students in St. Louis to attend suburban schools over several decades likely will be drawing to a close.
The governing board of the Voluntary Interdistrict Choice Corporation, which oversees city-county transfers, is discussing an option that would greatly narrow the number of new students who would enter the program.
Under the plan, starting in fall 2019, the only children that would be newly admitted would be those with siblings already enrolled. The board is expected to vote on the change this year.
On Thursday, superintendents and representatives of 12 participating school districts gathered in a meeting room at St. Louis Community College at Florissant Valley to begin planning for the expected phase-out.
"It is a legal requirement that the program cannot continue forever," said David Glaser, executive director of VICC.
In the early 1980s, thousands of black children from St. Louis began attending predominantly white schools in St. Louis County as the result of a federal school desegregation lawsuit. The program also allows county white students to attend city magnet schools.
In 1999, St. Louis Public Schools, the state of Missouri and other parties arrived at a federally approved agreement that removed the program from court supervision, with districts continuing to accept new students for at least a 10-year period ending in 2008-09.
Not wanting the program to end, the city and suburban districts have since extended it twice for five years at a time.
The option discussed Thursday would be a final five-year extension, limiting new students to siblings of those already enrolled. All students currently in the program could continue through graduation.
But federal court rulings have stated that race-based programs cannot continue in perpetuity.
"It's done what it's expected to do," Kelvin Adams, superintendent of St. Louis Public Schools, said of the desegregation program. "It's given students in the city the chance to interact with students in the county. It's a program that's been around a long time and that benefits students in both places."
During its height in the 1990s, the voluntary desegregation program was successful in erasing many of the boundaries that separated white and black children who were living in segregated communities in the city and county.
By 1995, 55 percent of the city's African-American students were in desegregated schools, according to published reports from the time. In 1980, that number was 18 percent.
The impact on the suburban schools was just as significant. Many of the 117 suburban schools that accepted transfer students had been racially isolated before the program. Just seven of the 117 had a minority enrollment of less than 7 percent after four years of the program.
"It's sad that it's ending," said Tom Williams, superintendent of Kirkwood schools. "For Kirkwood, having that diversity has been really rich for all our kids."
Mixed results
Across the region, African-American graduates who participated in the program over the years give varied accounts of their experiences. Some remember the cultural isolation. Some talk of the profound impact that their exposure to classmates from different economic and racial backgrounds had on their own trajectory.
Octavia Sanders, who lives in the city and has three daughters going by bus to Parkway schools, said she signed her girls up because of her own experience as a transfer student in the West County district the 1990s.
"I loved it," said Sanders, who does accounting work, during an interview last spring. "It encouraged me to go off and get a bachelor's degree and go further. It definitely opens your eyes to way more possibilities. I knew I wanted to go to college."
Over the years, researchers would evaluate how much better African-American students were faring in county schools. The results have been mixed.
In 2012, VICC released a study that showed transfer students showed little academic advancement in elementary school but showed steady gains in high school in reading and math. In addition, transfer students and magnet school students graduated at twice the rate of other city students, and transfer students continued on to college at far higher rates than those who remained in city schools.
Missouri standardized test scores showed that on average 5,450 African-American transfer students at 13 county school districts had performed better academically than African-American students at the St. Louis district's 74 schools.
But the 7,558 African-American students who attend only the city's 23 magnet or choice schools on average were excelling the most. That data, provided by St. Louis Public Schools, showed that black students in the district's magnet and choice programs outpaced transfer students on eight of 12 measures of the state test that year, as well as the high school English and math exams. Those schools included four in which students must be gifted or have high grades for admission.
In April, the governing board of St. Louis Public Schools approved a $247,000 contract with Jerome Morris, a professor of urban education at the University of Missouri-St. Louis, and the university's Public Policy Research Center to research the effects of desegregation and recommend policy for the region.
Smaller numbers
The number of children involved in voluntary busing today is a third of what it was at its peak year in 1998, when 14,626 African-American children left the city for county schools. White children in participating county districts have been permitted to make the reverse transfer, though have done so in far smaller numbers.
Last school year, about 4,583 black students from the city transferred. About 140 white children from the county were enrolled in city magnet schools.
Several school districts have discontinued accepting transfer students through the desegregation program.
Pattonville, for example, stopped as a result of its own demographic shifts.
Kirkwood, for another, began accepting only siblings several years ago when it became clear that enrollment growth was creating classroom space problems.
Nevertheless, the option to attend suburban schools continues to be popular among black families in the city. Glaser told the superintendents Thursday that there are around 3,000 applications this year for about 650 open seats this fall in county schools. The majority of those spaces are in kindergarten through second grade.
Before Thursday's meeting, superintendents talked over breakfast about possibly reinventing the program as one that's based solely on income.
"There's always going to be a need to do something with children and families differently," said Keith Marty, superintendent of the Parkway School District. "We have to start talking about it as a region. Poverty isn't going away."
Districts that continue to accept new students through the desegregation program are Affton, Bayless, Brentwood, Clayton, Hancock Place, Kirkwood, Mehlville, Parkway, Rockwood, Valley Park, Webster Groves and St. Louis Public Schools. Previously accepted transfer students remain enrolled in the Lindbergh and Pattonville school districts, and students continue to be served by the St. Louis County Special School District.