ST. LOUIS • They were warned they'd see heartbreak and devastation.
But even those words couldn't describe what several hundred alumni from Cleveland High School found Wednesday evening when they put on surgical masks and re-entered their south St. Louis school building, a place they affectionately called the Castle.
St. Louis Public Schools opened up the century-old building to the public for about an hour as part of a larger effort to find buyers for 21 of its vacant schools — nearly all of which have fallen into various states of disrepair.
At Cleveland, nine years of water damage, vandalism, looting and environmental exposure had turned the building into a horror show inside. The gym walls are covered in graffiti. Classrooms are strewn with rubble. But the exterior of building — including its two iconic towers — appear unharmed.
As the crowd moved beneath the arched entrance, Linda Cappiello-Anselman walked toward the cavernous auditorium. She hadn't been inside it since her 1984 graduation. She and her husband used flashlights to make their way toward the stage. Daylight peered through holes in the ceiling. They could barely make out the Art Deco murals on either side of the stage that a Cleveland art director painted in the 1960s.
"I never imagined it would be in this bad of condition," Cappiello-Anselman said. "I just always hoped it would reopen."
Thirty-one vacant school buildings are scattered across the city, relics of a time when St. Louis was teeming with children.
Several are under contract. Many are architectural gems. Some were designed at the turn of last century by renowned St. Louis architect William B. Ittner. The symmetrical design and brickwork of Ittner's buildings became a prototype for school architecture nationwide.
The deterioration of St. Louis' vacant schools is emblematic of the district's struggle with decades of declining enrollment. As students have left for the suburbs and charter schools, the district's student population has fallen from its peak of 115,543 in 1967 to about 26,000 this year.
And as a result, superintendents have chosen to close schools, rather than leave students in half-empty buildings that can cost hundreds of thousands of dollars each year to heat and maintain.
In the last 10 years, 45 buildings have been vacated, leaving 74 occupied.
Among the closed schools: Walnut Park School on Thekla Avenue, which closed in 2003; the Banneker School on Samuel Shepard Drive, which closed in 2004; and the Lyon School on Vermont Avenue, which closed in 2010.
St. Louis school officials have come under increasing pressure locally and from the Missouri Legislature to sell these empty schools rather than hold on to them in hopes that one day the district's enrollment would rebound.
So in February, Superintendent Kelvin Adams said that the district would become more transparent with its real estate. Its website now includes a page with information about each building, its listing price and a schedule of tours that will run through late May. Private tours for developers are happening almost daily.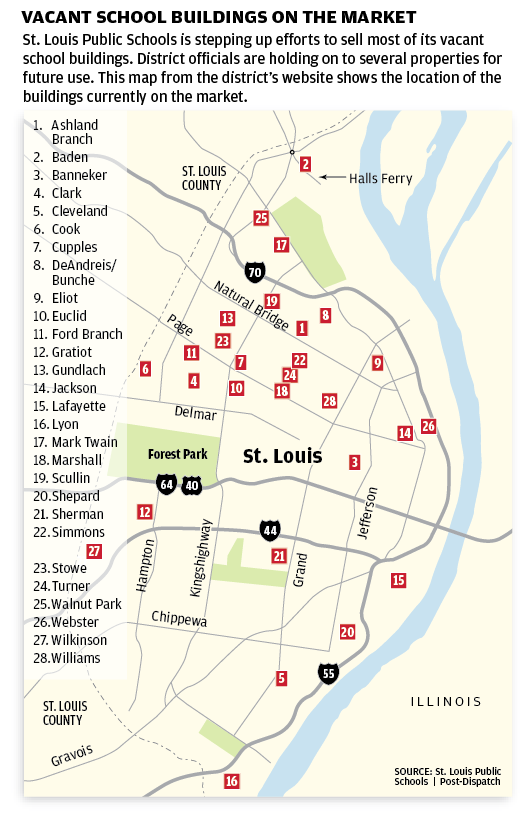 The district's real estate director has formed a committee of about 50 volunteers from sectors including finance, housing, architecture and health care to develop action plans for each building in hopes of generating ideas for them.
In most cases, the buildings require millions of dollars in rehab costs.
"This may be one of the only ones that literally you could move into with not a lot of money," said Walker Gaffney, the real estate director, as he was about to open up Sherman Elementary in the Shaw neighborhood on Tuesday to a group of developers. They were interested in seeing the three-story school, built in 1898, for a possible senior housing development.
"There's a misconception that our schools are all ready to go," Gaffney said.
On Wednesday morning, about a dozen potential buyers waited to see Clark Elementary on North Union Avenue. In one classroom, a geometry lesson was still written in chalk on a blackboard. In some places, maple floors still gleamed from about a century of meticulous waxing.
Tyler Graham Stephens, with Core10 Architecture, stood on the steps waiting to go inside.
Location is key, he said. And the Clark School is near Forest Park. If more of these schools were in the central part of the city, Stephens said, they'd sell faster.
"I can't remember any of them that are near locations where you see development happening," Stephens added. "Most are on the north side of the city, where developers are less confident in putting money. Or even the far south side ... If you want to have them available for charter schools or a nonprofit, then they have to be cheaper."
Cleveland, for example, is listed at $2.4 million.
In 2009, the district lifted the deed restriction prohibiting the sale of its buildings to charter schools. It sold its Gardenville School to Gateway Science Academy in 2011. It's given the KIPP charter school network free use of two of its buildings. District officials are also working with another future charter school on a building arrangement.
When left vacant, empty schools quickly become neighborhood eyesores that attract crime and hurt property values. In the first year of closing, the freeze and thaw cycles cause paint to strip off the walls. Thieves often enter, stealing copper and other valuable material.
Securing vacant schools has been a problem for St. Louis Public Schools. Chain-link fencing with razor wire is considered a liability and is not an option, district officials have said. At schools where copper wiring has been stolen, electricity cannot get to the building to power an alarm system. Attempts to board up doors and windows are often thwarted by thieves who simply remove the boards and enter the buildings. And putting a security guard at every school is considered cost-prohibitive.
"Even when you have alarms, people get in," Gaffney said. "They have the time to disable the alarms. How many smashed keypads have I seen in these buildings? Where there's a will there's a way."
The site of the most extreme damage is at the old Central High School, 3616 North Garrison Avenue. Looters have removed aluminum-frame windows from all three stories of the building, taken sections of stainless steel downspouts and smashed sections of limestone railing leading to the entrance.
Last year, thieves posing as contractors used a high-lift truck to remove the two copper domes from the building's dramatic front entrance, Gaffney said. They did the work in daylight.
Because of its condition, Central is not open to tours, nor is Turner or Hempstead.
On Wednesday, hundreds of people inside Cleveland explored virtually every square inch of the school. Many of them found old classrooms, their lockers. Some sang the school fight song on the dark stage.
Many of the alums expressed dismay and anger that Cleveland had gotten in such disrepair. In 2006, the district closed the building, which had a multimillion-dollar list of renovation needs. The heating bill alone was $300,000 that year, the superintendent said at the time.
And like the district's other vacant buildings, Cleveland sits unguarded.
"The district gets tax dollars to educate students and open schools," Gaffney told the crowd as they were about to enter its arched entrance. "It doesn't get tax dollars to maintain beautiful buildings like this."
Less than 12 hours later, the district sold its first building in two years. A group called SSA Property bought Windsor Elementary on Robert Avenue for a business, Gaffney said. It sold for $300,000.