With the League of Women Voters, the Post-Dispatch presents this guide to the races on the April 5 ballot.
Not all school districts in the region will hold elections Tuesday for their boards of education — a possible byproduct of weariness over the heated debates around virtual learning during the coronavirus pandemic.
St. Louis County districts including Affton, Brentwood, Ferguson-Florissant, Mehlville, Parkway and Webster Groves attracted only enough candidates to fill the open seats on their boards. Overall, 70% of municipal races in the county were uncontested this election cycle, according to the Board of Elections.
"I'm not surprised we don't have as many running this year. I think the level of vitriol in our civic conversations has made people who are running managerial democracies, they're just tired," said Betsy Sinclair, a professor of political science at Washington University. "We don't have a really good way to protect those officeholders."
Parents have protested the actions of school boards across the country for decisions about reopening schools this year. Nearly all districts in the St. Louis region started the school year with online classes, and some including Ferguson-Florissant have just started to bring students back to buildings this spring.
The pressure on school board members, who are unpaid, may have turned people off from running. But a silver lining of the pandemic has been an increase in civic participation, due largely to better accessibility to public meetings streamed online, said Sinclair.
"One of the really neat things about all this engagement … there are a lot of times that having that increased level of communication helped government run better," she said.
Two of the area's largest districts, Rockwood and St. Louis Public Schools, have engaged in vigorous community debates in the past year and attracted broad fields of candidates.
10 SLPS candidates
School closures and the drain of charter schools on the district have been flashpoints in St. Louis, where 10 candidates are running for three open seats on the St. Louis School Board. The board will oversee the closure of eight schools before fall, due to low enrollment.
The goal is to increase enrollment at Sumner by 10% each year.
One of the main talking points in the race is parent representation, touted by the three candidates with children in SLPS schools — Matt Davis, Emily Hubbard and David Merideth.
The board's president and vice president, Dorothy Rohde Collins and Susan Jones, are the only current members with children in district schools and will be stepping down after deciding not to defend their seats.
The American Federation of Teachers, St. Louis chapter, endorsed Davis, Merideth and incumbent Natalie Vowell for their experience and opposition to the expansion of privately operated charter schools in the district, said union president Ray Cummings.
"They came for our water when they tried to privatize that, they came for our airport, and there are a number of big money folks who see education as a cash cow for them to wring some profits out of the system," Cummings said.
At least three charter schools are set to open in the next two years in St. Louis with support from education reform funder The Opportunity Trust. All of the School Board candidates support a moratorium on new charter schools, a measure that could only be enacted by the state Legislature.
None of the candidates report receiving more than $7,000 in campaign donations. At least five direct mail ads have been sent by Progress St. Louis Action Fund in support of "Black Women in Leadership," a slate comprised of School Board candidates Toni Cousins, Daffney Moore and Alisha Sonnier and mayoral candidate Tishaura Jones.
The Missouri Ethics Commission has no record of Progress St. Louis Action Fund or any funding for the mailers, estimated to cost in the six figures. The group is led by J.P. Johnson, who said he would only speak to the Post-Dispatch about the campaign after the election.
"Earnest grassroots candidates jump through arduous hoops to comply with campaign finance regulations, yet dark money organizations who flagrantly disregard rules often seem to have the inevitable ethics commission fines already baked into their bottomless budgets," said Vowell, the only incumbent in the race.
Also on the ballot for the SLPS board are former members Bill Haas and David Jackson, along with J.L. Quinones.
7 Rockwood candidates
Discussions about the safety of in-person learning drew crowds at Rockwood board meetings.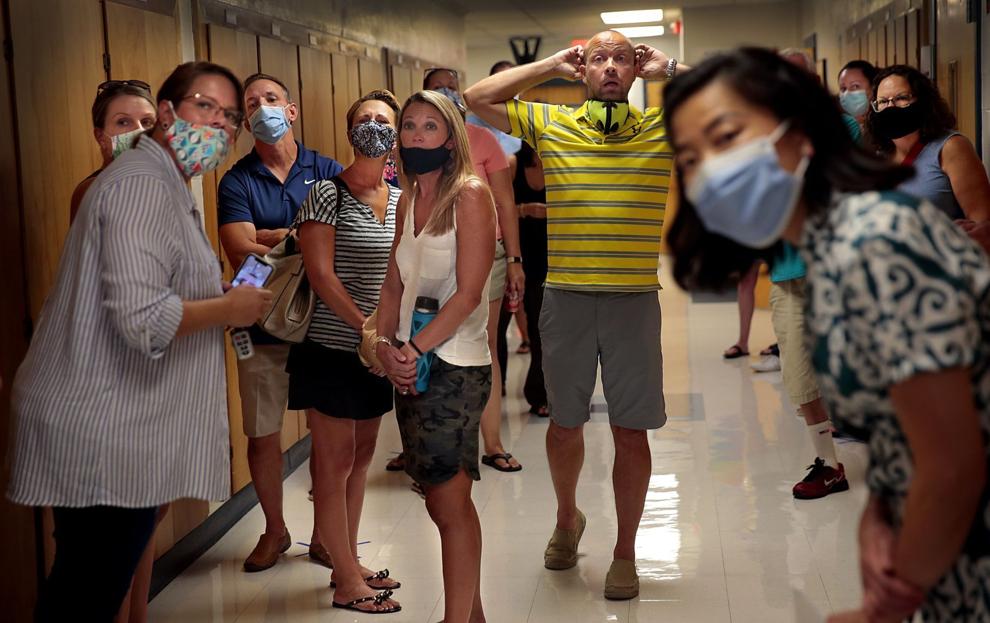 One of the seven candidates for School Board has made the unusual move of endorsing incumbents Tamara Rhomberg and Jaime Bayes for the two open seats. The district's teachers' union has also endorsed the women.
Jackie Koerner's name will appear on the ballot, but she has said she doesn't want to split the vote with Rhomberg and Bayes, and is concerned that other candidates may be running primarily because they opposed the district's handling of the pandemic.
The other four candidates are Sean Conover, Terrie Desloge, Charles Messmer and Tamarah Wagner.
Wagner's campaign has drawn attention for ads describing her as a conservative candidate "for your children and your property values."
On her campaign website, Wagner said "the digital, media driven world presents unique challenges to parents and educators. The discernment of facts has become extremely challenging and we must get back to teaching and learning time-tested mathematics, historically verified information, spelling and ethics."
Wagner did not respond to a request for comment.
Several Rockwood parents said they are concerned that not all candidates support the district's diversity and inclusion efforts, which have been scrutinized after recent incidents of racism in schools and the removal of controversial "thin blue line" flags from Eureka High's baseball team hats.
"Unfortunately it is becoming largely partisan and largely divisive," Koerner said. "These people deeply concern us, joining a School Board that's supposed to serve all students and not being in a place to listen to other individuals in our community who don't align with their thoughts."