In late January, the Rev. Matthew O'Toole officiated his first funeral in nine months. What's kept him much more in demand recently are baptisms — 125 of them in his 2½ years as pastor of St. Margaret of Scotland Catholic Church in the Shaw neighborhood.
He shares the story to stress how the demographics of the neighborhoods around the church have changed and to explain, in part, why the parish school has seen a jump of about 20 students a year over the past decade.
Now, lacking other creative options for classroom space, St. Margaret of Scotland School has launched a capital campaign to build a new middle school featuring six classrooms and a science lab.
It will become the first free-standing Catholic parish school building to go up in the city of St. Louis in at least 50 years.
St. Margaret touts its long history of faith-based academic excellence as a key to its success. According to the school, 99 percent of graduates are accepted into their first choice of high school. The school's location in the Shaw neighborhood, near Tower Grove Park and the Missouri Botanical Garden, also has played in its favor.
But an important underlying current of St. Margaret's success, say parents and school leaders, is diversity and inclusion.
For 20 years, the school has offered scholarships to nonwhite, non-Catholic children. Thirty percent of St. Margaret's students are non-Catholic and 18 percent of the Catholic students live in another parish.
"Word of mouth is our best marketing plan," said Principal Juliann DePalma Hesed. "We just want to welcome and be inclusive to whoever comes to us."
The school's expansion announcement comes as other south St. Louis parish schools struggle with declining enrollment.
Two of them — St. John the Baptist and Immaculate Heart of Mary — are closing after this school year.
Despite their fate, St. John and Immaculate Heart will remain part of a nine-school collaborative looking at ways to address declining enrollment and rising costs, challenges that rooted decades ago when the city's population began to dwindle while the suburbs grew. St. Margaret of Scotland also is part of the group.
In the 2012-13 school year, there were 2,592 students enrolled in elementary schools in the South City Deanery, part of the Archdiocese of St. Louis. That's a drop of more than 1,500 students in a decade.
Neighborhoods around St. Margaret are being rebranded and rebuilt.
McRee Town is now called Botanical Heights, filled with new homes and rehabs. And Forest Park Southeast is taking on a new moniker — The Grove — with restaurants and bars lining Manchester Avenue and triggering new residential developments.
Those neighborhoods are attracting young families, something that the St. Louis region has long sought. Census data from 2008 to 2010 show that a decades-long trend reversed: More people ages 25-34 moved into the region during that time than left.
For Aaron and Emily Schiltz, St. Margaret is a microcosm of the city, providing the environment in which they feel comfortable having their two children educated.
"It's not homogenous. There are a wide range of viewpoints, lifestyles, incomes and skin colors," said Aaron Schiltz. "It was an easy way for us to expose our children to broader diversity in a very safe place."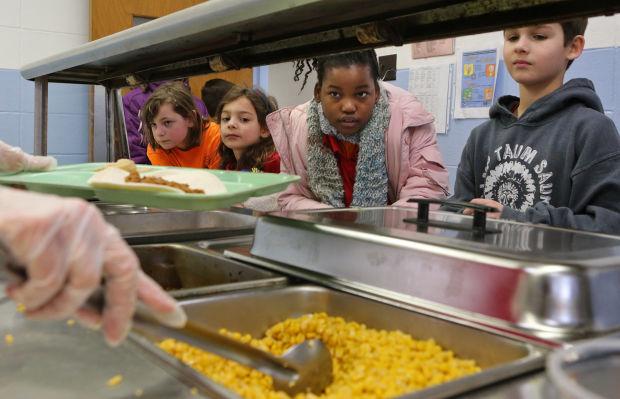 That broader diversity the Schiltzes and other parents refer to goes beyond race, faith and socio-economics. Children of gay couples also attend the school.
Two years ago, when President Barack Obama came out in support of same-sex marriage, Archbishop Robert Carlson responded that the Archdiocese was "profoundly disappointed."
Asked how the school's acceptance of families headed by same-sex couples squares with the Catholic Church, Hesed said St. Margaret does not delve into the relationship status of its parents.
Just like she would not ask a student if his or her parents were divorced, likewise Hesed does not inquire about sexual orientation, she said.
"We love the children who come to us. We honor them. We teach them," Hesed said, as she sat next to O'Toole during an interview in his office.
Parent Cheryl Moore said St. Margaret represents its urban neighborhoods, giving children exposure to an array of differences that promote understanding early on. Nine years ago, she and her husband, Allan, a retired police lieutenant, moved into a house three blocks from the school, where their son, Tyler, is now a sixth-grader. They are not parish members but were drawn to the school over other city and suburban options.
"From a parental standpoint, the children don't see race, color, sexual orientation. I think we all have the same focus about education and values. We're all looking for the same thing."
In September 1918, St. Margaret opened its school at Castleman Avenue and Lawrence Street. Within 50 years, the school for kindergarten through eighth grade was beyond capacity. A two-story building with classrooms, offices, a lunchroom and a gymnasium was built next to the school.
Another half-century later and the school with an enrollment of 389 students in pre-kindergarten through eighth grade is prepping for more growth.
On March 2, the church officially kicked off its $2 million "Faith in our Future" capital campaign, unveiling a rendering of the new building. Construction is expected to begin in the summer of 2015, with students moving in fall of the next year.
Church and school leaders say growth is necessary, but the decision came after much discussion and prayer, O'Toole said. The Steier Group, a national fundraising and development firm, was brought in to conduct a feasibility study and weigh the priorities of parishioners and school parents. Topping the list were a new middle school and new boilers for the existing buildings. Tuckpointing and playground resurfacing would have to wait.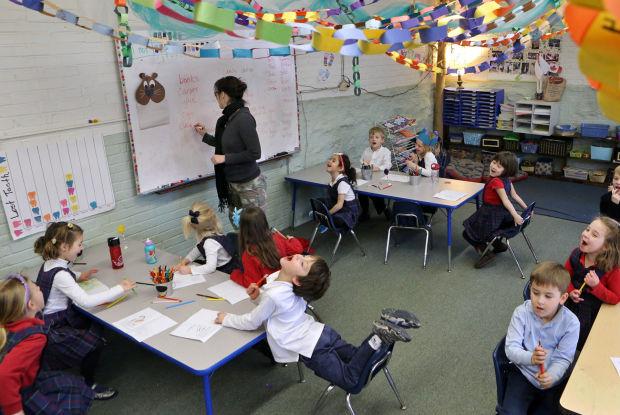 Parents said they had discussions about whether an expansion would erode their children's education, and take away the intimate, small-school feel that gives St. Margaret its appeal.
"We've seen the conditions there. They are doing the best they can with limited space," said parent and parishioner Mike Killeen. He and his wife, Annie, have two daughters at the school.
"We're not doubling the size of the campus. It's more of an incremental change. It will energize and make the school even stronger."
As Hesed gives a tour of the school, she points to a first-grade classroom.
"That used to be the teachers' lounge," she said. The computer lab is now a fifth-grade class. The library was moved into a lower level extended hallway space to make room for a third-grade classroom. Five teaching periods take place in the school cafeteria.
In each case, creative use of space has actually improved how the school functions, Hesed said. "It's been a blessing. It's not been fun, but it's been a blessing."
O'Toole said St. Margaret has long been an anchor in the community and the parish plans to strengthen its status with the new middle school, which will create a campus-like environment.
"This is the time to renew our commitment to the life of our parish, to the life of our neighborhood, to the life of our school," O'Toole said in a letter included in the campaign materials. "This is the time to declare our faith in the future."