JEFFERSON CITY • The Missouri Board of Education voted unanimously Tuesday to take financial control of the unaccredited Normandy School District, which is buckling under the financial weight of Missouri's school transfer law.
The board also approved the creation of a transition team to figure out how to educate Normandy's 3,000 students and 1,000 transfer students in the likely event the north St. Louis County school system goes bankrupt this spring or summer.
Normandy's financial situation is "very, very fragile," Deputy Education Commissioner Ron Lankford told the seven-member board, after reviewing the district's books this month. The amount Normandy must spend on transfer tuition is 1.5 times more than it receives in per-student state aid. The potential of bankruptcy, Lankford said, "is not a matter of if. It's a matter of when."
The actions followed a presentation by state education officials on how to better support struggling schools.
Their proposal would not affect the vast majority of districts across the state — 79 percent of which are accredited or accredited with distinction. In those districts, the state would step in only if an individual school is considered to be failing, or if a "significant" achievement gap persists among racial and economic groups.
Education Commissioner Chris Nicastro is proposing a new system that places more attention on individual schools than in the past. It largely focuses on schools in districts that are struggling — earning 75 percent or less of the points available in the state's annual performance reports.
The proposal calls for deeper and quicker state intervention in districts that are provisionally accredited, to keep them from slipping into unaccredited status. Eleven of 520 districts statewide are in the provisional category, including Jennings and St. Louis Public Schools.
Under the plan, the state and school boards would agree to school performance contracts that would bind the districts to academic targets. More attention would be given to teacher quality and literacy plans, for example.
"The whole purpose of this intervention is to prevent a school district from ever becoming unaccredited," Deputy Education Commissioner Margie Vandeven said.
But districts that do become unaccredited would face more drastic measures if they don't improve within an unspecified amount of time.
The state would set a date, for example, to lapse the district and potentially give it a different governing structure. This could involve a state-appointed board, or an administrator who would report directly to the state. It could involve handing over school control to independent operators, such as universities or community organizations.
"I'm just concerned we don't end up with charter schools running the schools," said board member John Martin of Kansas City.
The state board would determine the district's governing structure.
"This is when a district has altogether failed," Board President Peter Herschend reminded everyone.
Vandeven said, "This is the last resort."
For months, Nicastro has been weighing various proposals calling for deeper state intervention in failing schools. Some of them included pitches to change the state's accountability standards, and even remove the term "unaccredited" to nullify the school transfer law.
"We are not making that recommendation," Vandeven said.
Public hearings will be held across the state to gather input on the plan before the board votes on it in March.
Meanwhile, the Legislature is working on ways to address the school transfer law. Some bills — such as ones filed by Sen. Maria Chappelle-Nadal, D-University City, and Rep. Rick Stream, R-Kirkwood — would place a limit on how much receiving districts could charge in tuition for transfer students.
Other bills give districts that receive transfer students the authority to turn away those students when classrooms are full, and even allow students in unaccredited districts to transfer to private schools.
"Obviously, we're going to be watching these (bills) very carefully and tracking them over the next few weeks," said Mark Van Zandt, attorney for the education department.
The tuition cap is critical if the transfer law remains, said state board Vice President Michael Jones of St. Louis. "Without capping it," Jones said, "fundamentally everyone who is in this situation would end up where Normandy is sooner or later."
The unaccredited Riverview Gardens district, which is financing about 1,100 transfer students, faces this potential of insolvency next school year. Students in the state's third unaccredited district — Kansas City Public Schools — are to begin transferring this fall.
The transfer law allows students living in unaccredited districts to transfer to higher-performing schools at the home district's expense. Tuition is set by receiving districts and can exceed $20,000 a student.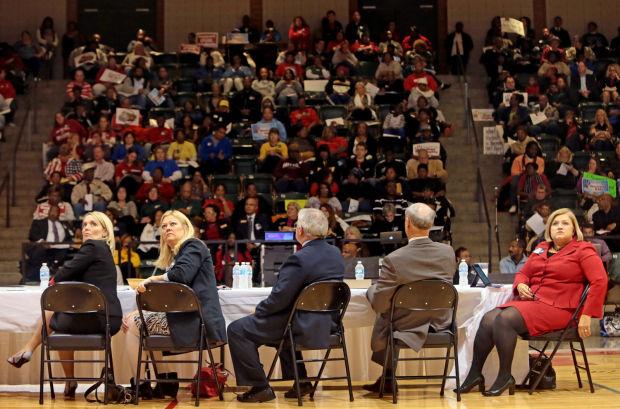 In Normandy, Nicastro recommended state control of district finances not because of any mismanagement. It is partly to ensure legislators that any additional money sent to the district would be spent judiciously, she and other state officials said. In December, the district laid off 103 staff members, mostly teachers, and closed one elementary school to cut costs.
The Normandy district staff has "done a good job up to this point," Nicastro said. However, she added, "I don't believe they've made all the tough choices."
Nicastro said the education department will do whatever it takes to guarantee the 3,000 children in Normandy schools finish the year and that Normandy High School seniors graduate.
Normandy Superintendent Ty McNichols watched from the back of the room. He was unaware Nicastro would ask the board for financial control or a transition committee.
Normandy School Board Vice President Sheila Williams also seemed shaken.
Later, McNichols spoke for a few minutes privately with Nicastro. "I'm still processing," McNichols said. "This is not something we were warned about."