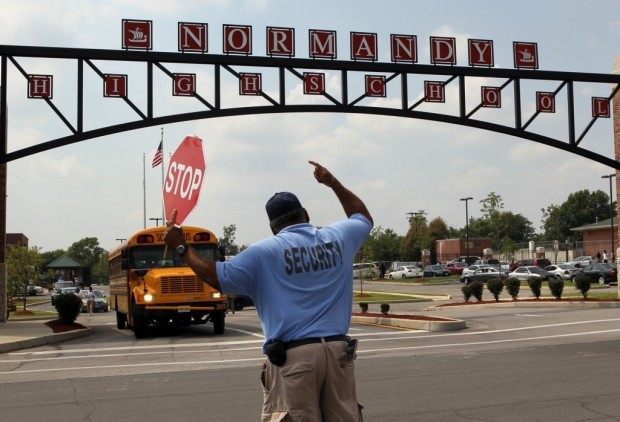 JEFFERSON CITY • The Missouri State Board of Education voted this morning to revoke accreditation from the Normandy School District, following years without significant improvement in test scores.
The unanimous vote puts Normandy schools on notice — the district has two years to show improvement, or face sanctions as severe as a state takeover.
"No matter which way you cut it, with or without Wellston kids, the performance in the area that really, really counts is at the bottom of the pile," said Peter Herschend, president of the board.
Normandy joins the unaccredited ranks of Riverview Gardens, St. Louis and Kansas City.
The district met five of 14 standards on its annual performance report last month — five or less is considered unaccredited, a range that Normandy has been in since at least 2006. The State Board decided one year ago to keep Normandy's official status as provisionally accredited, giving it more time to improve.
This year, just 22 percent of students tested in Normandy schools passed communication arts and 23 percent passed math, up from about 19 and 15 percent in 2007. Statewide, the passing rate is 55 percent.
In 2010, scores were 26 and 16.7 percent passing. In the last few years, graduation and attendance rates have improved.
Superintendent Stanton Lawrence shook his head as board members voted. After, he called the decision "politically obscene."
"I know I'm very disappointed, not only as a school leader but as a parent, that children -- poor, African American children -- apparently have a different standard than other children in the state of Missouri," Lawrence said.
He said the district, where 98 percent of the students are black and a majority qualify for free and reduced lunch prices, is improving. He noted Normandy's scores in the Algebra 1 high school end of course exam, and said that the progress seen in some areas outpaces the state average of improvement.
In 2010, Lawrence agreed to accept students from the neighboring Wellston School District, which had been taken over by the state and then dissolved mainly because of poor academics.
With and without Wellston students factored in, the district still scored five on its state report. But Lawrence contests some of those numbers, and contends that the district should have earned a point on its annual performance rate for an improved graduation rate.
Education Commissioner Chris Nicastro said they will continue to look at the data, but that the department feels the decision is necessary.
"The important thing here is that we focus on providing equitable, quality education for every child," Nicastro said. "It's just not acceptable to allow our kids, any of our kids, to go through a system that isn't serving their needs well, that doesn't expect high performance from them."
Lawrence began at Normandy schools in 2008 and in the years following has replaced every principal, started a new curriculum and worked to get dropouts back into school.
He's also part of a community effort called 24:1 that seeks to address multiple problems in north St. Louis County — ranging from housing to child care to crime —that contribute to the academic struggles of his school district.
Area supervisors will heighten their support to the district and make sure Normandy leaders are "focusing on the very few specific strategies that are going to make a different in classrooms with children," Nicastro said.
The board's decision goes into effect on Jan. 1.