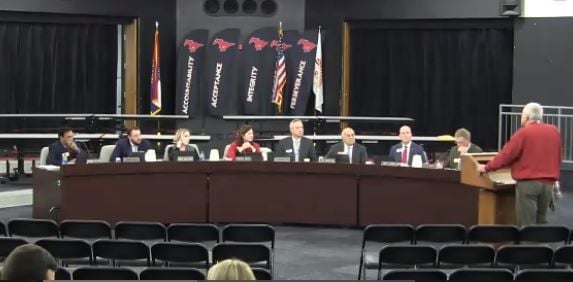 UPDATED at 4:45 p.m. Friday with expanded statement from the Parkway School District. 
A substitute teacher who has taught for years at Parkway South High School claims school administrators banned him from working there after he thanked students for saying the Pledge of Allegiance and a student complained.
"I'd like to know what happened," Furkin said.
By Thursday evening, video of his comments had been shared more than 150 times and viewed more than 7,000 times on Facebook, with many people expressing anger at the school district.
Parkway School District issued this statement on Friday: "We proudly recite our Pledge of Allegiance in all Parkway schools and classrooms. Students choose to participate, which is their right, and our role as educators is not to make a judgment about that choice."
The statement continued: "While we cannot share details of individual personnel matters, we would not recommend that a substitute teacher be restricted from a school simply based on a single isolated incident such as this. Several factors, including prior concerns at other schools, would be taken into consideration before making a recommendation."
On Friday evening, the district expanded its statement to say:
"We always try to protect the privacy of everyone involved during these matters. However, there has been an omission of important facts in this case. The truth is, we recommended that this substitute not return due to a pattern of inappropriate conduct.
"The employee was previously restricted from another Parkway high school for recording video of students without their permission in class. In addition, he violated appropriate teacher-to-student interactions by sharing his personal contact information with students at South High. Based on previous concerns from staff and students, the principal of South High addressed these matters with the substitute teacher. The substitute was coached and reminded of his professional obligations.
"Unfortunately, he did not maintain the high standards we expect of adults who work with our children. It is worth noting that during the recent incident regarding the pledge, the substitute's comments caused disruption during class. By praising certain students for standing, the students who made the decision not to stand were humiliated and then teased. The class environment did not cultivate an atmosphere of learning and acceptance of the views and values of others. As you know, our mission and vision are integral parts of teaching and learning in Parkway.
"We take great care in every personnel matter as these decisions impact our students in the classroom each day. We appreciate the trust you place in us to make the best decisions for your children."
Kelly Educational Staffing, the agency that employs Furkin, issued this statement on Friday: "Kelly Educational Staffing does not discuss specific employee information publicly. We are working with the district on this situation."
Furkin told the Post-Dispatch that in late October he was the substitute teacher for a freshman English class at Parkway South High when the school made its daily announcements over the PA system. After announcements, students are asked to stand up and say the Pledge of Allegiance.
"So I say, 'All right, let's go,' and we recite the pledge," he said. "There are always two or three who don't stand up because it's not required. So at the end of the pledge I said, 'Thanks to all of you that participated in that. I'm sure that all of those families who lost loved ones so that we could enjoy the freedoms we have today would appreciate the effort.'"
Furkin said a student asked to go to the school counselor's office, so Furkin wrote the student a pass to go. Later on, he said, a school administrator questioned Furkin about what happened and told him that a student had been "hurt" by what was said after the pledge.
"I said, 'Oh, I didn't mean it that way, that wasn't my intent at all,'" Furkin said. "He said 'We'll get back to you,' and then the next day after that, I'm no longer welcome in the building."
Furkin said Kelly Educational Staffing, the agency the school district uses to book substitute teachers, told him that he wasn't being allowed back to the school because he had "bullied" a student.
"To me personally, the flag represents freedom, and there's a lot of price that's been paid for the freedom we have today," Furkin said. "That's all I'm saying to the kids. ... Could somebody feel offended by that? I would hope not. But like I said at the (school board) meeting, when you say something, you don't know how someone else is going to perceive it."
After Furkin made his comments Wednesday night, Parkway School Board President Jeff Todd told Furkin that the board would communicate with him via a letter "in the near future."
Furkin said he had been substitute teaching with Parkway for about 10 years, and for the last several years he had largely worked at Parkway South High . Teachers at the high school regularly requested him to substitute for their classes, he said.
In response to Parkway's statement issued on Friday, Furkin said, "I've been in front of students for 10 years, and in that time I think I've had two incidents," Furkin said, declining to elaborate. "Over 10 years, six to eight hours a day, will something crop up? Absolutely. Every sub has something crop up … I think for my full body of work over 10 years, I've probably hit 99.9 percent."
Furkin said he worked every day. "I had a really good presence in the building. I know all the teachers, and I had a pretty good relationship with the students. … It was a wonderful place to work. I absolutely loved it."
Kelly Educational Staffing representatives offered to set him up at another school, he said, but after this incident, he no longer wanted to work as a substitute teacher.
"If I'm being knocked out of the building, I'm just done," he said. "'I don't want to sub anymore, take me off your rolls. I quit. I've had it.'"