For the past two years, St. Louis Public Schools leaders have been looking for answers to this question: Why do our teachers leave?
School leaders think it's largely because many first-year teachers are not adequately prepared.
It's possible, for example, to be hired as a teacher in a St. Louis school without ever having walked through the school's front doors. It's possible to become a teacher after having spent just 12 weeks in front of a classroom, the minimum amount of student teaching that Missouri requires for new teachers.
On top of that, teachers with the least experience are the ones most likely to be placed in the most challenging schools — the ones already facing high teacher turnover and low academic performance.
"I can tell you, we lose so many people within the first quarter just on the job, like even the first 30 days on the job, because they're not ready," said Haliday Douglas, director of talent strategy and management for the district. "Sometimes they're not ready in terms of skill set, sometimes in terms of mindset."
District leaders hope to solve this problem by partnering with St. Louis Teacher Residency, an organization formed last year that will recruit, then educate, train and embed new teachers within hard-to-staff public schools. This is St. Louis' first and only teacher residency. More than two dozen exist nationwide. The East St. Louis School District is also starting a teacher residency, in partnership with Southern Illinois University Edwardsville.
The idea of teacher residencies is to provide longer and more relevant teaching experiences than the traditional, four-year college path. The latter is sometimes criticized because students spend the vast majority of time in a college classroom learning academics and theory, rather than in a K-12 classroom learning about classroom management and instruction techniques.
"I learned as a school leader that just being a teacher day-to-day is often very different" from being a student teacher in college, said Laura Vilines, founder and executive director of the St. Louis Teacher Residency and a former leader of a charter school in Nashville, Tenn. "We need to make sure we're giving teachers more authentic experiences in the classroom."
More teaching time
Teacher residency candidates already have bachelor's degrees but want to earn teaching certificates. Many are switching careers.
Not unlike a medical residency or a yearlong internship, St. Louis residency candidates spend their first year teaching four days a week under the guidance of a mentor teacher, who is also coached, vetted and paid to fill that role. Residency candidates spend the fifth day each week taking classes.
In their second year, residency candidates become full-time teachers in the district they trained in, and they may also pursue a master's degree through Washington University.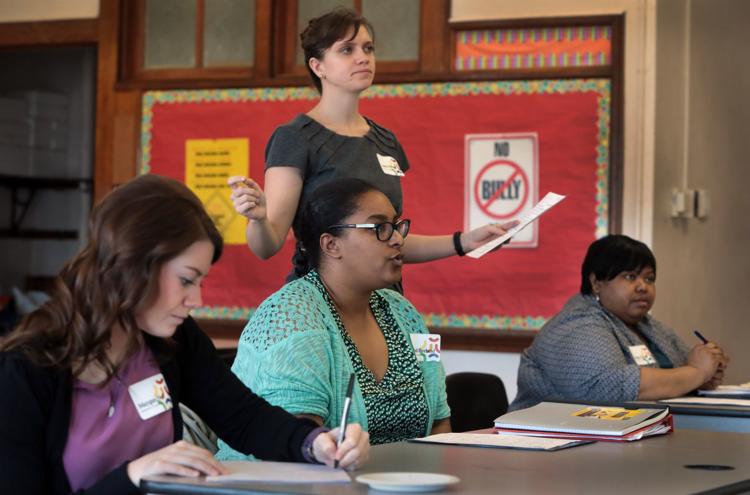 Candidates pay nothing for the program their first year and receive an $18,000 stipend and benefits. Candidates start paying back the costs for the program in their second year once they become full-time teachers. St. Louis residency participants commit to teach in their designated district for at least three years, which is longer than the better-known alternative path to teaching, Teach for America.
School leaders nationwide like teacher residencies because they produce teachers who are much more likely to stay. By their third year, 80 percent to 95 percent of teacher residency graduates are still working in the district, compared to 40 percent to 75 percent for nonresidency teachers, according to a study by the Learning Policy Institute. Meanwhile, St. Louis Public Schools loses up to roughly half of its beginning teachers by the time they reach year five.
This internship approach is not exclusive to teacher residency programs. Some teaching colleges in Missouri, including University of Missouri-St. Louis, Missouri State University and Lindenwood University, have been finding ways to immerse students in more realistic teaching experiences for longer periods.
For example, UMSL's College of Education for years has taken a "studio school" approach, where students complete a full school year of teaching while collaborating with their peers, teachers and administrators. The college places teaching candidates in about 30 public schools across the region through partnerships with about a dozen school districts with varying demographics. The intention is to give students the responsibilities that come with teaching from the start to finish of a school year.
On top of that, students are required to volunteer with one of the college's community agencies to learn more about what students' lives are like outside of school.
Missouri State debuted a selective teaching internship program about four years ago in which it places students in Springfield Public Schools for a whole school year. The internship combines coaching and coursework in the K-12 setting, "rather than students taking classes on campus and then applying them a year or two later or trying to remember them," said David Hough, Missouri State's education dean. All interns completed the program, graduated in four years, passed their teaching exams and got hired by a public school, Hough said.
Second careers
St. Louis Public Schools' Special Administrative Board on Tuesday approved a one-year agreement costing up to $80,000 with the St. Louis Teacher Residency. The residency technically still needs approval from the Missouri Board of Education, which has been on hiatus for more than two months because it lacks a quorum.
The St. Louis residency seeks out applicants who want to teach specifically in urban, hard-to-staff, high-poverty public schools. The residency set goals of recruiting 50 percent teachers of color, a group that schools struggle to recruit and retain, and about 80 percent second-career candidates. The program is on track to meet its diversity goal, and all of its accepted applicants are second-career candidates.
St. Louis residency candidate Jeff Konkel, 44, says that when he graduated from college, he was mostly focused on making money. But now that he's had a couple decades in public relations to ground himself financially and have a family, he says he can afford to take a pay cut to become a teacher. After working with children from impoverished families, he's also more compelled than he was to serve the disadvantaged.
"I think I have the level of patience and compassion that the job would require that I probably didn't have when I was first out of school," Konkel said. "The things that motivate me and inspire me today are different than they would've been."
Be the first to know
Get local news delivered to your inbox!