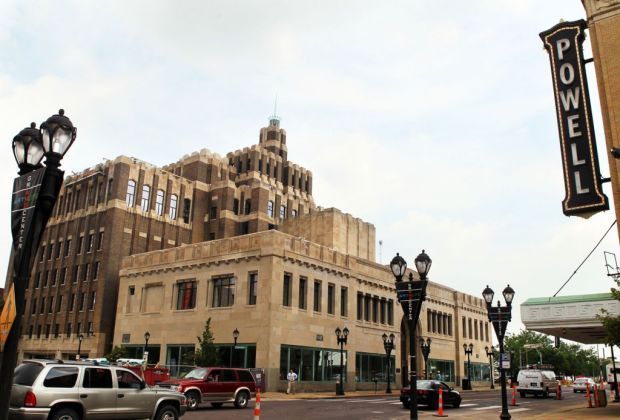 ST. LOUIS • Several dozen teachers from Grand Center Arts Academy stood across the street from their school Friday and explained that their attempt to unionize had more to do with attracting and keeping good teachers than any friction with administration.
"This isn't a movement of discontent," said Fred Warren, a biology teacher.
Those who spoke openly about why they filled out union authorization last week said they did it to improve the performing arts school, which draws children from across the city and parts of St. Louis County. They want to be part of the discussions involving working conditions and the school's direction, they said. They also want to begin negotiating a contract with a mutually agreed-upon salary schedule.
Grand Center Arts is a high-performing charter school in Grand Center, with grades 6-12, across the street from Powell Hall.
According to the teachers, the lack of a salary schedule makes it difficult for many of them to plan for a future. Employment agreements are negotiated individually and annually. Teachers have no way of knowing whether earning a master's degree will increase their pay.
As a result, the school has lost some good teachers to other school districts that have higher and predicable pay scales.
"We have lost good teachers who would have stayed had they had more predicable salaries," said Jess Dewes, an art teacher.
Grand Center Arts is a tuition-free public school operated by Confluence Charter Schools, which runs four other charter schools throughout in St. Louis.
Discussions about unionizing gained momentum over the summer, Warren said.
On Tuesday, 80 percent of the 65 eligible staff at Grand Center signed union authorization cards to join the St. Louis chapter of the American Federation of Teachers, which represents certified staff in St. Louis Public Schools. Some city school teachers have taken to social media this month expressing frustration with their own salary levels.
The move would make Grand Center's staff the only unionized charter school in St. Louis. The city has 32 charter schools — schools that are free and operate on public funds, but have private operators.
Several parents stood with teachers in support.
"We dearly support our teachers, and we support their option to unionize," said Kathy Belisle-Iffrig, who has two daughters at the school. "It's really important that they have a say in the decision-making process that goes on every day in school."
Nationally, unionized charter schools are rare. In 2012, about 7 percent of charter schools had union representation, according to a report by the Center for Education Reform, a research and advocacy group based in Washington. But in the past 12 months, unions appear to be gaining ground in charter schools. Teachers at some charter schools in Chicago, Los Angeles, Detroit and other cities have moved to join unions.
The teachers at Grand Center Arts and AFT Local 420 are waiting to hear how the Confluence governing board responds.
Earlier on Friday, executive members of the board met in a closed meeting to discuss possible negotiations.
"Confluence Charter Schools looks forward to further conversation with our teachers that focuses on a shared desire to create a high quality learning environment for our students — and our teachers are a strong part of that environment," says a statement issued by a Confluence spokeswoman. "The executive committee of the Board met today with legal counsel to discuss this matter and will meet again with the full board at the next regularly scheduled meeting on September 15."
Teachers said that they didn't expect the unionization push to have any impact on their teaching or their students. Dewes said she was drawn to Grand Center Arts because of its mission and vision of arts education. She reiterated what many teachers at charter schools say they like best about their environment: that it provides the freedom to do things differently than at district schools.
Overall, morale is good, she said. "But it would be better if we had a union."