Two St. Louis-area colleges will square off this week in the first game of their first seasons of a sport that few people know exists.
It's called stunt, and it's a women's spring sport that focuses in large part on the athletic and technical parts of cheerleading, but without the cheering.
Stunt is attracting athletes from a variety of backgrounds, such as weightlifting, volleyball and gymnastics. The competition includes pyramids, basket tosses, partner stunts, group jumps and tumbling.
Teams are judged as they do the same routines at the same time in 30-second rounds put to music. Each game has four quarters and athletes can compete in one or more quarters, depending on their skills. There are timeouts and a halftime. The athletes wear uniforms with numbers.
"This is skill versus skill, like other sports," said Lauri Harris, executive director of USA Cheer, which created stunt as a way for colleges and high schools to meet strict Title IX requirements of a sport. The group describes stunt as the fastest-growing female sport in the country.
A federal appeals court in 2012 upheld a decision that colleges cannot count competitive cheerleading as a sport when trying to meet rules regarding Title IX, the law that requires men and women be provided equal opportunities to participate in sports and education.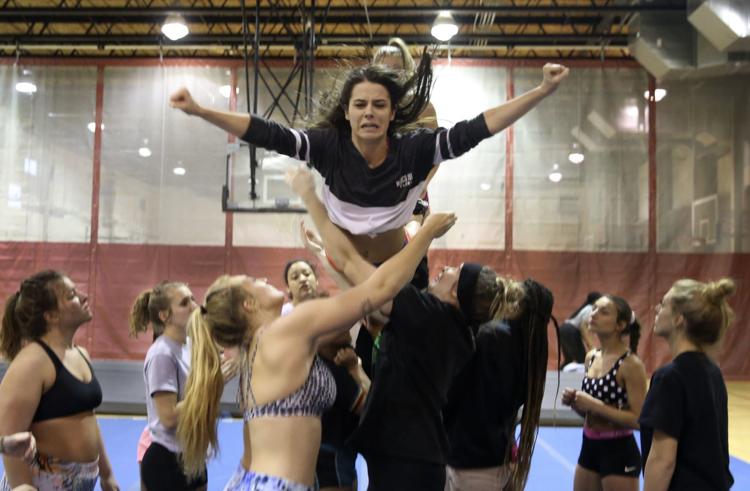 Stunt could be granted status as an emerging sport by the NCAA this spring. Sports for women holding that status now are equestrian, rugby and triathlon, according to the NCAA.
Close to 200 high schools have stunt programs, Harris said, plus an additional 45 at the collegiate level including Lindenwood University-Belleville and Maryville University. The teams will play their first game against each other at 7:30 p.m. Friday in Belleville, a contest initially set for last month but postponed due to nasty weather.
Kara Krawiecki is Maryville's stunt head coach, a full-time job she was hired to do in October 2017 to give her an entire year to recruit her team.
"It was challenging because it's new. I had to get the information out there," she said of recruitment efforts. Those efforts were aided by the flexibility of stunt — Krawiecki said the sport lets women from beginner to advanced levels find room to compete.
Southwest Baptist University in Bolivar, Mo., also is in its first year of stunt — it's combined this year with the college's cheer team. Kayla Duffey, the team's head coach, said the programs will be separate next season.
Her team is set to play its first game against Maryville on March 3.
"They're not talking to the crowd, they're not dancing, they're not yelling," Duffey said of stunt athletes. "It's all them performing with their athletic abilities."
The team scrimmaged against Drury University in Springfield, Mo., the first Missouri college to offer stunt as a sport, at the halftime of a basketball game this fall to showcase stunt and drum up interest.
She said some of her stunt athletes have a background in competitive weightlifting and that stunt opens the door for female athletes from a variety of sports.
Juniors Maura Zackavec and Gabrielle Lahey, both 20, are co-captains of Lindenwood's stunt team. Both have backgrounds in cheerleading — Lahey, who also has a dance background, does all aspects of stunt. Zackavec does stunts and pyramids, as well as jumps and tumbling.
The Lindenwood team has about 20 athletes, and about half are on the college's cheer team, including Lahey and Zackavec. They practice Tuesdays, Thursdays and Sundays — stunt practice comes first, followed by a break for dinner, then it's co-ed cheerleading practice.
They're readying to lead their team in Friday's game, even though neither has played in a game.
"Our whole team is new to it," Lahey said. "We have to get the kinks out."