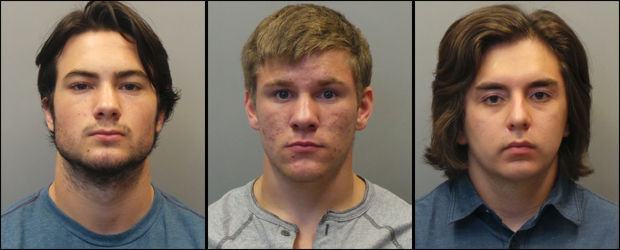 TOWN AND COUNTRY • The investigation into hazing allegations at a sports camp at Principia Upper School last summer has led to felony charges for two teens, and misdemeanor counts against another.
Joshua P. Brewer, 17, and Maverick S. Holmsley, 18, have each been charged with four counts of first degree sodomy in St. Louis County Circuit Court. Ricardo M. Loma, 18, faces seven counts of third-degree assault.
Brewer, Holmsley and Loma, who played football, were kicked out of Principia in August after school officials contacted police about "an assault related to hazing of juvenile students."
Brewer, of Town and Country, and Holmsley, of Wright City, are accused of penetrating the anus of four victims "for the purpose of terrorizing them," according to court documents. Loma, of Kirkwood, is charged with punching those four and three others. Two others who faced allegations were juveniles.
The allegations involve penetration with objects, according to Brewer's attorney. The school told parents after the incident that all students involved had been fully clothed.
The case involving the private Christian Science school in Town and Country mirrors several others across the country where high school hazing has risen to the level of sexual violence.
But most hazing goes unreported, experts say, and the tendency is for parents, coaches and the community to brush it off as an isolated incident.
"There's a tradition, and each year people want to make their own mark. And it grows and grows and grows," said Susan Lipkins, a psychologist with focuses on hazing. "They want to humiliate."
Early in the morning on Aug. 10, a group of boys entered the boys' dorm when only boys football and soccer camps were there. In an email to parents after the incident, Principal Travis Brantingham said their intention was to bully underclassmen.
"Unfortunately, the incident escalated and became even more serious," he wrote.
While prosecutors won't release more information about what happened next, a school official called police on the morning of Aug. 11.
Brewer denies the charges, said Nick Zotos, his attorney.
"Mr. Brewer and his family are disappointed the prosecutors chose to proceed in this manner," he said.
However, there is a long history of hazing at the Principia football camp, Zotos said.
School officials at Principia say that's not true.
The school has had a boarding program for more than 115 years. They say Principia has an "exceptionally strong record of providing a safe, nurturing environment that promotes excellence in character."
"Had Principia been made aware of any previous such incidents, they would have been reported immediately to law enforcement, as occurred in this case," spokeswoman Laurel Walters wrote in an email.
The school declined to comment further on any measures to address last summer's allegations.
But Brantingham's email, obtained by the Post-Dispatch, said school leaders held several meetings with students and increased supervision in the boys' dorm, including random nightly walkarounds.
Hazing incidents can leave victims anxious, depressed, humiliated, and sometimes wanting to leave the team and the school, said Lipkins, author of "Preventing Hazing: How Parents, Teachers and Coaches Can Stop the Violence, Harassment and Humiliation."
The perpetrators often don't feel guilt because they went through it, too, she said.
There have been other hazings in recent years across the country that have involved sexual assault, violence or the penetration of a victim with an object. Something that starts out seemingly innocent can escalate over time, she said.
Some school leaders have taken on stronger responses to hazing. In Sayreville, N.J., after serious accusations and charges against several players, including sexual penetration, on one of the state's top-ranked football teams, the superintendent canceled the season.
"Everybody kind of gasped," said Edward Dragan, an expert in education law, sexual harassment and bullying. "School administrators are taking a stance, and saying, 'No, this is not acceptable, no matter what. And we're not going to buckle under the pressure of the sports community.' "
At a high school outside Chicago, a teacher and soccer coach was fired at Maine West High School after hazing allegations involving players pulling down younger players' pants and poking them with fingers and sticks during a practice in 2012, according to news reports. Some families also sued the coach and the school.
In 2011, two teens at a high school in the town of Hardin, Mo., were accused of sexual assault in the school locker room, one reportedly involving a water bottle. They pleaded guilty to second-degree assault, and a judge ordered them to serve jail time, probation and community service and fined them. One later also was ordered to attend sex offender treatment.
In another Missouri case, a dozen football players at Seneca High School were suspended or expelled after allegations of beating others with plastic curtain rods while at a football camp in 2010. Parents of one student sued the school district.
After Principia's football camp and dismissal of the players, the school's football team went on to have a devastating season. It was 2-8 and was outscored 296 to 118. It forfeited a first-round playoff game.
Jason West, of the Missouri State High School Activities Association, said that if a student was involved in an incident involving law enforcement, they were considered ineligible to play sports until the situation was resolved. And that means at any school.
"We say that the punishment follows you," he said.
The association has a sportsmanship summit each year with hundreds of student-athletes where they are taught that even traditions such as having freshmen carry the gym bags of upperclassmen can be considered hazing, West said.
There needs to be a high level of expectations for the team, he said.
"Laying down the law early, that has helped curtail a lot, and really promoting the team atmosphere," West said. "You need to trust them and they need to trust you. If you are degrading someone … that's not treating them with the respect they deserve because they are a member of this team."
While many schools like to keep hazing reports or allegations quiet, the only way to get at the root of the problem and keep it from going further is to address it, and not just with perpetrators, said Lipkins, the psychologist.
"If you find hazing on one team, it's more likely there is hazing on other teams," she said. "In my point of view, the victim who comes forward is a hero."