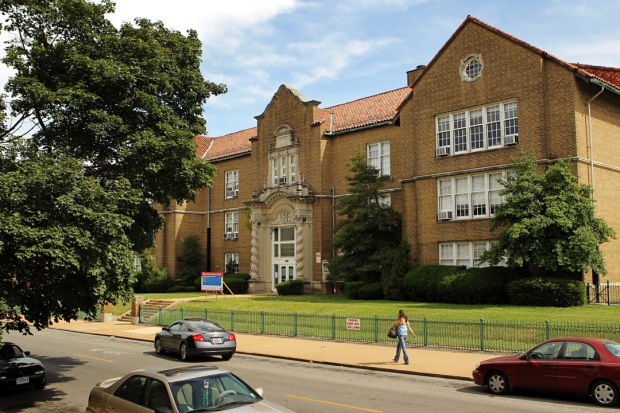 ST. LOUIS • A proposal to raze an 87-year-old elementary school in the Tower Grove East neighborhood is prompting some city elected leaders to remove St. Louis Public Schools' exemption to the historic preservation ordinance.
They join historic preservationists in expressing alarm that the school district may tear down Shenandoah Elementary School, a Spanish revival building, and replace it with a more modern structure that may not meld with the area.
Preservationists and city officials joined residents from neighborhoods near Tower Grove Park on Wednesday at a public forum at Roosevelt High School, where they heard the district's proposals to either raze and replace Shenandoah, or renovate and add onto it.
Since 2009, plans have been on the books to build a new elementary school on the Shenandoah site at 3412 Shenandoah Avenue. The estimated $15 million to $17 million project would allow for a building large enough for 600 children, including those at nearby Mann Elementary, which would close. The new or renovated Shenandoah would also serve students from Sherman Elementary in the Shaw neighborhood, which closed in June.
Both Shenandoah and Mann have a long and expensive list of renovation needs and weren't built for 21st-century learning, said Sam Johnson, with an independent firm hired by the district to give the presentation.
But those sitting around tables in the Roosevelt cafeteria said they weren't convinced.
"So fix the buildings," said Joseph Residor, whose son attends Mann Elementary, at 4047 Juniata Street, and doesn't want it closed.
Others wrote their concerns on forms at each table. The district's Special Administrative Board is to review them later this month before deciding which direction to take. The plan to fold three schools into a larger Shenandoah is part of Superintendent Kelvin Adams' efforts to right size the district, which has been losing children almost every year for four decades.
"I totally understand a shrinking school population and a strict budget," said Chris Colizza, a nearby resident. But of Shenandoah, he said: "It's a critical component of Tower Grove East. I'm firmly in favor of preserving the school."
District officials say they're not leaning one direction or the other. Whether they hire an architect to design a new building — or an addition to the existing one — will hinge on the feedback from Wednesday's forum and one planned for 10 a.m. to noon Saturday at Central VPA and Cleveland NJROTC High schools, 3125 South Kingshighway.
Both options would cost about the same, officials say, and would be financed by a $150 million bond issue approved in 2010.
The fear that the city could lose another historic school building has prompted Alderwoman Christine Ingrassia of the 6th Ward to step in. She said she plans to file a bill Friday to remove language exempting the district from complying with the preservation ordinance.
The bill, co-sponsored by Aldermanic President Lewis Reed, would require that the school district undergo review any time officials want to demolish a school building. For years, district officials have been at odds with historic preservationists over the dozens of old school buildings that have been vacated. School officials say they're more concerned with educating students than with preserving architecture.
Historic preservationists were dismayed with the 2012 demolition of the Old Hodgen Elementary, a three-story brick building built in 1884 in the city's mixed-income Gate District. It had been targeted by vandals and thieves since the district moved students into a new school across the street. It was torn down to make way for a parking lot.
As of July, 38 shuttered public school buildings sit empty in St. Louis, with 18 under contract or on the market.