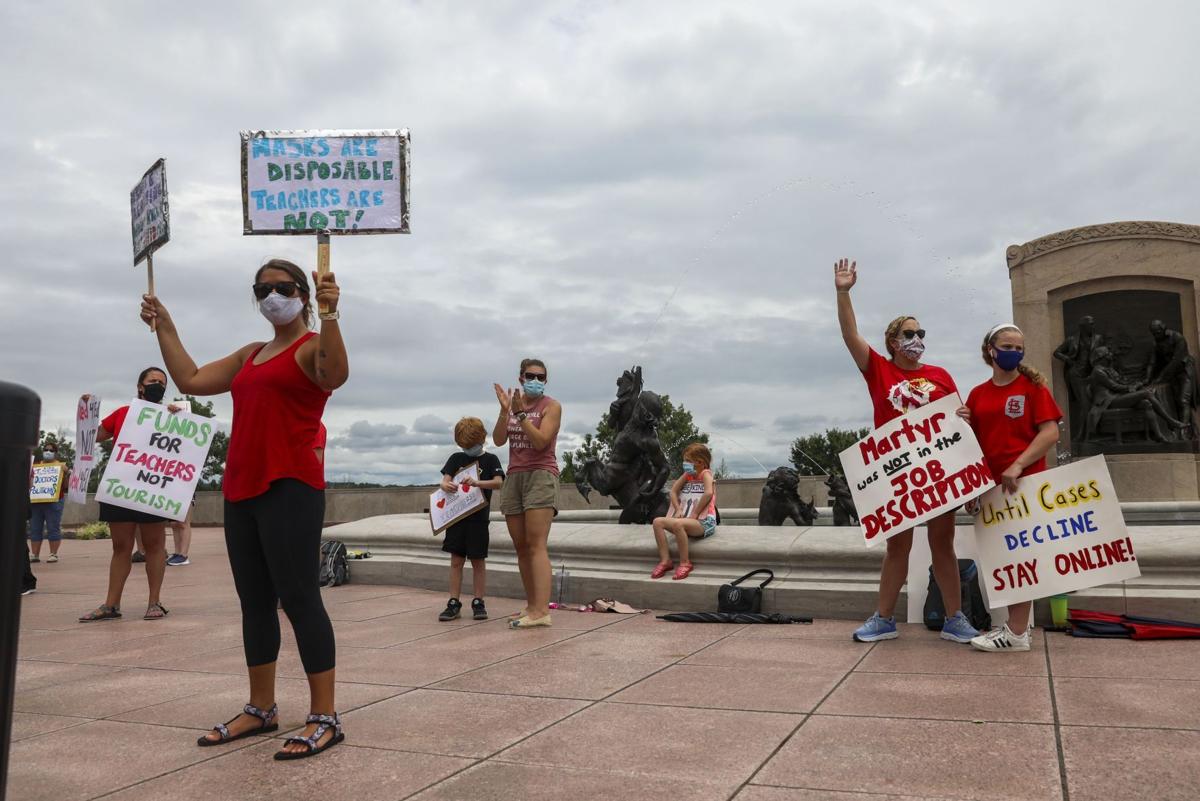 It's likely that the public won't know if any students or teachers are carrying coronavirus with them to school this fall.
While most students in St. Louis city and county will not return to school buildings, thousands who attend private schools will be back in classrooms. Many public schools in Jefferson and St. Charles counties also are opening their doors.
School districts and health departments have conflicting plans for tracking and reporting COVID-19 cases in schools. The U.S. Department of Education released guidance in March that said schools can legally release details about virus cases or outbreaks in students or employees as long as they don't identify individuals.
The St. Louis County Health Department will track school virus data but has "not yet made formatting decisions for the final product on reporting youth cases," said Spring Schmidt, acting director.
Meanwhile, St. Louis area schools have varied widely in their transparency.
Clayton schools maintenance worker Mitch Coleman, 58, died of COVID-19 in late June, according to staff members and social media reports. When asked to confirm the death, district spokesman Chris Tennill said, "In terms of what I can confirm, I can confirm he was a staff member. In terms of sharing personal health information, that's not our information to share out."
When Eureka High School guidance counselor Sandy Kearney died of COVID-19 in April, Rockwood School District put out a news release. The district also notified the school's parents when a student who had been participating in workouts over the summer tested positive.
Transparency is a priority for the west St. Louis County district, said spokesman Alex Fees.
"Our community members hold us accountable," he said.
On July 9, parents of day campers at a Francis Howell elementary school in St. Charles County were notified by letter that a staff member had tested positive. The letter cited federal HIPAA privacy laws as the reason for not revealing more information, although schools are not bound by the law intended for health care providers.
Staff members at Webster Groves School District told the Post-Dispatch in July that at least one student-athlete participating in practices had tested positive over the summer. When asked to confirm, district spokeswoman Cathy Vespereny said, "We don't discuss health or medical records of students or staff."
The same week, Kirkwood High School athletics director Corey Nesslage said one of the school's football players had tested positive for the virus.
Teachers in Riverview Gardens School District returned to their classrooms this week for training and said their principals were quarantined because of an exposure at an in-person administration retreat.
Superintendent Scott Spurgeon on Monday would only confirm "possible staff exposure."
At least 20 staff members in St. Louis Public Schools have tested positive and may not be able to return to campuses Monday for training, said Superintendent Kelvin Adams.
The fall semester is set to start Aug. 24, following a surge in cases among U.S. children, with at least 97,000 testing positive nationwide in the last two weeks of July. Missouri has seen 7,432 cases in children and teenagers and no deaths since the pandemic started.
If a student or staff member at a school tests positive, the local health department will notify the school as part of its contact tracing. It is likely the school could find out first from the student or employee. The school would then conduct its own contact tracing and issue any recommended quarantines.
School administrators and public health officials will be watching for downward trends in positivity and transmission rates before deciding to reopen schools more widely, said Paul Ziegler, CEO of EducationPlus, a local school district support agency.
"Certainly consistency in testing will be an important factor as they make plans to bring kids back and hopefully keep kids in school," Ziegler said. "If there's not good testing then it's going to be difficult to know if the decisions are the right ones."
There are no state or local mandates on how many cases would trigger shut down of a school.
The St. Louis County health department recommends that if over 5% of the student body in a building or district test positive on one day, then the school or district should close for 10 days.
It is unclear whether that metric will be useful in practice, particularly if testing shortages and delays continue, Ziegler said.
"As we bring students back, it's really unknown because we haven't had students in this magnitude in schools since the pandemic really started," Ziegler said. "There is not a business where we've brought 2,000 people back together in a building … it is kind of nerve-wracking."
These maps and charts show the spread of COVID-19 in Missouri and Illinois.