WELLSTON • The door to the three-unit apartment building opened and closed with a click. Raquan Smith slipped into the 13-degree air.
Dressed in khakis and a hooded fleece sweatshirt, he strode across the treeless yard and onto R.M. Moore Avenue, toward the blight that punctuates his daily mile-long walk to Normandy High School: auto salvage yards, crumbling homes, shuttered businesses, chain link fences and broken glass.
For several months, this 18-year-old feared his school district would also collapse.
Smith now knows Normandy schools will survive at least long enough for him to graduate.
But for much of his senior year the uncertainty has weighed heavily.
"I have to face the fact that the people who don't understand are the people who make the decisions," he said.
As Normandy Public Schools has lost hundreds of students and millions of dollars because of a student transfer law, Smith has increasingly stood out for his ability to articulate the voice of Normandy students.
He's gone before the microphone at public hearings, hands in pockets, and moved members of the audience to tears. He's traveled to Jefferson City to address lawmakers considering whether to shore up Normandy's finances.
He's listened as state education officials have worked through worst-case scenarios and abstract concepts, such as school performance and data.
For Smith and his fellow seniors, the uncertainties involved prom and graduation.
It angers him that his district has been forced to comply with a state law that could destroy it. On his way to school, he looks at the streets that surround his home and wonders whether anyone truly cares about improving the lives of Normandy children.
"My visual every morning is what the world is not seeing," he said. "It's abandoned buildings — everywhere. It's impoverished communities. There are no big businesses out here creating jobs.
"I think, why? If we care so much about each other, how would we allow things like this to happen?"
Smith has felt this fighting spirit before. In 2010, he was an eighth-grader in the Wellston School District when the state shuttered those schools, sending students the following fall to Normandy. He was eating lunch when he heard the news, and recalls with clear detail the chaos and high emotion that ensued.
"To hear that and know that you can't do anything to stop it, it makes you feel that you're inadequate," he said. "It makes you feel that you don't count."
Smith's senior year at Normandy began with television cameras outside the front gates.
Students that morning spoke of a determination to prove the world wrong about Normandy High — a place that 360 of their classmates chose to leave, and 531 chose to stay.
But in recent months, the transfer situation and the media attention it's brought has taken a toll.
Hallways are quieter. The campus feels emptier. As Smith and his friends gathered around a table in the front of the cafeteria before class one morning, they pointed out that several friends were no longer there.
The Missouri law allows children in unaccredited districts to attend better schools at their home district's expense.
For months, teachers have worried about their jobs. Eight of 103 teachers laid off to offset transfer costs were at the high school.
As talk of bankruptcy escalated, students began to consider what might happen if the district folded this spring.
Seniors say the negativity has left them anxious and on edge.
"It's been hard to focus," said Romalus Tabb, a basketball player.
Some had considered leaving Normandy, but stayed because of friendships or favorite teachers. Some didn't want to graduate from an unfamiliar school.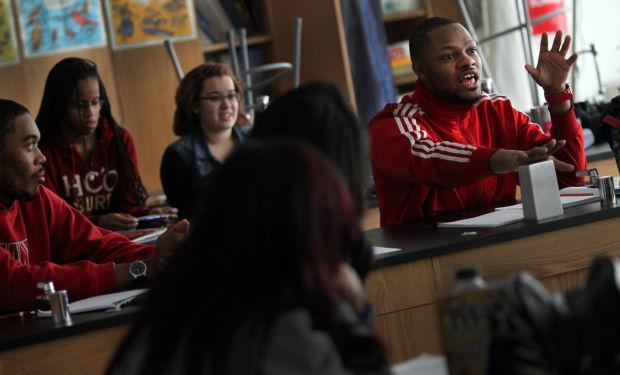 But they're all living with the consequences of the transfer situation, which also affects the area's other unaccredited district, Riverview Gardens.
Smith, who's active in the performing arts, turns to acting as a way to vent frustrations.
Smith is also part of the Normandy Chorale that earned a spot to perform Sunday at a music festival at Carnegie Hall. Private donations covered most travel expenses. Smith was a featured soloist.
The 13 seniors who went said the trip was a diversion from an otherwise grim year.
"It angers me because that senior feeling should just be electric all year long," said Duane Foster, the choir instructor who organized the New York trip. "It's not fair that they're going through what they're going through."
Samone Smith, a senior not related to Raquan, was close to transferring to Ritenour High last fall. Her track coach persuaded her to stay.
"Most high school seniors are probably talking about what they're going to wear to prom," she said. "We're talking about accreditation."
Earlier this month, Raquan Smith joined seven other Normandy juniors and seniors for a teleconference call with a civics class at Parkway North High School. The topic of the exchange was the school transfer situation — one of several conversations planned this year.
The moderator, Ed Wright with EducationPlus, posed a question to Smith.
"You came from Wellston, right?" he said.
"So, now in the Normandy district, you decided you wanted to stay in the Normandy district?"
"Correct," Smith said, leaning forward.
Smith's family — his mother and his aunt — had pushed him to leave Normandy. Smith pushed back. He felt leaving his senior year would hurt his college prospects, partly because he'd no longer have the teachers who he knew would help him.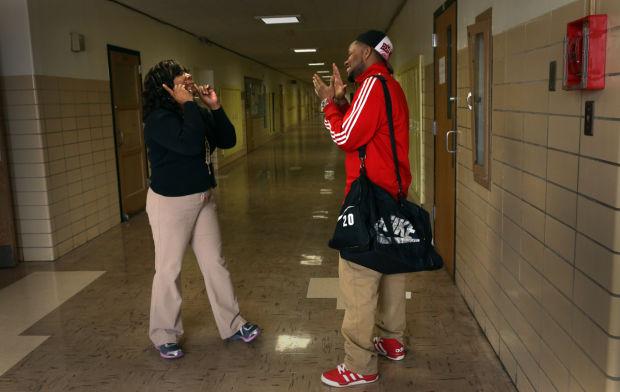 Relationships with teachers kept many students at Normandy. That's not something that can be measured by test scores. During the teleconference, Smith and other Normandy students bristled when one Parkway student suggested that data offered a better way than site visits to evaluate schools, because data are more objective.
Christian Wallace, a Normandy senior, addressed another point the student had just made — that the overall environment at Normandy High could be why so many students don't perform well on state tests.
"Let's just be honest. If you tell somebody over and over that they're not going to do well, eventually they're going to believe it," Christian said. "We also have other things around us that you have that we don't have. I'm not trying to say you all are rich out there. On average, you guys would have more money in your households than we do. That alone can change so many things achievement-wise. I mean, I can't do certain things because I don't have the money to."
Discussions such as these, and political activism, have almost become an extra-curricular activity for Smith.
In February, he told a legislative committee in Jefferson City that the possibility of a midyear closure was eroding the focus and ambition of Normandy's best students. He told them how difficult it had been when the Wellston district collapsed around him. Smith was there to persuade Missouri legislators to give the district $5 million to keep schools open through the school year's end.
About that time, resistance to sending aid to Normandy began to turn in the Capitol. Last week, the Missouri House approved the $5 million. Now the issue goes to the Senate.
Sen. David Pearce, head of the Senate Education Committee, said Smith's testimony showed lawmakers that successful students could come from unaccredited school districts.
"When you see people like him, you think, 'We've got to help those students.' "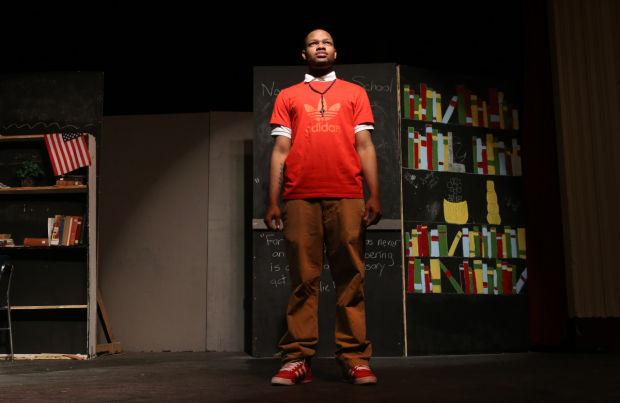 In the midst of it all, Smith thinks about his future.
Last month, he auditioned for a coveted acting spot at the prestigious Juilliard School in New York. He didn't get in, but that's OK, he said. "I need the exposure," he said. "I need to know how it really is in the field of acting."
He's been accepted to St. Xavier University in Chicago. He is also looking at Morehouse College and Southern Illinois University Edwardsville. He's leaning toward psychology.
Until two years ago, his ambition was to become a firefighter.
"I've always dreamed of washing the firetruck, for some reason," Smith said.
Firetrucks have been a frequent presence on R.M. Moore Avenue, his three-block street just south of Page Avenue where he has lived with his mother and three older sisters since he was 10. Fire crews came to help and not judge, Smith said. "Being in my neighborhood, I've unfortunately seen a lot of those trucks."
He recalls a house fire at which crews saved a family, their dog and the front part of the house. He remembers the night when firefighters pounded on the door of his apartment because the house next door was burning.
"If the fire department would have left us in the house — if they would not have knocked as long as they did. ..." Smith's voice trailed off. He remembers watching as the fire spread to the gutters of his building.
That recent cold morning, as he began his walk to school, Smith motioned to the lot that held the burned house. The pile of splinters is still there.