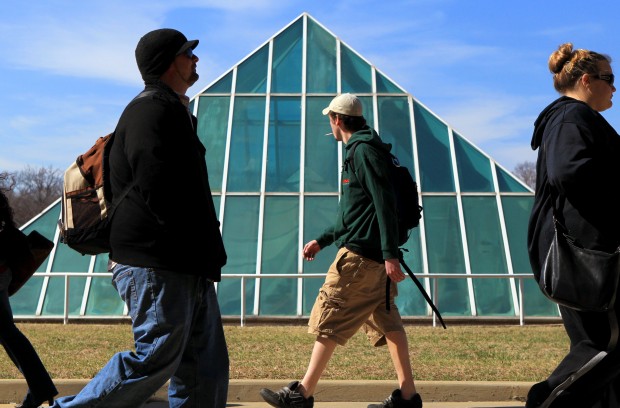 ST. LOUIS COUNTY • A north St. Louis County dream of turning a stretch of Natural Bridge Road into something along the lines of the Delmar Loop took a step forward Friday, with the announcement of funding for the project's first phase.
During the annual University of Missouri-St. Louis report to the community, Chancellor Thomas George said a $14 million package has been put together from a mix of sources. It should be enough to remake nearly a mile of Natural Bridge, from Hanley Road to Florissant Road.
The goal is to turn the largely nondescript business district into a scenic thoroughfare with a bike path, large sidewalks, tree-lined median and trendy businesses. To accomplish these things, the street will be reduced from four lanes to two.
"It's a nice road. It gets the job done," George said of the current road. "What we'd like to do is fix it up."
The money will come from local, state and federal sources, including the Missouri Department of Transportation, St. Louis County and the East-West Gateway Council of Governments. No money from the university is being spent on the road.
The complete project — no cost has been given for it — actually envisions a makeover of Natural Bridge from Interstate 170 to Lucas & Hunt Road. Phase one covers the area bordering the UMSL campus.
"You have to start somewhere," said Rebecca Zoll, president of North County Inc.
Zoll and other supporters are optimistic students will form a strong core of customers that will help draw new businesses — Starbucks, for example — into the area.
The renovation of Natural Bridge, however, is not without its critics. In the past, some business owners have complained about traffic problems that could result from narrowing a section of the street to two lanes. Others argue that places like The Loop — the stretch of Delmar Boulevard in University City and St. Louis — don't happen overnight, or just because someone builds a nice street.
But that's what supporters are hoping for.
"It's like anything. You are attracted to it because it's new," said Patrick Green, mayor of the city of Normandy. "It becomes a place people want to be."