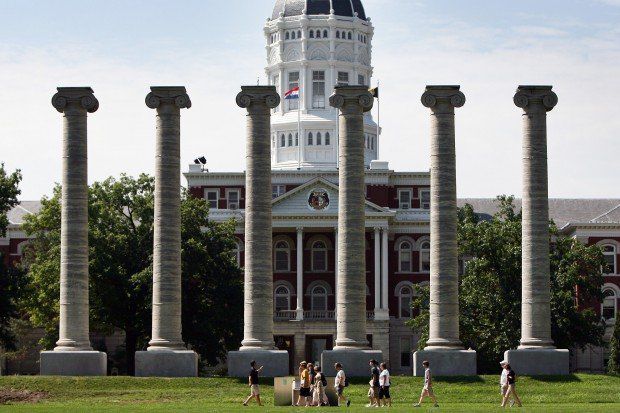 A group of University of Missouri-Columbia graduate students has threatened to walk out of class next week if the university doesn't meet its demands for improved benefits for student workers.
The demands come in response to the university's announcement that graduate assistants would no longer receive subsidies to pay for health insurance.
The group is called the Forum on Graduate Rights. Members say they are over 1,200 strong and include graduate teaching and research assistants, faculty and alumni.
They are demanding the university restore the health insurance subsidies to students by the spring semester, provide more affordable housing and childcare facilities and guarantee no graduate student earns below the federal poverty line.
In a written statement delivered to Mizzou leadership this week, the group said students will walk out of their classrooms, laboratories and offices in protest unless the university responds with concrete plans addressing their demands by Tuesday.
A Mizzou spokesman said the university has received the demands and is currently reviewing them.
For its part, Mizzou's administration says the Affordable Care Act is to blame. They say the law prevents employers from giving employees money specifically to buy health insurance on the individual market. Because the IRS classifies graduate teaching and research assistants as employees, they fall under this ruling.
But other schools, including Washington University provide graduate students with subsidized health care assistance and have not moved to take those benefits away from students.
Students said they believe Mizzou is trying to save costs. The university spent nearly $4 million on graduate student health care subsidies in 2014.
For Mizzou graduate research assistant Matt McCune, the worst part of losing his $3,000 a year health care subsidy was being notified on Aug. 14 — just 13 hours before his student health insurance expired. International students, he said, found out 13 days after their coverage started they would no longer get the subsidy.
"The timing was horrendous," McCune said.
A notice from the university explaining the situation says administrators discovered the issue on July 21 but students weren't immediately notified because the university was hoping "national groups lobbying on (its) behalf would motivate the IRS to issue an alternate ruling or exception."