COLUMBIA, MO. • He was a lifelong businessman — neither scholar nor politician — and at the time, the decision to hire Timothy M. Wolfe as University of Missouri system president seemed to make perfect sense.
The country was stumbling out of a recession. Universities were scrambling to fill budget shortfalls. The Board of Curators needed someone to guide its four institutions through financial turmoil.
"The impression that faculty have I think is that Wolfe was brought in as the slashing funding guy," said Karen Piper, a professor in the MU English department. "He was brought in as the corporate overseer who was going to make the hard cuts and then leave."
But that was four years ago. No one had heard the names of Trayvon Martin, Tamir Rice, Eric Garner or Michael Brown.
The nature of the nation's unrest has changed.
And Wolfe, 57, finds himself navigating his flagship university through waters that are seemingly unfamiliar to him.
What began as modest protest at a homecoming parade about a month ago has intensified, prompting a hunger strike and promises from black football players to boycott all football-related activities until Wolfe resigns. Two graduate student organizations called for a walkout on Monday and Tuesday. The conflict, which is at the culturally charged intersection of race, politics and sports, is playing out on a national stage, eliciting statements from Missouri's top politicians — some of whom have called for him to resign — and becoming the lead story for major news organizations.
Amid that backdrop, the Board of Curators will meet in closed session at 10 a.m. Monday in Columbia "for consideration of certain confidential or privileged communications with university counsel, negotiated contracts, personnel matters, and records protected from disclosure by law," the board announced Sunday night.
The boycott by Mizzou's football players was announced on Twitter on Saturday evening, when the university's Legion of Black Collegians released a statement criticizing what the group described as Wolfe's disregard for issues facing black students.
"We will no longer participate in any football-related activities until President Tim Wolfe resigns or is removed due to his negligence toward marginalized students' experiences," the statement said.
Cornerback John Gibson III tweeted that the boycott "has nothing to do with our coaches. Our coaches are 100% behind us. Including the white ones."
He deleted the tweet, but then on Sunday, following a 90-minute team meeting of Mizzou players and coaches, the team posed for a photo in the dining hall, with many teammates and staff members locked arm in arm. The photo was posted on coach Gary Pinkel's Twitter account with the message: "The Mizzou Family stands as one. We are united. We are behind our players. #ConcernedStudent1950 GP"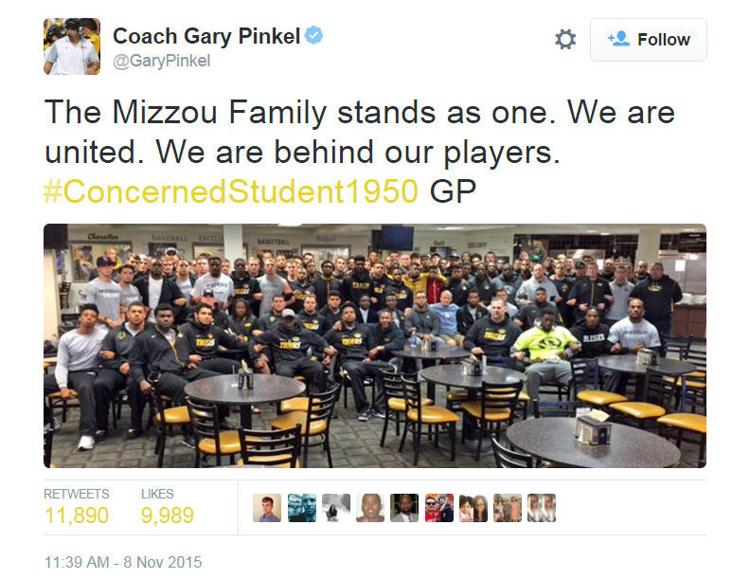 The University of Missouri Board of Curators hired Wolfe in 2011, citing his business acumen and strong ties to the area. He moved to Columbia as a fourth-grader and is a 1980 graduate of Mizzou's business college.His career began in Jefferson City when he was hired as a sales representative for IBM, later serving as a manager in Kansas City. By the time he left the company, he was a vice president. Later, Wolfe spent four years with Covansys, a consulting firm, before moving to Novell, a multinational software firm, where he served as president.
The Board of Curators agreed to pay Wolfe $450,000 a year and up to $100,000 in bonuses, along with a $45,000 relocation incentive, a car and housing at Providence Point, the official home for the university president.
Some faculty expressed concern that he had only a bachelor's degree.
Piper said that Wolfe's tenure has been marked by wage freezes for faculty, except for a select few who receive "targeted" raises. She said it's never been made clear why some receive pay increases and others don't.
A series of events this semester — some involving race — have brought matters to a head.
In September, student body president Payton Head, who is black, posted an account on Facebook about how he was walking down a street when a group of men driving by yelled racial slurs at him.
In October, a black student group said they were confronted by a man in Traditions Plaza on campus who used a racial slur. Also last month, someone used human feces to draw a swastika in a bathroom inside Mizzou's Gateway Hall.
Students first confronted Wolfe on Oct. 10 by blocking his car during Mizzou's homecoming parade. They were met by chants of "M-I-Z-Z-O-U" from white bystanders trying to shout down the protest.
Last week, Jonathan Butler, who is pursuing a master's degree in educational leadership and policy analysis, promised to forgo all food and nutrition until Wolfe steps down.
Saturday night, Wolfe was confronted by students outside a fundraiser in Kansas City. A video of the confrontation shows a resigned-looking Wolfe talking to students as they prod him to give his definition of systematic oppression.
"I will give you an answer, and I'm sure it'll be a wrong answer," he said.
"Systematic oppression is because you don't believe that you have the equal opportunity for success," he added.
Students shouted at Wolfe, saying he was blaming them for injustice.
On Sunday, Wolfe issued a statement that was more conciliatory.
"It is clear to all of us that change is needed, and we appreciate the thoughtfulness and passion which have gone into the sharing of concerns," it said. "My administration has been meeting around the clock and has been doing a tremendous amount of reflection on how to address these complex matters."
While the issue of race has been the most heated, students were also angered after Mizzou discontinued the clinical privileges for a Planned Parenthood physician and terminated multiple relationships with different Planned Parenthood affiliates in September.On top of that, graduate assistants — students pursuing doctorates who grade papers, conduct research and teach classes — have also been very critical of campus and UM System leadership after the university scaled back their tuition waivers and stripped them of their health insurance subsidies in the hours immediately before fall classes began.
"This is JUST not about race," tweeted linebacker Clarence Green. "It's about Grad students getting benefits and unity within the athletes and community."
On Sunday, as the sun went down, roughly 50 students were occupying the Carnahan Quadrangle in protest, setting up tents and getting ready for the night.
Ruben Faloughi, a member of the Concerned Students 1950, named for the first year a black student was admitted to Mizzou, said the football players added a new dimension to the protests.
"Now we get to affect the university's revenue stream," he said.
About 7 percent of Mizzou's 35,000 students are black. Several of them said that they endure racist behavior every day and are routinely threatened with violence.
"Black students do not feel comfortable walking through GreekTown," Faloughi said.
Sandra Davidson, a professor who teaches communications law at the Missouri School of Journalism, said the scene of the tents was reminiscent of a protest in 1987, when shantytown protesters built ramshackle shanties on Francis Quadrangle to call attention to the university's holdings and corporations doing business with South Africa's apartheid government.
That resulted in 41 shantytown protesters being arrested for trespassing. Only one student went to trial, but won on the grounds that the quadrangle is a public forum.
"We have had students out at the forefront of controversial issues," she said. "They won that one, both in their right to protest and the University of Missouri did divest. So it's kind of déjà vu all over again."
Dave Matter of the Post-Dispatch contributed to this report.