CLAYTON • Mark Wrighton is reluctant to talk about his legacy.
He says it was teamwork that elevated Washington University to its national and international stature — not just the work of the chancellor.
Perhaps that is true, but plenty of people say his role was critical in changes the campus has seen during his tenure of more than 22 years.
Wrighton told the university board Friday that he plans to step down .
Since the chancellor took office in 1995, the university's endowment has increased by more than $5 billion, applications are up by more than 200 percent, the number of faculty members has grown by 48 percent and the university continues to climb in various national rankings.
While Wrighton seems content about his decision to step down, he said the university has unrealized potential. New leadership will help the elite, private research school reach those unidentified heights, he said.
It could be a while before he starts to pack up his office, however.
The longtime chancellor wants to see some efforts through, including a fundraising campaign that started in 2009 with a $2 billion goal. When the campaign hit that goal in 2016 — well before its scheduled end in June 2018 — leaders pushed for $2.5 billion. Wrighton and his campaign chairman, Andy Taylor, Enterprise Holdings Inc.'s executive chairman, made that goal this year. Now, they're hoping for more.
Wrighton told his board on Friday that he plans to stay no longer than a year after the campaign ends in June. He hopes by then his successor is named, if not earlier.
The board will hold a national search for his replacement.
'We've been blessed'
It's just time to say goodbye, Wrighton told the Post-Dispatch last week inside Harbison House, his home on Forsyth Boulevard.
"As time unfolded and some of my great colleagues came up to age 70, if they had been in their position a long time and had done extremely well, I suggested that's a good time for transition," said Wrighton, who is 68. "I've been thinking about that for myself, now that I've served more than 22 years."
The average tenure of a college president nationwide is about seven years, less than one-third of the time Wrighton has been in office.
Washington U. has had success with longevity. Before Wrighton's time, former Chancellor William Danforth held the office for 24 years.
"I'm a huge believer in stability with leadership," said David Kemper, the chief executive officer of Commerce Bank and a vice chair on the university's governing board. "We'd love to find another Bill Danforth or Mark Wrighton. That (longevity) is the key to our success."
John McDonnell, retired board chairman at McDonnell Douglas and a big donor to Washington U., said he hopes "lightning strikes three times" on the search for Wrighton's replacement.
"It was hard to imagine when Bill Danforth retired what we might get, and we got Mark," he said. "We've been blessed."
When Wrighton hired Holden Thorp in 2013 as the provost, his second-in-command, the two leaders downplayed whether Thorp was set to become the heir apparent when the chancellor decided to retire.
University board chair Craig Schnuck, former president of Schnuck Markets, said Thorp, 53, is "very much a candidate" in the national search. Thorp is a former chancellor at the University of North Carolina-Chapel Hill.
"The biggest decision the board makes is the selection and retention of a chancellor," Schnuck told the Post-Dispatch. "We owe it to all of the constituents of the university to have a search and to make sure we are picking the very best person. … (Thorp) understands and said he expected a national search."
'A visionary'
Three board members and two university leaders who were asked about Wrighton's tenure stressed three accomplishments:
• The changes he has made to the undergraduate experience and admissions.
Wrighton would add ongoing work with Siteman Cancer Center at Barnes-Jewish Hospital to that list. Others also point to how he and his team backed the St. Louis technology hub, Cortex, and the work done under his leadership to support and sponsor local charter schools.
"He really is a visionary beyond being an academic," Kemper said. "There's a lot of talk about ivory towers in education, but Mark is the opposite of that. He wants to reach out and help the community. For being such a brilliant guy, he also actually cares."
Comparing data from the beginning and end of Wrighton's tenure
| Unknown field 1 | 1995 | 2017 |
| --- | --- | --- |
| Endowment | $1.96 billion | $7.2 billion |
| Undergraduate applications | 9379 | 30463 |
| Total enrollment | 11482 | 15378 |
| Total full-time faculty | 2164 | 3223 |
| Financial aid endowment | $163 million | $896 million |
| Gross square footage of buildings | 8.1 million GSF (1998) | 12.7 million GSF (2016) |
| Federal research grants | $200 million | $510 million |
Wrighton doesn't dwell on the things that didn't go well during his tenure. Like any college leader, he has had his share of challenges: protests, a hunger strike and, like institutions everywhere, struggles after the fallout from the financial crisis of 2009. It comes with the territory.
But he has few regrets, and he feels good about helping the university community realize some of its potential.
"The university was far stronger than the world knew," Wrighton said, recalling when he came in 1995. "(I tried) to get people to set aside the notion of a vertical position on a list and think about trying to join the ranks of some of the very best places. We had a lot more strength than people understood."
Whatever he has done has worked. Programs such as the McDonnell Scholars Academy are helping the level-one research institute in the Midwest poach students who might otherwise go to Stanford or Harvard. That's something that fills the longtime leader with pride.
And while it might be a "vertical" list, the campus is tied with Notre Dame University at No. 18 on U.S. News and World Report's list of top schools. Washington U. also came in at No. 11 on Wall Street Journal's annual college rankings released last week.
What makes a leader
Wrighton is all about the long game, the strategy. His job has been one big chess match.
"He's quiet, slow and focused," said Risa Zwerling Wrighton, his wife. She describes long, thoughtful pauses on his phone calls with Thorp. "They have this pace that would drive anyone else crazy, but boy, what they've communicated in a brief exchange — they move mountains."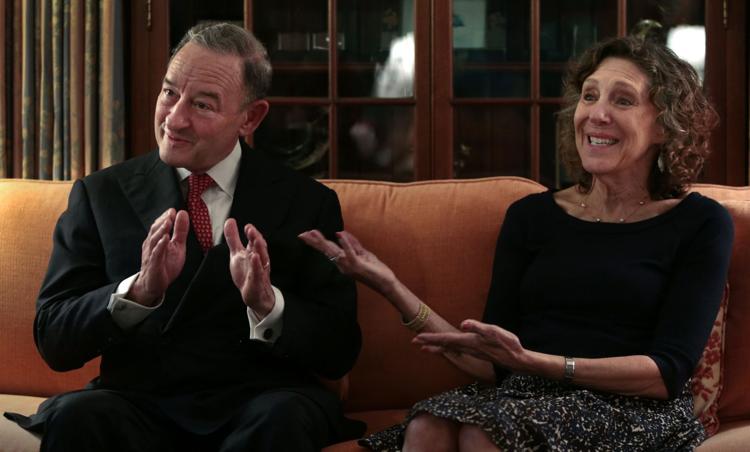 The long-game approach is how Wrighton leads. It works well for someone who is often the most quiet person in the room.
"He's quiet and unassuming, but when he starts talking — holy smokes," he said, lauding the chancellor's memory and candor that help him build relationships with donors.
Wrighton earned his doctoral degree at 22 from the California Institute of Technology and was a tenured professor at the Massachusetts Institute of Technology before he was 30. The renowned chemist was later recruited to lead MIT's chemistry department, and three years later became provost — a large leap in academia.
Four years after that, he flew to St. Louis to interview for the chancellor position at Washington U.
"Mark tells me he's the luckiest person because he has the best job in the world," his wife said. Wrighton nodded.
The pair plan to call St. Louis their home base when the time comes to step down, with the exception of some travel to see their children in other cities.
"I expect to continue to be involved in the life of Washington University and St. Louis," Wrighton said. "I want to make sure the university continues to thrive. I'll take a little time for reflection ... but I have a lot of things to do before the day comes when my successor is in place. There's no real rest until that person is in place."
There's something else in the works for the duo. They're not done making a mark on St. Louis, but they're also not ready to tip their hand.
"You'll hear some more from us," Risa Wrighton said, smiling. "We've got some ideas."