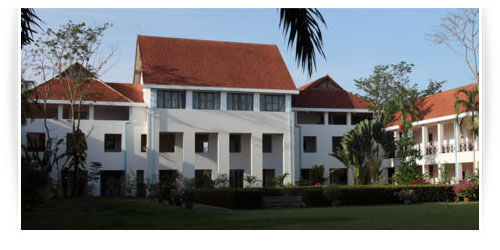 Plagued by dysfunctional leadership, facilities that are falling apart and a campus lacking basic services offered at a typical college, Webster University's leadership needs to decide whether to upgrade its Thailand location or abandon it, a report released by the university on Monday says.
The report was commissioned by Webster Provost Julian Schuster in June 2014 to assess the school's performance. Much of the review is negative. It describes dozens of significant trouble areas for the school, ranging from facilities overrun by pests to a toxic culture where students commonly believe their administrators are crooks.
In many cases, the blame for the school's troubles are described in the report as a lack of clear communication between Webster's main campus in St. Louis and the Thailand location.
The report says an "organization deficit" exists in Thailand to the point where "students believe that no one cares and nothing will ever change."
It goes on to say there's a "widely held belief among students that numerous student fees are concocted, unregulated and indicative of an administrative leadership culture at WUT that they see as untrustworthy and exploitive."
The university released their report publicly on Monday, just three days after online publication Inside Higher Ed reported myriad problems on the Thailand campus.
Much of Inside Higher Ed's reporting came from a 21-page letter Webster English professor Michael Erickson wrote to his dean after spending time in Thailand. Erickson called the campus an "American university in name only."
With more than 70 locations worldwide, Webster brands itself as a "Truly Global University." Established in 1999, the Thailand campus is one of the university's 12 overseas operations.
Webster University Thailand enrolls roughly 500 students, including 300 undergraduates on its Cha-am campus and nearly 200, mostly graduate students on its Bangkok campus.
The report says the school is meeting its enrollment targets and balancing its budget. But it also says the Cha-am campus facilities are "substandard, negatively impacting the educational experience of WUT students and the ability to recruit prospective students."
"Webster University would need to invest in basic facilities work to bring the Cha-am campus to an acceptable standard," the report says describing the situation as a "stay or go" decision. "Such investment would only make sense if Webster University intends to operate the Cha-am campus in the long-term."
Other problem areas cited in the report are inadequate concern for student safety, restrooms with nonworking toilets, a building in need of boarding up, spotty Wi-Fi throughout the campus, poor tutoring services and a library lacking relevant books.
The report also cites a host of other administrative issues including an unclear billing system, poor collection of campus crime statistics and the need for a professional counselor to provide mental health services to students.
Webster spokesman Patrick Giblin said the university has already started making improvements to the Thailand campus, specifically with the hiring of a full-time human resources manager to help with hiring and evaluating employees.
"The Thailand Campus Review represents the dedicated and thoughtful analysis of faculty and staff during the past nine months, and we are grateful for their contributions," Giblin said.