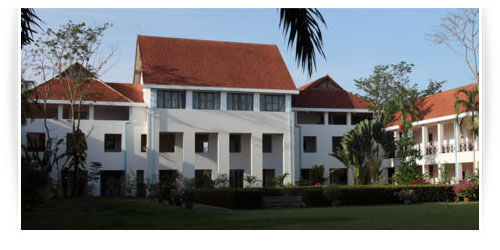 A Webster University English professor who has spent time at the school's Thailand campus recently blasted the overseas campus in a 21-page letter to his dean, criticizing the school's academics, its facilities', finances, and calling it an "American university in name only."
Michael Erickson's criticism was reported by the online publication Inside Higher Ed in a comprehensive look at problems plaguing the Thailand campus as told by faculty and students.
Inside Higher Ed reports that Erickson attacked the campus for having only a shoddy library, no writing center, a lack of academic tutors, poor athletic facilities and no faculty governing body.
Erickson also criticized the campus for recruiting low-performing students and not supporting them and a culture where faculty firings and high turnover rate among faculty has damaged morale.
Erickson, who could not be reached for comment Friday, wrote in his letter that top administrators "do not know what a real American university education consists of, and have no interest in finding out."
Webster Provost Julian Z. Schuster is quoted as acknowledging a need to upgrade the Thailand campus' facilities, but denying that Webster had purposefully skimped on any of Webster's several dozen campuses in the U.S. or abroad.
Webster's administrators did not respond in detail to specific questions asked by the Post-Dispatch on Friday, but spokesman Patrick Giblin said the issue of faculty criticizing the university "is an issue of academic freedom."
"Faculty members are entitled to their opinions and entitled to share those opinions," he said. "This is all part of the dialogues that occur within academia."
Giblin added that Webster was nearing the completion of a standard nine-month internal review of their Thailand campus.
"As with any site review, we expect to find a combination of best practices and opportunities for improvement," he said.
Inside Higher Ed's report goes on to chronicle a number of different complaints from people familiar with the university, including allegations that student tuition was misused by administrators for their own personal gain, and that a top Thailand administrator threatened students when they pushed for the campus to change the bus company the university was aligned with.