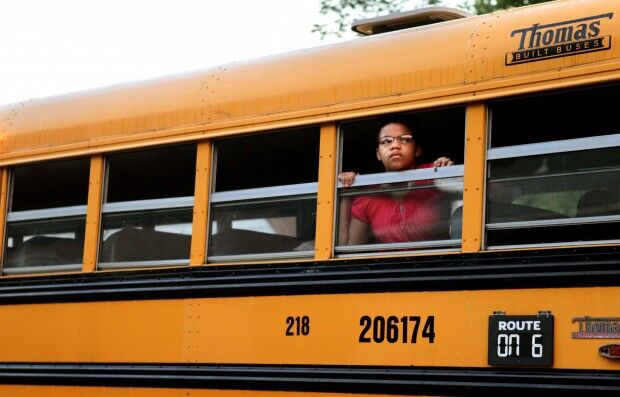 JEFFERSON CITY — Missouri school officials are spending $700,000 on a new recruitment effort aimed at reversing a decline in the number of people training to become teachers.
The creation of the digitally based platform comes as the No. 1 problem in training and retaining teachers continues to be the state's low pay for educators.
Although the Missouri Department of Elementary and Secondary Education has outlined a plan to boost the state's base pay for teachers above its current level of $25,000, lawmakers and Gov. Mike Parson have not earmarked the funding needed to bring the figure more in line with surrounding states.
That, officials believe, has been a major contributor to an exodus of teachers from Missouri classrooms. The average teacher attrition rates for the past six years are more than 11%.
"In short, too many teachers leave the profession, and there are fewer teachers available to replace them. As a result, when schools cannot find teachers, they are forced to leave positions vacant or fill vacant positions with teachers who aren't certified for that content area," DESE said in an announcement earlier this week.
The new program, known as TeachMO.org, will act as a centralized hub for prospective teachers to explore the profession, access free resources and receive support in applying to educator preparation programs.
Education officials also are planning to invest $50 million over the next three years on teacher recruitment and retention grants and other programs designed to get more teachers into the state's public schools.
Gov. Mike Parson, a Republican, said he was thrilled to see DESE putting the program in place.
"Well-trained, effective teachers ensure Missouri students graduate ready to be successful in whatever path they pursue, and I know I wouldn't be where I am today without the teachers in my life," Parson said.
"Research continues to show the number one school-level factor that impacts a student's learning is their teacher," added Commissioner of Education Margie Vandeven.
The pandemic and the resulting tight job market has also played a role in school staffing woes.
Nationally, 40% of school district leaders described their staff shortages this fall as "very severe" or "severe," according to a survey last month from the EdWeek Research Center. Nearly two-thirds of the leaders said they have asked employees to take on additional responsibilities.
It's not clear, however, whether there is any appetite in the Legislature to fully fund a plan designed to increase salaries.
The state's base pay for teachers has been stuck at $25,000 for the past 17 years.
The proposal recommended that all public school teachers get a $4,000 pay raise, while also raising the legally required minimum pay to $32,000 a year from $25,000. That would cost $322 million.
The plan also would have established a $75 million equity fund to offer hiring incentives in hard-to-staff subject areas, such as special education, math and English as a second language, and in underserved regions in the state.
In the current fiscal year budget, the state's school foundation formula, which is the primary method of paying teacher salaries, received $8.5 million more than last year, while school transportation funds were increased by $20 million, potentially allowing districts to divert money from busing into staff salaries.