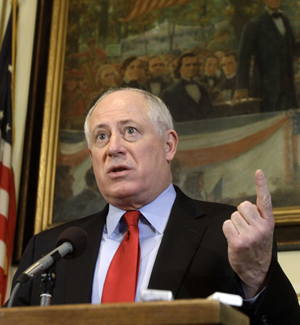 SPRINGFIELD, Ill. • Gov. Pat Quinn forcefully defended on Wednesday the major income tax hike he won hours earlier, saying it would put Illinois back on sound fiscal footing and usher in an era of "reform and recovery" to the state's troubled finances.
His comments came as a new, more conservative Legislature was sworn into office, with some members wasting no time attacking the tax increase.
"As long as we continue to raise taxes, businesses are going to leave," new state Rep. Wayne Rosenthal, R-Gillespie, said before he was sworn in at the legislative inaugural ceremony in Springfield.
Quinn said he would sign the new tax measure "as soon as it arrives on my desk," perhaps as early as today.
"We had to take decisive action," Quinn said the morning after the narrow, wee-hours floor vote to approve the tax increase. The state was facing a $15 billion budget deficit that had caused a backlog of unpaid bills and was threatening its ability to borrow.
"The state of Illinois had an unprecedented fiscal crisis," Quinn said. "It's important that state government not be a fiscal basket case."
On another controversial bill coming his way — repeal of the state's death penalty — the governor was less specific. He wouldn't say whether he would sign the measure, but hinted that he wasn't convinced the state had fixed the problems that have landed innocent men on death row in the past.
"I will follow my conscience," he said.
The tax increase will take Illinois' 3-percent flat-rate income tax up to 5 percent for four years, then drop it back to 3.75 percent. For a family with a taxable income of $40,000, which currently pays $1,200 in state income tax, that bill will rise to $2,000.
Illinoisans will see the increase on their 2011 tax bills, which are due in April 2012.
The state's corporate tax rate is also rising, from the current 4.8 percent to 7 percent, then dropping back to 5.25 percent in four years.
The bill won by bare-minimum margins in both the House and Senate, without a single Republican vote in either. It was strongly backed by social service organizations and others that have faced late payments or cuts from the state because of its budget crisis.
"Anybody who owns a calculator and can do simple math would know that they could not solve their problems at all without this major tax increase," said Ralph Martire, executive director of the Center for Tax and Budget Accountability, a bipartisan think tank in Chicago.
Republicans, business groups and conservative organizations blasted the tax increase as a job-killing burden that would drive business from Illinois.
"Today we will be evaluating the roll call to (politically) target legislators who voted for this monstrosity," Paul Caprio, director of the conservative Illinois group Family-PAC, vowed in an e-mailed statement. "The wrath of Illinois taxpayers begins today."
That kind of sentiment won't come as a surprise to Quinn. He spent most of his first two years in office trying to win a tax increase, an issue that almost cost him his election in November.
Quinn, a Democrat, took office in January 2009 with the removal of ex-Gov. Rod Blagojevich. Quinn was sworn in Monday for his first elected term as governor.
"What's right is not always what's popular," Quinn said Wednesday.
He congratulated the outgoing Legislature on "the hardest vote they ever took in their legislative careers" for the tax increase.
The new House and Senate elected on Wednesday as their leaders the same Democrats who led the chambers before: House Speaker Michael Madigan and Senate President John Cullerton, both of Chicago.
Madigan, too, congratulated members on the tax vote, calling the package "a necessary step to put us on a sound financial program for the next four years and beyond."
The issues likely to come before the new Legislature will be familiar as well. State Rep. Lou Lang, D-Skokie, champion of a major gambling-expansion measure that failed to pass in the last session, said he had already filed new legislation to try again. Among other failed legislation that could be revived in the coming months are a proposed $1-a-pack tax increase on cigarettes and the legalization of medical marijuana.
Get local news delivered to your inbox!
Subscribe to our Daily Headlines newsletter.