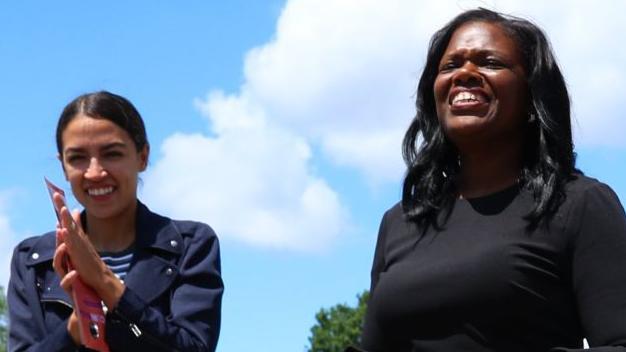 WASHINGTON • Activist, nurse and pastor Cori Bush will again challenge Rep. William Lacy Clay in 2020, a rematch of their Democratic primary showdown last year.
A big question looms: Who will Rep. Alexandria Ocasio-Cortez, D-N.Y., support?
Bush was endorsed by the woman known as AOC in 2018. Bush says she hasn't asked and that the two are longtime friends and campaigned for one another in 2018, so an endorsement hasn't been much on her mind.
Clay says he hopes he'll get the endorsement of the first-term congresswoman who has attracted a media spotlight far brighter than that usually accorded first-term members of Congress.
Ocasio-Cortez, asked about her plans after a congressional hearing last week, refused to answer, saying she does not talk about politics on Capitol Hill.
The question of whom Ocasio-Cortez will support in Missouri's First District is not inconsequential, nor entirely local.
Ocasio-Cortez has engendered legions of support, but also waves of criticism, for criticizing fellow Democratic House members who stray from party line votes, and for suggesting she may recruit and support candidates who challenge these Democrats in the primary.
Clay, D-University City, has warned on multiple occasions this year that Democrats must realize that they regained the majority in the House based on victories in districts that are far more competitive than the heavily Democratic districts both he and Ocasio-Cortez represent.
The question will take on extra poignancy in St. Louis on Monday. House Speaker Nancy Pelosi, who has presided over a raucous caucus since January, will be in town to push for support for campaign finance and other reforms that have already passed the Democratic House in party-line votes.
Clay, asked about Ocasio-Cortez last week, declared: "I will ask her to come out and campaign for me."
Does he expect that after Ocasio-Cortez supported Bush in 2018?
"I don't know," he said. "All I can do is ask."
Bush responded that Clay "can do whatever he wants. We can ask the stars to twinkle during the day, too, you know."
Bush has high praise for Ocasio-Cortez "for revitalizing areas of the Democratic Party that started to break off, people that started to feel underrepresented or not represented at all."
The disenfranchised "are now feeling like they have a place again. Whether people agree with all of her views, or not, people feel like this can be done, you know, where you can fight and be different. Just listening to the people, and actually make change.
"She is doing amazing," Bush said. "I am so proud of her."
Clay noted that Bush is being helped by an Ocasio-Cortez-affiliated group called Justice Democrats, which has affiliates that include Brand New Congress.
Organizers of the two groups reportedly were connected to Bernie Sanders, the democratic socialist who sought the Democratic presidential nomination in 2016 and is running again in 2020.
The complaint alleges that the groups improperly obscured how money that they raised was spent, according to an analysis by the Associated Press. Ocasio-Cortez has tried to dismiss the complaint as politically motivated.
Bush also pushed back, saying "it's not the way it is being put out by that right-wing group."
David Mitrani, an attorney representing Ocasio-Cortez and the other various groups named in the complaint, told the Associated Press that an Ocasio-Cortez aide did not form a separate LLC to hide spending, as the FEC complaint alleges. Instead, Mitrani said, vague campaign and finance law forced them to set up the LLC out of concern that they may otherwise run afoul of the law.
But Clay said that the Justice Democrats "helped stand up (Bush's) campaign" against him in 2018 and that she would not have been able to raise money without the group's help.
FEC records show that Bush listed the address of her 2018 campaign as 714 Gay Street in Knoxville, Tenn., an address that press reports and the complaint to the FEC say was that of Justice Democrats and affiliates.
Bush portrayed that as acknowledging that consultants for Justice Democrats "were basically running my campaign."
When Clay alleged during the 2018 campaign that Bush had received help from "dark money groups," a Brand New Congress official named Ron Stubblefield responded with a blog post refuting those claims.
All of Bush's donations came from "either itemized or unitemized individual contributions," Stubblefield wrote then.
In the end, Clay spent about $709,000 in the primary and general elections. Bush spent just north of $100,000 in her unsuccessful primary run, according to her FEC report.