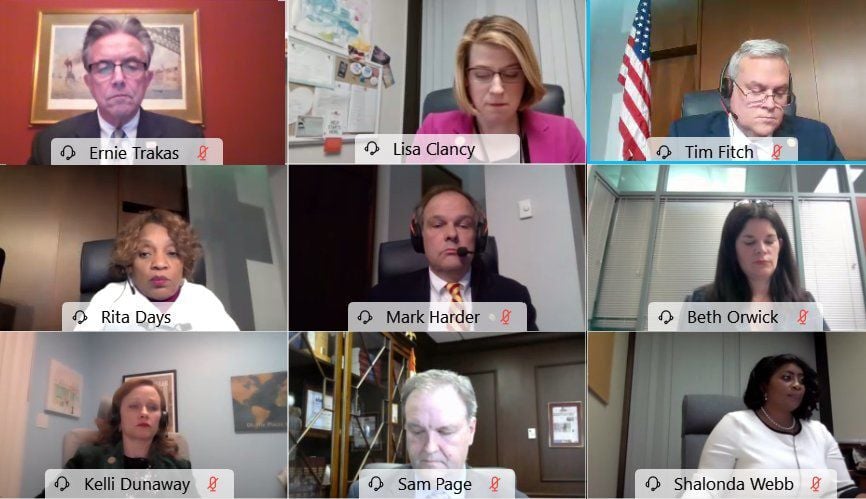 ST. LOUIS — A bitter fight over leadership derailed a meeting of the St. Louis County Council on Tuesday, forcing it to adjourn within minutes of a tense back-and-forth between Councilwoman Lisa Clancy and her supporters and opposing members trying to replace her as chair.
Before the fracas, though, the council did manage to get one thing done, voting unanimously to fast-track a bill authorizing an agreement with the U.S. Treasury Department for a yet-unspecified amount of federal funds to provide rental payment assistance to county residents amid the COVID-19 pandemic.
But that harmony was short-lived.
In an unprecedented move, the council voted 4-3 to suspend its regular rules and revisit last week's controversial vote to retain Clancy, D-5th District, as chair for a second year. Clancy won that vote on Jan. 5 with the support of Rochelle Walton Gray, the District 4 council member who lost her bid for reelection last year, and Council members Ernie Trakas, R-6th District, and Kelli Dunaway, D-2nd District. Trakas was also elected vice chair last week.
Gray's term was set to expire at the end of 2020, but a charter change approved by voters on Aug. 4 delayed the swearing-in of her successor until the second Tuesday of January. Relying on a county counselor's opinion, Clancy and Gray saw the charter change as an opportunity to extend Gray's tenure on the council and allow her to vote last week.
Shalonda Webb, D-4th District, who defeated Gray in the August Democratic primary, had publicly criticized the decision to allow her predecessor to vote, saying it disenfranchised her constituents.
On Tuesday, Webb voted for a resolution sponsored by Councilman Tim Fitch, R-3rd District, and also supported by Council members Mark Harder, R-7th District, and Rita Days, D-1st District, to rescind last week's vote.
Webb said Tuesday that her decision wasn't a criticism of Clancy as chair, but that she felt she deserved a voice in electing council leadership. She said she had asked Clancy and other council members to hold the vote until she was seated.
"The issue of whether or not I have the right to vote for council leadership is one that I have not been asked to be a part of — and yet we are here," Webb said.
"My position was clear: I should have the right to vote for the council leadership. I made my position public. I also sent my position to each current member … seated here today. I asked to be included in the vote and it did not happen. Instead, my predecessor was allowed to cast a vote that should have been mine," she said.
Before the vote, Clancy and St. Louis County Counselor Beth Orwick said there was no legal basis in the charter for rescinding the election of council chair, and argued that the vote wouldn't be legally binding. The county charter does not specifically outline a recall process for the council chair, something that hasn't occurred in council history within living memory.
"There is no mechanism in our charter to remove a chair," Clancy said.
But the council members who supported Fitch's resolution argued their vote was legally binding under parliamentary rules for objecting to a government body chair.
Days, arguing Clancy's seat was vacated, then nominated Fitch as "presiding officer" and the group voted for him over the objections of the rest of the council.
"You are no longer the chair," Fitch insisted to Clancy.
Fitch and Clancy then interrupted one another repeatedly as they each tried to direct the meeting.
"The chair position has not been vacated," Clancy said. "I understand the resolution you put forward but it amounts to your opinion … and that has no legal standing."
"We will have the vote for the (next) council chair and vice chair at the first meeting of 2022."
The council spent the next 30 minutes visibly frustrated, bickering and speaking over one another.
"This is not in order," Clancy said.
"I don't care," Fitch, a former St. Louis County police chief, said. "You're no longer the chair."
Clancy attempted to move to the next item on the council's agenda, but Fitch interrupted.
"No ma'am, we are not going to allow you to move on to bid openings," he said. "We have a motion on the floor, you cannot deny it."
Clancy responded, "You may have been a bully as the police chief, but you will not bully this council."
Trakas called Fitch an "obstructionist."
"You're just being an obstructionist and I'm sick of it," Trakas said, speaking up after Fitch spoke over Clancy for several minutes. "Why don't you quit being a bully. ... You're a fool."
Frustrated and getting nowhere, the council then voted unanimously on a motion by Clancy, also put forward by minutes earlier by Fitch, to adjourn just after 7 p.m.
"It's a shame that we have to adjourn this meeting," Clancy said.
Photos: Virtual swearing-in ceremony for St. Louis County Council members
A virtual swearing-in ceremony for County Executive Dr. Sam Page and St. Louis County council members Shalonda Webb and Ernie Trakas was held in three different rooms of the county building on Tuesday, Jan. 12, 2021.