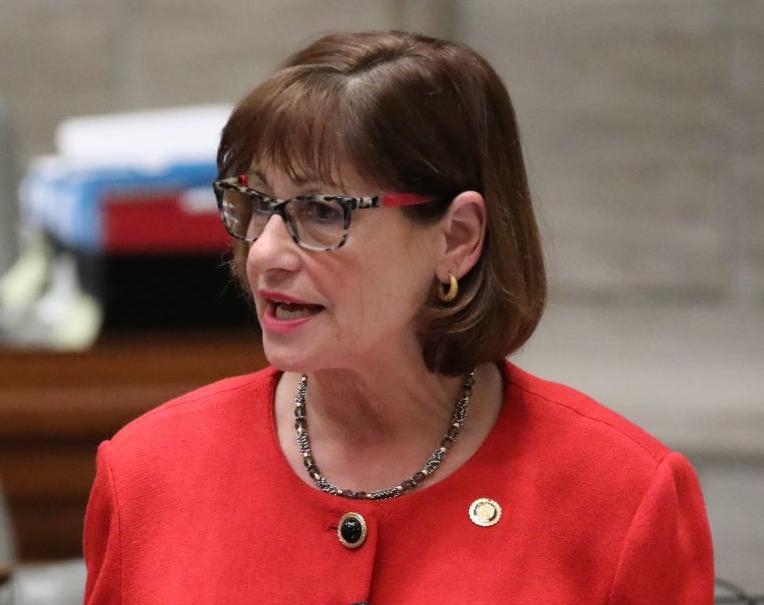 JEFFERSON CITY — State Sen. Jill Schupp, a St. Louis County Democrat who flipped a Missouri Senate district from GOP control in 2014, is expected to launch a campaign in the coming weeks to try to unseat Republican U.S. Rep. Ann Wagner, the Post-Dispatch has learned.
Her likely entry would follow last year's unsuccessful effort by Missouri Democrats in Wagner's 2nd Congressional District, which takes in suburban and exurban parts of the St. Louis metro area, including parts of St. Louis, St. Charles and Jefferson counties.
Schupp, 64, of Creve Coeur, did not return several requests for comment. She is a formidable fundraiser who has won the type of suburban swing district that has gravitated toward Democrats in recent election years.
The Democratic Congressional Campaign Committee, which targeted the 2nd District in 2018, had been silent on challengers to Wagner throughout the summer as it scrambled to secure a candidate. The group declined to comment this week.
Last year, Wagner defeated Democrat Cort VanOstran, 51% to 47% — or by about 15,000 votes out of 376,000 cast.
Schupp would join a growing list of suburban Democrats mounting serious challenges to area Republicans. Democrat Trish Gunby earlier this month flipped the 99th Missouri House District from Republican control in a special election. The district includes parts of Wagner's hometown of Ballwin.
State Rep. Deb Lavender, a Democrat who flipped a Kirkwood-based House district in 2014, has launched a campaign to unseat state Sen. Andrew Koenig, R-Manchester, next year, whose 15th Senate District fits within Wagner's congressional district.
Democratic and Republican tongues have been wagging about Schupp's entry.
"She has certainly shown that she has the wherewithal to raise the funds needed to finance a state Senate, or a congressional campaign," said state Rep. Gina Mitten, D-Richmond Heights. "And she works hard."
Bob Salera, spokesman for the National Republican Campaign Committee, said Schupp was the Democrats' "sacrificial lamb" in the 2nd District.
"Washington Democrats are finally settling on Jill Schupp for one reason — no one else wanted to be their sacrificial lamb in the 2nd District," he said in a statement. "Schupp's enthusiasm for the Democrats' socialist agenda, from her support for late-term abortion to her hostility to the 2nd Amendment, makes her unelectable."
In the Senate, Schupp has joined numerous Democratic filibusters, including one this year that attempted to scuttle a proposal, later signed by Gov. Mike Parson, that bans most abortions in Missouri after eight weeks of pregnancy.
She has had some success in the GOP-controlled Legislature, including passage of new whistleblower protections, new limits on the number of children allowed at small day cares, and passage of a bill designed to eliminate "surprise billing" in emergency room situations.
In recent weeks, Schupp's campaign has donated $35,000 to the Missouri Democratic Party, and $25,000 to Majority Forward, a political action committee that works to elect Democrats. The money to the state party includes a $25,000 check the state party reported receiving Monday night.
She donated $15,000 to the Democrats' state House Victory Committee on Tuesday, according to the Missouri Ethics Commission.
Before her election to the Missouri House in 2008, Schupp served on the Ladue School Board and the Creve Coeur City Council. In 2014, after incumbent state Sen. John Lamping, R-Ladue, announced he would not seek reelection, Schupp narrowly beat out Jay Ashcroft to represent the 24th Senate District, which takes in some of the area's most affluent communities.
Ashcroft went on to become secretary of state in 2016.
Schupp won reelection in 2018 after raising a menacing $1 million for the bid.
Republicans failed to field a serious candidate, and Schupp's Republican opponent reported raising no money. She ultimately won last year with 61% of the vote.
"I'm not," Schupp told the Post-Dispatch when asked if she was planning to run. "I'm committed to serving in the Senate."
"That's my plan," she said.
"People have talked to me about that," she said. "It's really not something I'm looking at. I think that I'm needed in the Senate."
But as one of the few Democrats with a track record of winning in St. Louis' suburbs, speculation among the state's political class that Schupp would run against Wagner never stopped.
"If she decides to run, she'll be a phenomenal candidate," said state Rep. Peter Merideth, D-St. Louis.