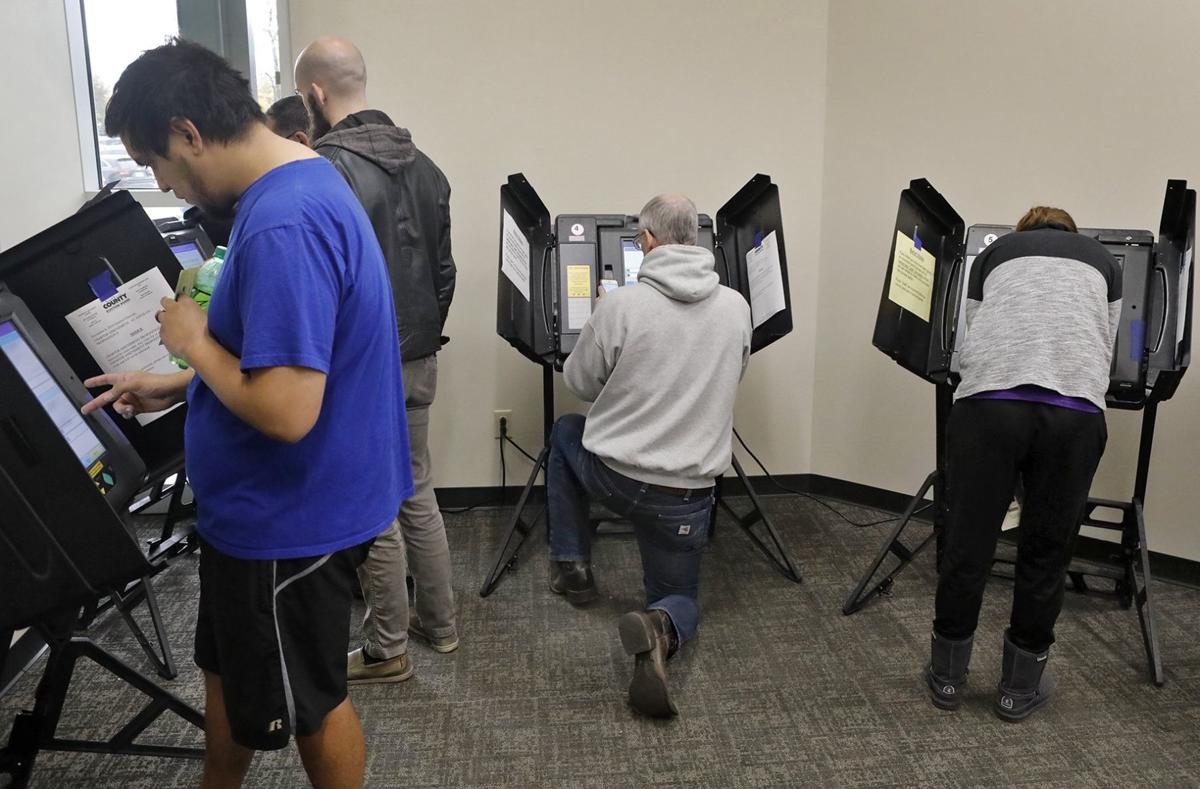 Absentee voting began Tuesday for Missouri's March 10 presidential primary, with a relative handful of residents showing up at local election offices.
"It hasn't been huge," Eric Fey, Democratic director of the St. Louis County Election Board, said of the opening-day turnout at board headquarters in St. Ann. "We've had probably 30 to 40."
He said most of those voting Tuesday were election judges who were at the board's office for training.
In St. Charles County, Elections Director Kurt Bahr said his office in St. Peters drew five absentee voters Tuesday, including one couple who said they were planning to be out of the country on Election Day.
Missouri law allows absentee voting six weeks in advance if a voter is going to be absent from their home county on Election Day, is incapacitated or confined due to sickness or disability, employed by an election authority or falls within several other categories.
In contrast, Illinois doesn't require an explanation for voters who want to cast a ballot during its early voting period, which begins Feb. 6 for that state's March 17 presidential primary.
On the Missouri presidential ballot will be 22 Democrats, five Republicans, three Green Party candidates, two from the Constitution Party and one Libertarian.
The Democratic field includes former Vice President Joe Biden; Sens. Michael Bennet, Amy Klobuchar, Bernie Sanders and Elizabeth Warren; Rep. Tulsi Gabbard; former Rep. John Delaney; former South Bend, Indiana, Mayor Pete Buttigieg; former Massachusetts Gov. Deval Patrick; former New York Mayor Michael Bloomberg; and businessmen Tom Steyer and Andrew Yang.
Also on the ballot will be three former presidential hopefuls who ended their candidacies after the Dec. 24 deadline for getting off or on the Missouri ballot — Sen. Cory Booker, former Housing Secretary Julian Castro and author Marianne Williamson.
Also listed in Missouri as Democratic presidential candidates are Bill Haas, a former St. Louis School Board member who has run numerous times for various offices, and Leonard Steinman and his wife, Velma Steinman, both of Jefferson City.
Among other names listed as Democratic candidates are Roque De La Fuente of Rancho Santa Fe, California; Steve Burke of Heuvelton, New York, and Robby Wells of Waynesboro, Georgia.
The Republican ballot in Missouri is led by President Donald Trump and also includes former Gov. Bill Weld of Massachusetts; former Rep. Joe Walsh of Illinois; Bob Ely of Vernon Hills, Illinois; and Matthew John Matern of Manhattan Beach, California.
The actual Missouri delegates to the Democratic and Republican national conventions will be chosen in follow-up caucuses and larger meetings but the votes of most of them will be pledged according to the relative showing of the presidential candidates.