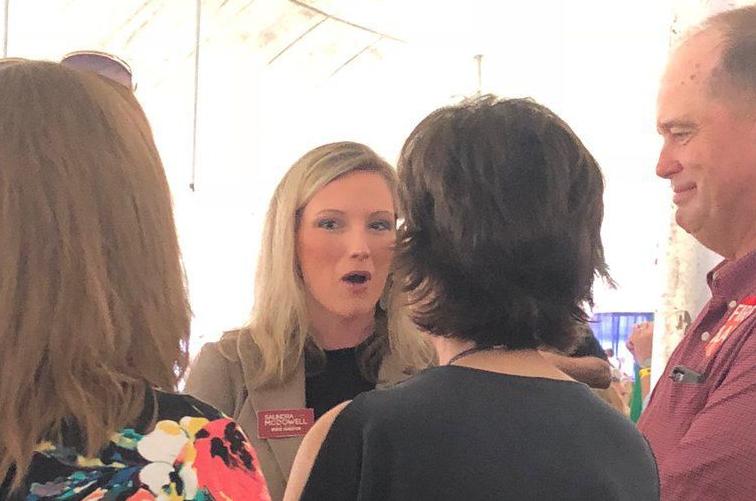 JEFFERSON CITY • Add an unpaid tax bill to the list of financial questions facing the Republican candidate for Missouri auditor.
According to documents obtained by the Post-Dispatch, first-time candidate Saundra McDowell's husband is listed as owing $1,484 in personal property taxes, fines and fees dating to 2012 when the couple lived in Kansas City.
The bill, which was labeled by the Jackson County Collector as "delinquent," does not lay out what Jonathan McDowell was being charged for, but the taxes are typically levied on personal vehicles. At the time, records show the couple had an address in an apartment building three blocks from his former law office in the financial district north of downtown.
Gregg Keller, a spokesman for McDowell, said the candidate was moving Thursday to clear up what he described as a mix-up. He said the couple paid their tax bill in Greene County after they moved to Springfield.
Greene County records show the McDowells paid their 2013 personal property tax bill on Jan. 30, 2018. The $633 bill included a $300 late fee.
As of Thursday afternoon, the Jackson County collector's office website showed the bill there had not been cleared.
"They paid the taxes on those cars, but they paid them in Greene County, rather than Jackson County," Keller said.
The tax issue is among a number of financial question marks raised since McDowell entered the race last year.
McDowell's opponent in the Nov. 6 general election, Democratic Auditor Nicole Galloway, has said the money problems raise questions about McDowell's ability to adequately head the state's financial monitoring office.
"Everywhere she has lived, Saundra McDowell has left a trail of unpaid bills, civil judgments and wage garnishments in her wake. Missourians certainly can't trust her with their tax dollars and she shouldn't be allowed anywhere near the state's fiscal watchdog agency," said Galloway campaign spokesman Eric Slusher.
According to a lawsuit obtained earlier by the newspaper, McDowell was living in Mission, Kan., when she was sued by a furniture company for failing to pay $698 plus 18 percent interest after entering into a contract in June 2012. Nebraska Furniture Mart Inc. also asked for attorney fees.
In 2015, McDowell was ordered to pay $32,658 to a Springfield landlord in 2015 after she and her husband stopped paying rent on a home.
While working for the state as an attorney in the secretary of state's securities division, her wages were garnished from her paycheck to pay down the debt.
Jonathan McDowell, who is assisting his wife on the campaign trail, is a car salesman in Columbia. He is an attorney, but was suspended indefinitely by the Missouri Supreme Court in April for failing to file legal documents in an employment discrimination case.
In addition to the financial problems, McDowell has downplayed questions raised about her residency in Missouri. In order to qualify for the auditor post, a person must be a resident of the state for 10 years.
In addition to living in Kansas in 2013, McDowell didn't move to Missouri until 2010 after the couple married.
Galloway was appointed state auditor in 2015 after the death of then-Auditor Tom Schweich. In addition to Galloway and McDowell, Libertarian Sean O'Toole, Green Party candidate Don Fitz, and Constitution Party candidate Jacob Luetkemeyer are on the Nov. 6 ballot.