CLAYTON — Things may be getting back to normal at the St. Louis Economic Development Partnership after two years at the center of the political battle between the St. Louis County Council and former St. Louis County Executive Steve Stenger — and three months in the middle of a federal pay-to-play investigation that nabbed Stenger and the Partnership's former director.
After operating for months without certainty about its funding, the Partnership recently got $2 million from the County Council. Under Stenger, the council withheld Partnership money as questions swirled about the organization's operations.
New St. Louis County Executive Sam Page this week said he is close to naming new Partnership board members, filling vacancies left by the departure of several Stenger appointees, including one who pleaded guilty in the corruption probe. 
St. Louis County Councilman Mark Harder, who heads the County Council's economic development committee, attended the Partnership board meeting Wednesday — the first since guilty pleas from Stenger and former Partnership CEO Sheila Sweeney — and said the County Council and Page have "housecleaned and things are getting better."
"This was one step, getting this house together and in order, and I think we've done that and that's one of the reasons why your funding was approved," Harder said. "Hopefully this won't be a holdup in the future and we can keep moving forward and improving the region as we should."
The Partnership has seen heavy staff turnover following the board's decision to oust Sweeney in January, and five seats are vacant after several board members who worked in Stenger's administration resigned. Former Stenger aides Jeff Wagener and Shannon Weber — both of whom are mentioned in Stenger's indictment — have left the board. So has Bill Miller, Stenger's former chief of staff, who pleaded guilty to charges related to his work to get Sweeney to approve a contract with prominent lobbying firm John Bardgett and Associates. Another seat has been vacant since Regional Business Council CEO Kathy Osborn left in January following Sweeney's ouster.
Interim CEO Rodney Crim pointed to efforts to better communicate with the County Council. He also said the Partnership will begin receiving regular reports from the agencies its staff has operated and that were used to award contracts to Stenger's campaign donors — the St. Louis County Land Clearance for Redevelopment Authority and St. Louis County Port Authority. 
As the new chair of the Port Authority, Page appointee John Maupin is now on the Partnership board. After the County Council wrested the Port Authority, a powerful agency that gets about $5 million a year in casino money and was used by Stenger to reward allies with contracts, it was unclear whether it would continue working with the Partnership.
But last week, the Port Authority opted not to terminate its management contract with the Partnership. Under a new board, the Port is "making good progress and having excellent cooperation from Partnership staff," Maupin said. He said the Port's initial focus now is resuming efforts to find developers for real estate it owns, including prime Clayton properties and the former Jamestown Mall. 
"I look forward to working with Partnership board," Maupin said at the board meeting Wednesday. "As news to no one, the Port Authority as it was previously run was a pit of vipers, liars and thieves. And we are not going to do that anymore."
"I'm trying to be nice," he joked. "I'm pulling my punches here."
Partnership Chairman Karlos Ramirez praised Crim's efforts to restore credibility to the organization.
"The smoothness of this transition is many parts owed to Rodney Crim's leadership," he said.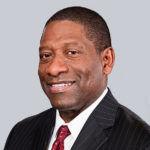 County Council Chairman Ernie Trakas agreed that Crim has helped fix relations with the County Council and said he's "encouraged with the new level of communication and cooperation with the council."
But he added that "it's going to take a while to reestablish credibility and trust for various reasons."
Indeed, things aren't totally back to normal yet. On Wednesday, the assistant U.S. Attorney leading the Stenger investigation, Hal Goldsmith, arrived at the Partnership's Clayton offices and met with the board for about 30 minutes in closed session.
He declined to comment afterward on the discussion, saying the investigation is still ongoing. Board members and Crim also said they couldn't comment on their discussion with Goldsmith.