JEFFERSON CITY • A recent Post-Dispatch investigation into absentee voting in St. Louis has turned up plenty of questions — among them, where the buck stops when local elections go awry.
For Kenneth Warren, a professor of political science at St. Louis University, it's a familiar story. The city has a history with voter fraud, and he's been watching it for years.
The recent incident reminds him of another controversy more than 25 years ago: a contentious St. Louis school board race he investigated in 1991, when now-U.S. Sen. Roy Blunt was serving as Missouri's secretary of state.
A probe by the city's Election Board turned up some fraud, namely from two election judges who admitted under oath that for years, they cast ballots for absent voters, sometimes even for their own relatives.
As reported by the Post-Dispatch in 1992, Blunt — the state's top election official at the time — wanted those judges charged. He also criticized the city's inquiry into the race, saying the speed of the investigation was "totally unacceptable … by any standard I'm comfortable with." Eventually, he asked the U.S. attorney's office to get involved.
But he made the limitations of his office clear.
"We have expressed our willingness to provide assistance in this matter," he said in a statement in August 1991. "However, the board and the court have jurisdiction over this investigation."
"Jason Kander never misses an opportunity to remind people that he is the state's chief elections official, but the minute there's a problem, he is anxious to pass the buck rather than ensure that every eligible Missourian has the ability to vote," said Tate O'Connor, press secretary for Blunt's campaign, in a previous statement.
Warren said that's smart politics, but not necessarily a fair claim.
"Roy Blunt was secretary of state as well, and there was fraud happening under his watch," Warren said. "I don't blame him for saying it. If I was running Blunt's campaign I'd tell him to say the same things. But he knows it's just politics to blame Jason Kander."
Who's in charge?
So who ultimately is in charge of local elections? Republicans have been pointing to Kander's own statements, where he identifies himself as the chief election official of the state. And he is, as defined very clearly in Missouri state law.
The Secretary of State "shall be the chief state election official responsible for the administration and coordination of state responsibilities pursuant to the Help America Vote Act of 2002," the law says.
But state statutes also make clear that county clerks or boards of election commissioners have the authority over local elections.
In St. Louis, the Board of Election Commissioners is one of the city's "county" offices, which is state-mandated. It's funded by the city but overseen by four commissioners appointed by the governor — two Republican, two Democrat.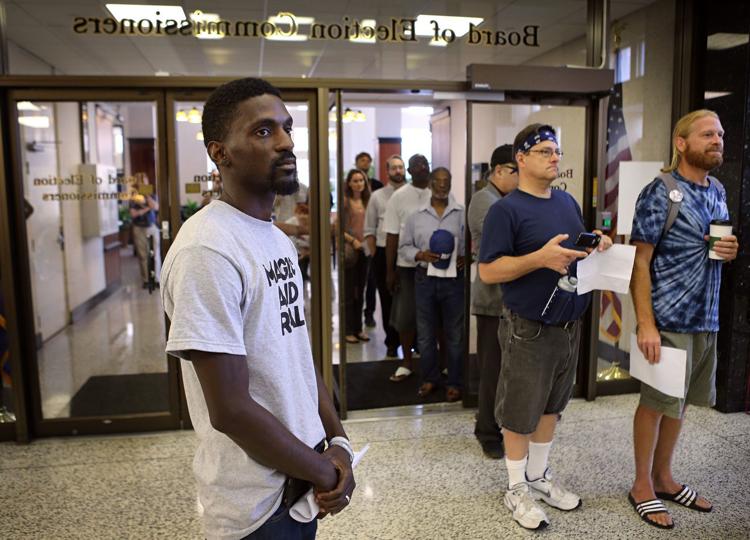 The Help America Vote Act, a federal law sometimes known as HAVA, established minimum election administration requirements and mandated all states and local municipalities upgrade voting equipment.
Implementation has been left to the states, and that's what the Missouri Secretary of State is tasked with. He or she sets voting standards, compliance deadlines and procedures for when HAVA is violated.
David Kimball, a University of Missouri-St. Louis professor of political science with expertise in elections, said that means the job is largely responsive in nature.
"I mean, the fact that he's the sitting secretary of state, you sort of blame the current officeholder for whatever goes wrong under his watch," Kimball said. "But in this case, the buck stops with the local election board. They're the ones that have been accepting absentee ballots.
"I think typically in these sorts of situations, the secretary of state's job is to investigate and report on it after the fact, as to how the law might be changed and strengthened," Kimball added.
Warren echoed a similar sentiment.
"Practically speaking, Jason Kander cannot monitor what happens in all the counties in the state of Missouri," Warren said. "That's absurd."
He compared the Blunt campaign attacks to efforts to lay all responsibility for the racial unrest in Ferguson on Missouri Gov. Jay Nixon because he's the chief executive of the state.
"How (Kander) reacts to the incident is far more important," Warren said. "If he just lets it go, then yes, you should blame the secretary of state."
Overhaul contemplated
Still, even some Democrats aren't so quick to let Kander completely off the hook.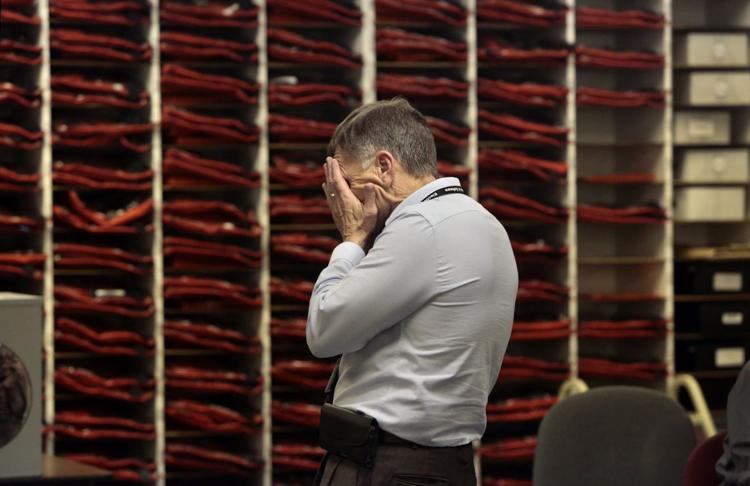 Lawmakers also investigated, including Rep. Courtney Allen Curtis, a Ferguson Democrat who chairs the Missouri House Special Committee on Urban Affairs. His committee, along with a House task force, grilled St. Louis County election directors who Kander has said took full responsibility for the problem.
"It's the secretary of state's job to ensure there is confidence in the electoral system," Curtis said. "As a leader, you can delegate, but when you delegate you ensure the people you delegate the responsibilities to do their jobs."
If it's a process problem, Curtis said he expected lawmakers might again be getting involved.
"Maybe it's time for a complete overhaul," Curtis said.
Warren maintains that no blame belongs with Kander until those following the story see how he handles the controversy.
Similarly, he welcomed Blunt's involvement in the school board case in November 1991, when Blunt was critical of the pace of the investigation and eventually offered his office's resources to help.
"I wouldn't blame (Kander) for the incident that's broken out, but he is accountable for what happens in response," Warren said. "Once a problem surfaces, he should take responsibility for trying to solve the problem."
Post-Dispatch reporter Doug Moore contributed to this report.