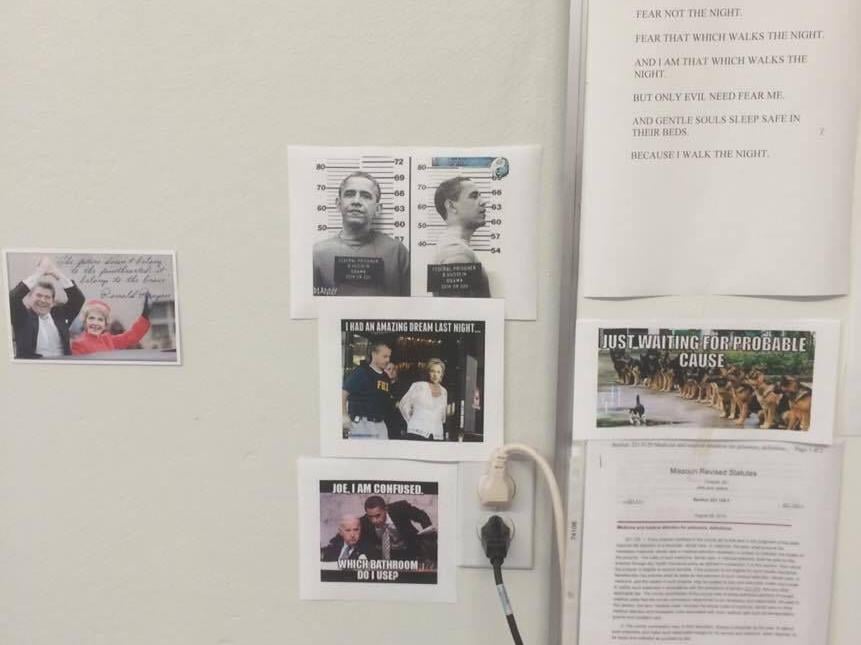 When Scott Bringhurst went to the Gasconade County, Mo., sheriff's office last week to apply for a concealed-carry gun permit, he was shocked to see disparaging, doctored photos of President Barack Obama and Democratic presidential candidate Hillary Clinton affixed to a wall.
"The courthouse should be a nonpartisan environment," said Bringhurst, a Hermann, Mo., business owner. "That goes without saying. Especially if you're an employee who draws your paycheck from taxpayers."
One fake image depicted Obama in a criminal booking mug shot and another purported to show an FBI agent taking Clinton away in handcuffs. A third photo shows Obama and Vice President Joe Biden with the caption: "Joe, I am confused. Which bathroom do I use?"
So Bringhurst posted a complaint on the Facebook page of the local Hermann newspaper.
The presiding county commissioner, Larry Miskel, happened to see it and sent an email to Sheriff Randy Esphorst asking the sheriff to take down the photos. Esphorst complied.
"It's a place of business," Miskel said in an interview Tuesday. "I don't believe when you're conducting county business, your political views should be known, plain and simple."
Miskel said he consulted with the two other county commissioners before sending the email.
Esphorst, who like Miskel is a Republican, said the photos were examples of political humor that he was within his rights to put up.
Moreover, he said the area of the office involved — where concealed-carry applicants and people arrested get fingerprinted — isn't accessible to the general public.
"Political humor has been around since George Washington's day," said Esphorst, who isn't seeking another term in this year's elections. "Everybody has their little gripes and complaints. If I listened to and reacted to every one, it would be utter chaos."
However, he said he complied with the commission's request because "I'm not going to argue with them. It's so minute and so ridiculous."
Bringhurst, 47, who also complained last week to the Post-Dispatch about the photos, said Tuesday he's glad they've been taken down. He said even if it was legal to post the photos, they were inappropriate and insulting.
Bringhurst said he's a political independent who voted for Obama in 2008 and switched to Libertarian nominee Gary Johnson in 2012. This year, he says, he'll vote for a "third party" candidate but doesn't know which one.