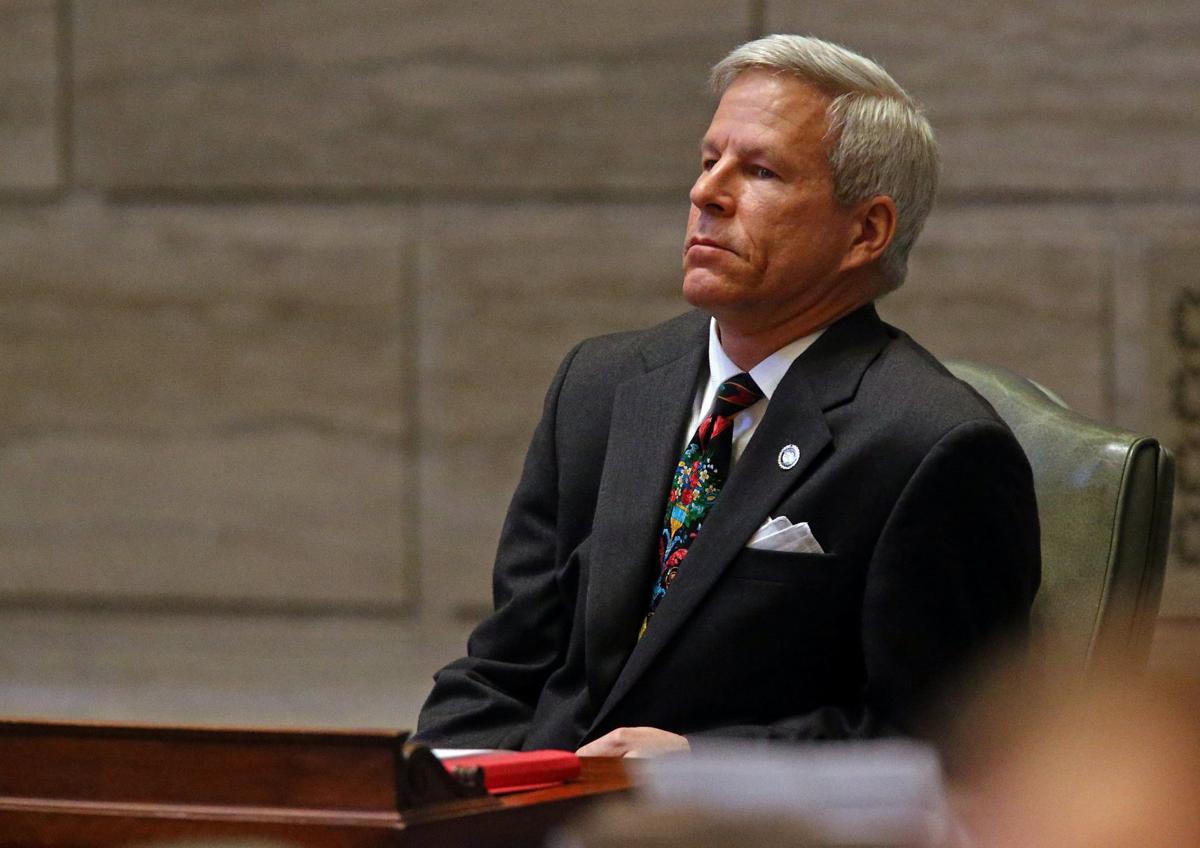 JEFFERSON CITY • The Missouri Senate ended a 25-hour-long filibuster Thursday by giving preliminary approval to a controversial rewrite of state utility laws.
Facing opposition from a small bloc of senators on both sides of the aisle, the measure favored by St. Louis-based Ameren Corp. floundered for hours Wednesday and Thursday before an agreement was reached that will revamp how electrical rates are set in exchange for a promise that utilities upgrade an aging electrical grid.
Supporters of the package, including Gov. Eric Greitens, say it will create jobs and improve reliability.
"I think it's very important for us to have a competitive economy here in Missouri and I think it's going to lead to more jobs and higher pay," Greitens told members of the Missouri Press Association at a lunch meeting at the Governor's Mansion.
Warren Wood, Ameren vice president of external affairs and communications, said current state regulations have caused unpredictable rates for customers and a grid that needs modernization.
"The Missouri Senate came together today to give initial approval to rate cap legislation that builds Missouri's energy future by focusing on three key customer points. Customers want electric rates that are more stable and predictable, they want a secure grid, and they want a smarter grid that is more resilient," Wood said.
The latest version of the measure caps rate hikes over a five year period to an average of 2.85 percent per year. That's down from a previous level of three percent and was a key factor in the hard-won concessions sought by Sen. Gary Romine, R-Farmington.
The legislation also would alter the way Missouri's utility regulators handle cases involving improvements to the grid. Utilities sought a plan that would change the accounting method for upgraded infrastructure so they can recover their investments.
Leading the opposition were Romine and Republican Sens. Rob Schaaf of St. Joseph, Doug Libla of Poplar Bluff. Each took turns holding the floor through the night and into the next day while they pressed for changes behind closed doors.
They talked about the proposal for hours, but also mixed in comments about pets, Greitens and other personal issues. Some senators napped on couches in their offices during the prolonged negotiations.
Sen. Bill Eigel, R-Weldon Spring, said he slept for about 50 minutes early Thursday morning. Lobbyists for Ameren spent the day patrolling the Capitol corridors.
Schaaf dismissed questions about being tired after talking all night.
"You don't get tired when you're having fun," he said.
Schaaf later said he relented on the stalemate after the sponsor of the legislation, Sen. Ed Emery, R-Lamar, agreed to pro-consumer changes.
"I don't think it is so bad that it's horrible," Schaaf said.
Romine said the final agreement left both sides with wins and losses.
"This is truly one of those bills that nobody is happy with the final package," Romine said.
Hoping to gain enough support, Emery added provisions to the legislation that he said would reduce electric bills by $100 million this year by giving Ameren a green light to begin taking advantage of the recently approved federal tax cuts.
"This money should go back to customers who are paying utility rates based on the old tax brackets," Emery said.
Wood said, "Senators improved the bill through compromise and ensured that federal tax cuts would quickly go back to Missouri families and businesses in the form of lower rates. This rate decrease will save our customers more than $100 million within 90 days of this bill becoming law. 
Emery said the new version of his bill would result in more reliable service for customers.
"I think this is good for Missouri. I think this will accelerate the modernization of the grid," Emery said.
Under current law, utilities must file a rate case and face months of scrutiny from the Missouri Public Service Commission and its staff to win an electric rate increase.
Ameren, which serves 1.2 million electricity customers and 127,000 natural gas customers in Missouri, says it cannot upgrade old electric substations or begin installing more modern, interactive meters until the rate-making process has been streamlined.
By imposing a five year cap on increases, the legislation would make energy costs more predictable for customers.
Senate Minority Leader Gina Walsh, D-Bellefontaine Neighbors, said she supports the proposal because it could create jobs for tradespeople in her St. Louis-area district.
The legislation still awaits final Senate approval before moving to the House for further debate.