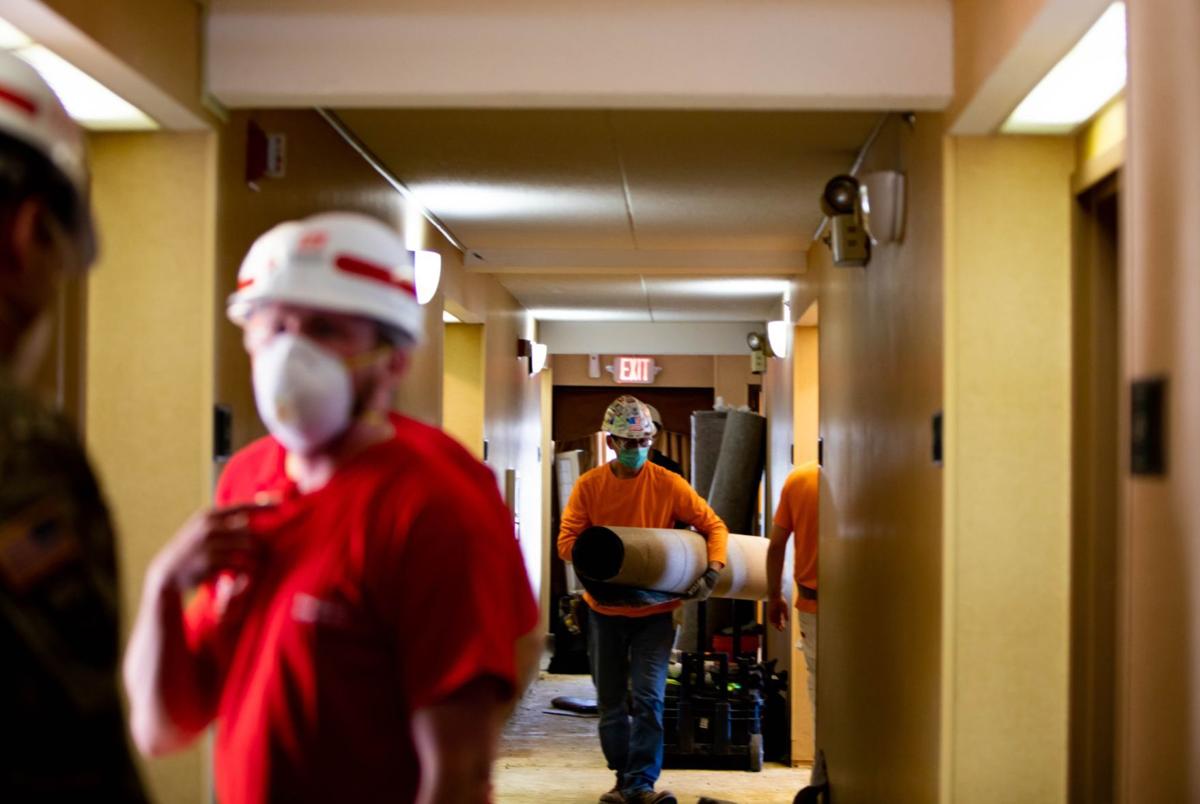 JEFFERSON CITY — A Florissant hotel converted into an emergency field hospital for coronavirus patients sits empty after serving 28 patients over the course of a month.
And, although the former Quality Inn at 55 Dunn Road in Florissant is unused, the state's contract with the hotel owner is not scheduled to expire until July 11.
Federal spending records show the lead construction firm on the project, St. Louis-based Tarlton Corp., was paid $1 million for its work.
The state is on track to spend $902,700 for operational costs, including rent of each room at a rate of about $99 per night.
The bill includes $600 per month to store the hotel's furniture and $20,000 per week for cleaning, said Chris Moreland, spokesman for the Office of Administration.
All told, that puts the per-patient cost at about $67,800.
The facility last served a patient on May 12. The Missouri Disaster Medical Assistance Team, which is part of the state's emergency management agency, left on May 18. The Missouri National Guard, which also had been staffing the facility, left on May 31.
The overflow hospital was part of a nationwide effort to prepare for a possible strain on existing medical capacity.
Although many of the overflow hospitals constructed in the early days of the pandemic were not used, officials defend their decision to move forward with them.
In New York, for example, Gov. Andrew Cuomo has used the mantra "plan for the worst, hope for the best" to explain his support of the emergency facilities.
In the early days of the pandemic, Randall Williams, director of the Missouri Department of Health and Senior Services echoed that sentiment, "In our case, we would much rather be over-prepared than under-prepared."
More than 100 employees from the design-build team, including 50 from Tarlton, completed the conversion in less than 100 hours.
Workers built a nurses' station on each floor and turned the existing phone system into a nurse call system. Beds and furniture were moved, air conditioning units in rooms were inspected and repaired or replaced as necessary; hardware was changed on hotel room doors and bathroom doors to disable locks; and all rooms were deep-cleaned.
The overflow hospital wasn't the only public health investment made in anticipation of a large numbers of COVID-19 cases.
In April, St. Louis County built a $2 million auxiliary morgue with space for 1,300 bodies. As of Wednesday, the Earth City facility, named the Dignified Transfer Center, held one body; 56 others had been through the facility in two months of operation.