CLAYTON — Officials in St. Louis County Executive Sam Page's administration are studying the feasibility of demolishing and replacing the austere Lawrence K. Roos county government building that has grimaced over downtown Clayton for nearly half a century.
The 10-story, 200,000-square-foot modernist tower at 41 South Central Avenue, completed in 1971, houses central government functions including the County Council, the county executive and assessor. It's the workplace for 700 county employees.
The building does not have a sprinkler system — or even an automatic fire alarm. The Clayton fire marshal has ordered all high rises to be retrofitted with sprinklers by 2028 to comply with a fire code that went into effect in 2016.
A county budget estimate in 2016 determined that it would cost $27.5 million to comply, including a floor-by-floor asbestos abatement. The current estimated cost is $35 million. Failing to comply would subject the county to fines and increased insurance rates, county officials said.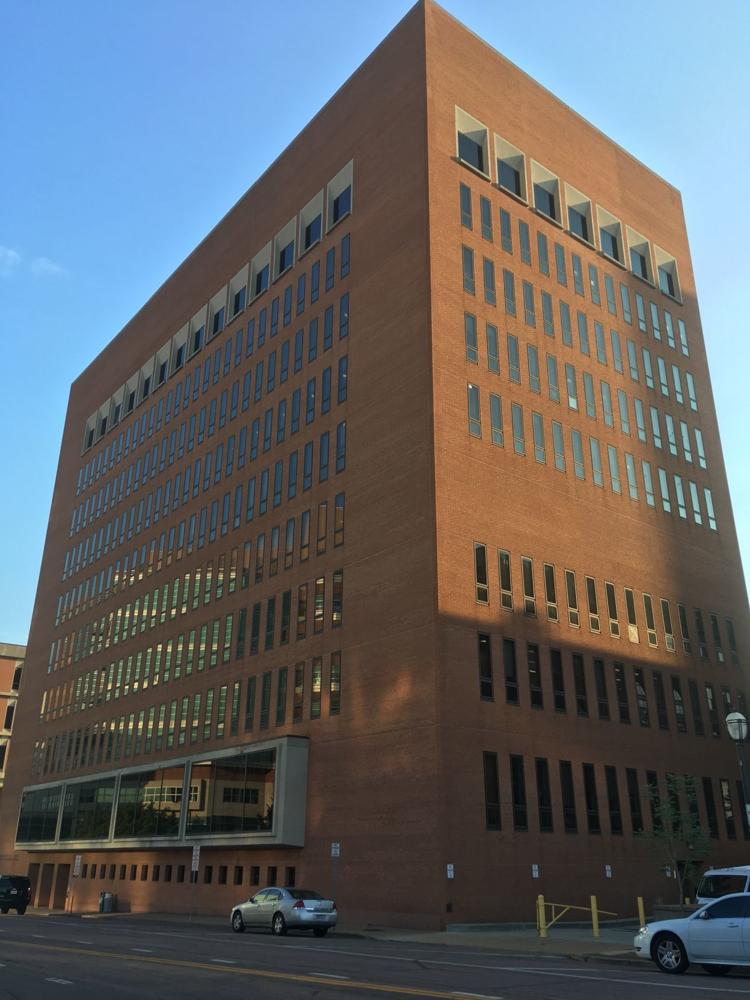 Finding a solution has become priority for Page's acting operations director, Garry Earls, who said there was no evidence that the administration under Page's predecessor, Steve Stenger, had pursued a solution.
Earls and others question the wisdom in fixing a 48-year-old building that is energy inefficient and wastes interior space with long, wide hallways and oddly-placed concourses.
"I don't see where we have a choice," said County Council Presiding Officer Ernie Trakas, R-6th District, who said the council's offices were "barely functional."
"Whether or not the county can afford it is another question," he said.
Earls said the county administration will soon be seeking qualified developers to discuss proposals for a new administration building either immediately west of the building, in Memorial Park, or across the street in the county-owned parking lot on the northeast corner of Carondelet and South Central avenues.
Earls said the project was likely to cost about $70 million. He said it could be paid for with a countywide property tax of about 2 cents per $100 of assessed value, or about $7.60 per year for the owner of a home appraised at $200,000.
Another alternative, he said, would be to enter an agreement with a developer to build both sites in a project that could also include a hotel, private offices, parking and ground-level retail.
Joel Montgomery, a developer who in 2014 proposed a 33-story apartment building at Central Avenue and Forsyth Boulevard, on a site that now includes a row of storefront businesses, said he's watching the county's plan closely.
"The two sites really should be developed together to maximize the real estate opportunity for both," he said. "It would be advantageous for the county to work with us, if they are willing, on a master plan to integrate improvements like parking."