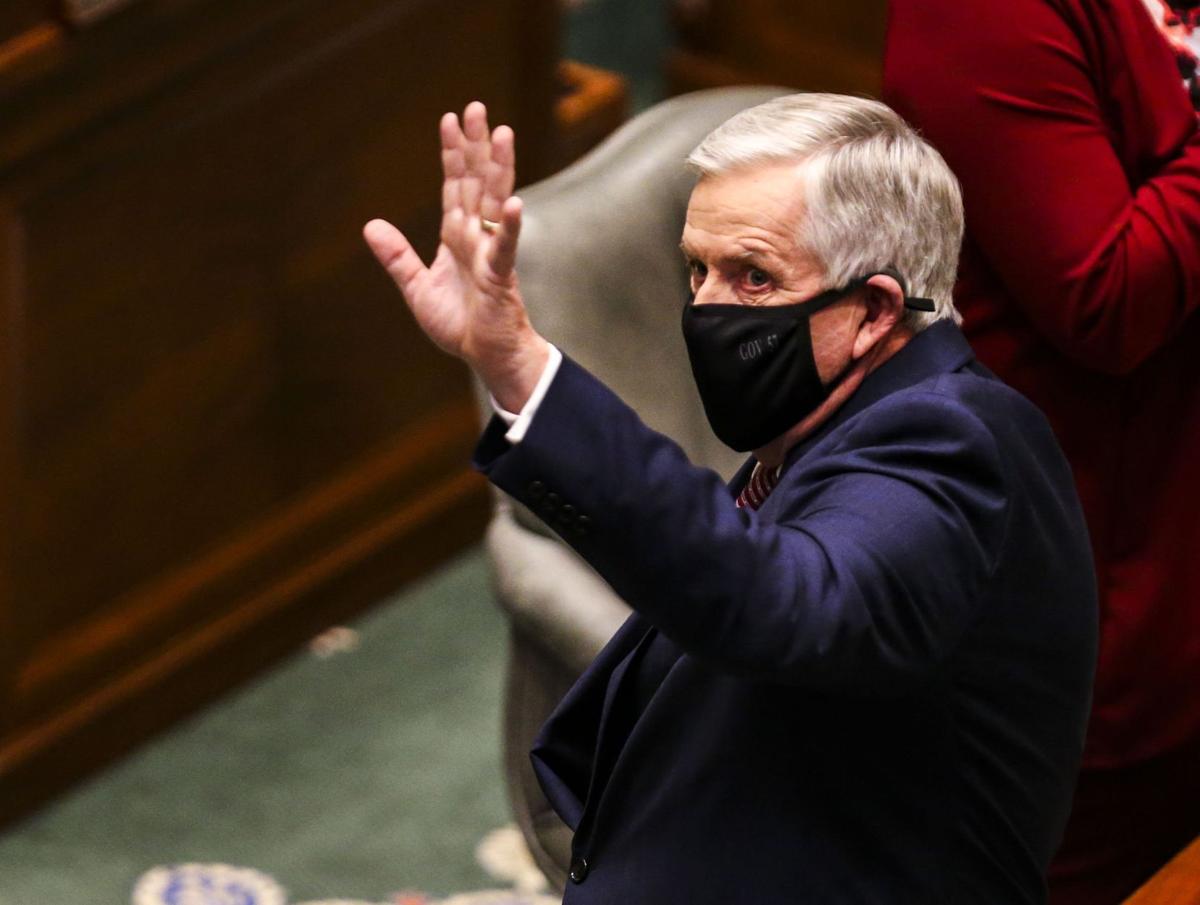 JEFFERSON CITY — Gov. Mike Parson used no taxpayer funds to send a fiery, three-page letter to Republicans in the Missouri House late last month.
According to a spokeswoman in his office, the governor used his own money to send the letters, in which he accused House leaders of engaging in a "purposeful and disgusting scheme to embarrass" him on the day of his annual State of the State speech.
"Governor Parson paid for all postage for the letters sent to the House of Republicans about the State of the State from his own personal account," Kelli Jones said Tuesday.
Jones did not respond to a request for added detail about the expense, including a question about how much money the governor spent to send letters to the homes of at least 114 Republicans in the Legislature.
She did say the letters were not sent via overnight mail, meaning the postage cost could have been under $65.
It is not clear why he didn't use his normal office budget to send the letters, which were printed on official state letterhead. It also is not clear why he didn't send the missive via email or distribute it to their offices in the Capitol.
In the letter, Parson said the speech was an opportunity to recount the GOP's accomplishments and how it was prepared to move Missouri forward.
"Instead, Wednesday became an insider stunt and petty show of arrogance and political power," Parson wrote.
He said that in a further illustration of "malicious intent," House staff "actively went to work putting a political spin on the situation and insinuating that this was about my ego."
Parson ended the letter by telling the GOP lawmakers that "we are all on the same team," and that "before this week, I would have never thought it was necessary to remind Republican members of that," he said. "Please let our office know if you are interested and willing to collaborate."
In particular, Parson focused his ire on House Speaker Rob Vescovo, R-Arnold. But last week he downplayed the attention his letter had garnered, calling it "a lot of hype in the media."
"This is not about me and the speaker. This is about the state of Missouri moving forward," Parson said.
Among those raising concerns about the potential cost of the letter was Rep. Peter Merideth, D-St. Louis, the ranking minority member of the House Budget Committee.
In his own letter to the governor Tuesday, Merideth said he wanted more detailed information about the expense.
"As the House Budget Committee is in the process of considering your office's FY22 (fiscal year 2022) budget request, I would appreciate clarity and transparency from your office on this matter," Merideth said.