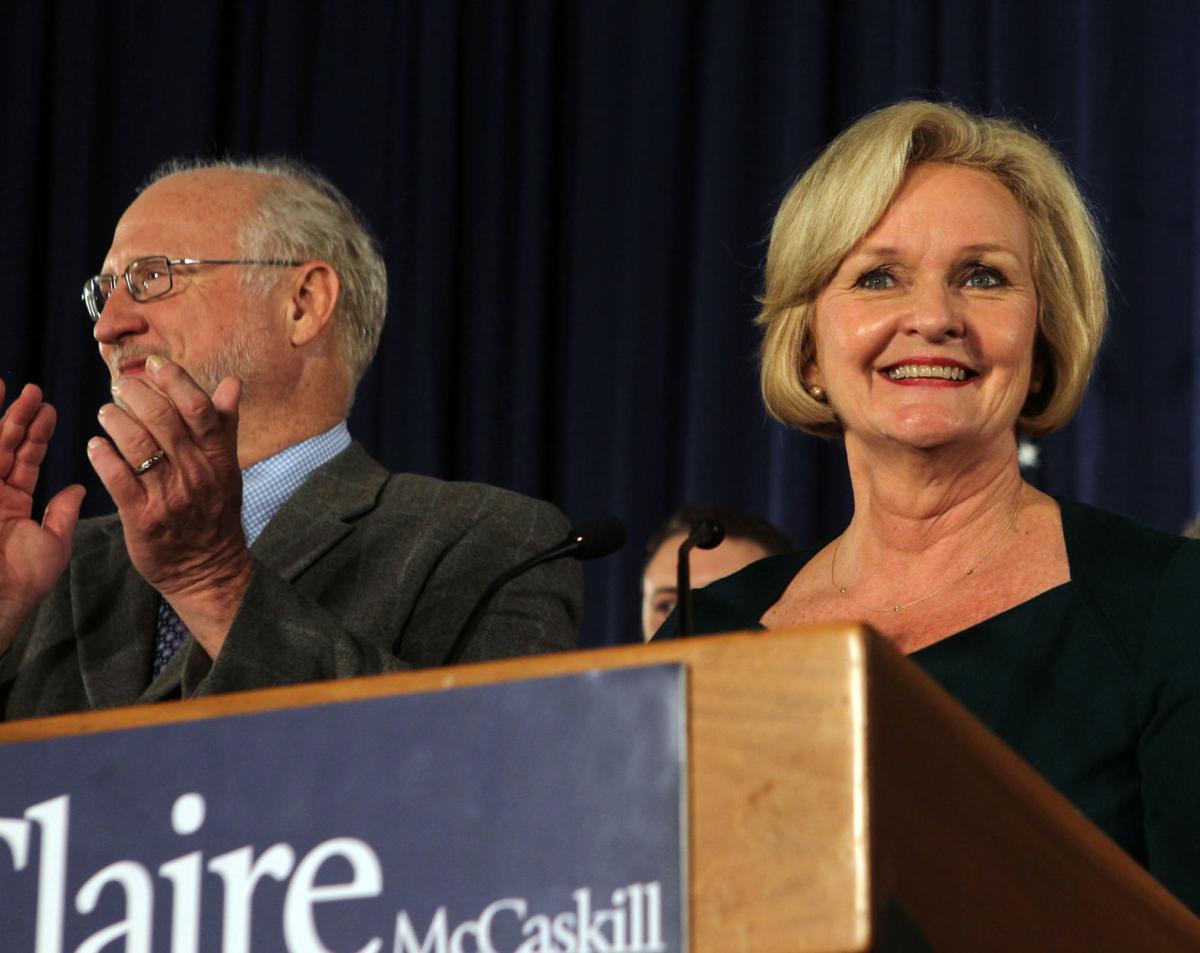 ST. LOUIS • Sen. Claire McCaskill, once considered the most vulnerable Democratic senator in America, easily won a second term Tuesday, propelled by the aftershock from two explosive words: "Legitimate rape."
Republican Rep. Todd Akin's bombshell remarks in August on rape and pregnancy toppled his front-runner status and gave new life to a McCaskill campaign that had been all but counted out by experts in both parties three months before the election.
"They all said, 'It's over, it's done, it's too red, it's just too red, there was no way Claire McCaskill can survive,' " McCaskill told cheering supporters at a St. Louis hotel late Tuesday, after Akin conceded. "Well, you know what happened? You proved them wrong. ... We showed the country what Missouri is made of."
For the Tea Party-backed Akin, even Missouri's dramatic rightward shift over the last four years didn't provide enough momentum to overcome the controversy he caused by suggesting that women who are raped seldom become pregnant.
The medically invalid claim, touted in the staunch anti-abortion circles in which Akin has long traveled, sent top Republicans from Mitt Romney on down scurrying to distance themselves from the six-term Wildwood congressman — and taking their financial support with them.
"Well, things don't always turn out the way you think they are going to. ... We've lost this race," Akin told supporters in his concession speech at the Doubletree Hotel in Chesterfield.
In an apparent reference to the verbal mistake that arguably cost him the election, Akin gave thanks to God: "someone who makes no mistakes."
Low voter opinion of both major candidates, as shown in polls, was evident in the unusually heavy vote for Libertarian Jonathan Dine, who was winning roughly triple the vote that a different Libertarian candidate won in the election for the seat in 2006.
The Missouri Senate race ended up with some startling similarities to the Senate race in Indiana — where a Tea Party-backed conservative Republican was leading, until he made a verbal gaffe involving rape and pregnancy, then ended up losing.
Akin ran a campaign attempting to link McCaskill to Obama, who is deeply unpopular in Missouri, and alleging that she harbored pro-tax, pro-regulation instincts that would hinder economic growth.
"We're facing a choice of two Americas, and two totally different directions that the country is going to go," Akin told the Post-Dispatch during the campaign. "One of them is based on a faith in a lot of big government. I, on the other hand, have an extreme skepticism of the effectiveness of government on a lot of functions that government is trying to do."
McCaskill, facing an electorate that viewed her as too liberal, according to most polls, ran a two-pronged campaign that presented her as a common-sense moderate and Akin as an out-of-touch extremist.
She countered Akin's caricature of her as a big-government spender by stressing the popular spending she supports — Social Security, Medicare, college loans — and reminding voters that Akin has called for privatizing or eliminating them all.
Through it all, both candidates returned repeatedly to the "legitimate rape" issue — McCaskill with commercials that included devastating testimonials from rape victims, Akin with gatherings of female supporters attempting to counter the claim that his views were anti-woman.
Akin's problems with female voters stemmed from an interview on KTVI, the St. Louis Fox affiliate, that aired Aug. 19. Interviewer Charles Jaco asked Akin about his hard-line stance on abortion, favoring a prohibition even in cases of rape or incest.
Akin answered: "First of all, from what I understand from doctors, (pregnancy) is really rare (in rape cases). If it's a legitimate rape, the female body has ways to try to shut that whole thing down."
Akin would later acknowledge the inaccuracy of the comment and apologize for it, but the damage was done, and extensive. Just hours after the comment hit the national press, top Republicans began disavowing Akin and pressuring him to leave the ballot so the party could appoint an undamaged candidate. Akin refused, even after Romney and big-money fundraisers like Karl Rove vowed he would get no party help. In the end, McCaskill was able to outspend him about 4-to-1.
The comment "changed the entire direction of the race," said Dave Robertson, political scientist at the University of Missouri-St. Louis. "Akin lost his (party) support, and McCaskill took the lead for the first time, and kept it."
McCaskill used that mistake as a cornerstone for a campaign theme that painted Akin as extreme not just on women's issues, but on a variety of social and fiscal topics.
"He has apologized for those comments (on rape and pregnancy), but they say a lot about how he views things," McCaskill said in one of the candidate debates this fall, citing other Akin comments calling for de-funding federally backed college loans and federal school lunch funding, nixing the minimum wage, and privatizing Social Security and Medicare. "I believe his view is extreme, and out of the mainstream for most Missourians."
McCaskill clearly was handed some of the best political luck of the year with the "legitimate rape" meltdown. But she also made much of her own luck, with strategic moves that arguably verged on political skulduggery.
It began during the primary campaigns in the summer. McCaskill, flush with cash and facing no in-party challenger, reached into the GOP primary with an ad campaign that criticized all three Republican candidates — though her "criticism" of Akin was that he was "too conservative" and too hostile to big government, allegations that could only help him with GOP primary voters.
Akin subsequently beat primary expectations to win the nomination over fellow Republican John Brunner, a businessman, and former state Treasurer Sarah Steelman — both of whom were widely considered greater threats to McCaskill than Akin was.
Then, in the weeks after Akin's remark, when there was still time for him to leave the ballot, McCaskill emerged as virtually his only defender, saying Missouri Republicans had the right to keep the candidate they had nominated. It was only as the Sept. 25 deadline passed for Akin to leave the ballot that McCaskill made his "legitimate rape" comment a centerpiece of her attacks.
At Akin's election-night gathering, supporters placed much of the blame on Akin's own party for abandoning him during the "legitimate rape" controversy.
"We will never give money to the Republican Party after how they treated him. We'll only give to individual candidates," said Jane Petry, 68, a real estate investor from Sunset Hills
Her husband, Harold Petry, added, "The Republicans hurt him worse than the Democrats did."
In the final week of the campaign, McCaskill's mother, Betty Anne McCaskill, died at age 84.
"I've never had to deal with overwhelming grief at the same time I've had to focus on a really big election," McCaskill said Tuesday morning, as she entered her local polling place in Kirkwood. "She's whispering in my ear, 'Go get 'em, go get 'em, go get 'em.' ... It's impossible not to hear her voice today."
It was McCaskill's mother who had always counseled her to work harder for rural Missouri votes, and not just to rely on St. Louis and Kansas City — advice that McCaskill ignored in her losing 2004 run for governor. McCaskill has spent much of this campaign traveling the center of the state in a campaign RV.
In her victory speech Tuesday, she noted that Akin's concession came based on vote totals from rural regions that didn't yet include St. Louis, which she was expected to easily win later in the night.
"Mom, this one's for you," McCaskill said. "Guess what, Mom: I think we've finally won rural Missouri."
Dine, the Libertarian candidate, drew far more support than expected based on polls and history. That could be a sign of voter dissatisfaction with both McCaskill and Akin, whose favorability ratings stood at just 40 and 28 percent, respectively, in a Post-Dispatch poll late last month.
Libertarians tend to draw more votes from Republicans than Democrats. There were indications that Akin's camp saw that effect coming in the final hours of the campaign, when it ran searing radio commercials about Dine's background.
Jesse Bogan and Georgina Gustin of the Post-Disptach contributed to this report.