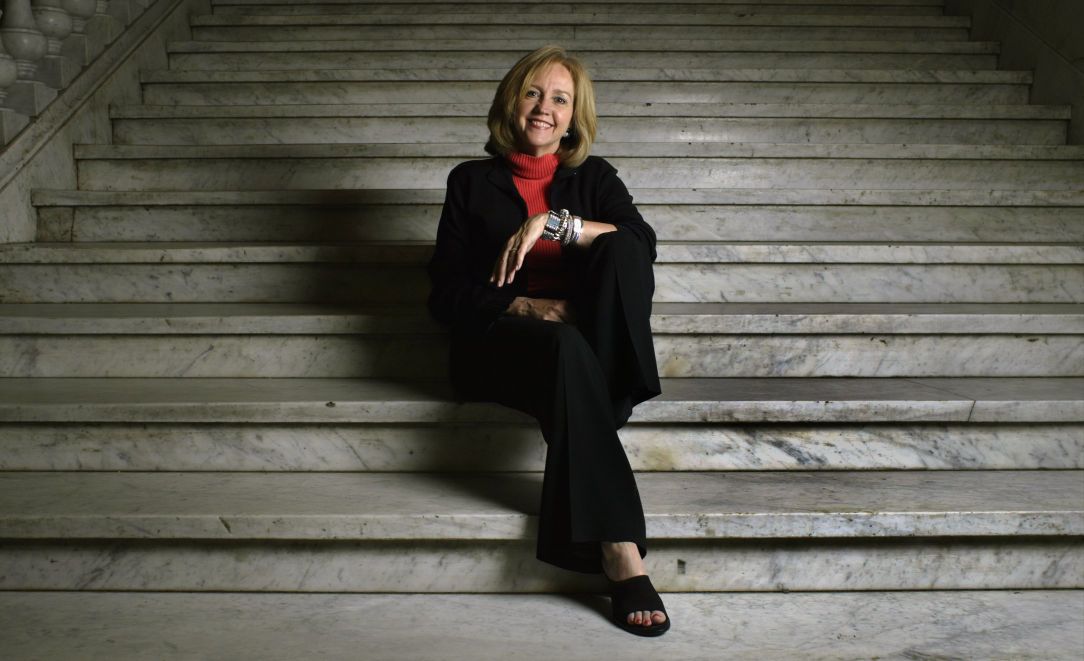 ST. LOUIS • City Alderman Lyda Krewson says she is ready to run for mayor.
Krewson formally announced her campaign Tuesday via an online video, adding a touch of clarity to a Democratic field that's expected to expand following the surprise announcement that four-term Mayor Francis Slay won't seek re-election in 2017.
"I think we need a mayor with integrity, intelligence, experience," Krewson said during an interview Monday with the Post-Dispatch. "Somebody who will do the job with civility, determination, inclusion and fairness."
Her video posted to YouTube included nearly those same words.
Krewson, the chief financial officer of PGAV Architects in downtown St. Louis, has served as the Ward 28 alderman for nearly two decades. The ward spans the city's booming western central corridor neighborhoods, including the Central West End, DeBaliviere Place, Hi Pointe and Skinker DeBaliviere.
Krewson said her top priority, by far, will be public safety.
"I think we need to admit that we have a problem," Krewson said. She said the city needs more police officers on the streets and in the neighborhoods.
Krewson, 63, has a personal experience with the issue. In 1995, her husband was fatally shot during a carjacking in front of their Central West End home on a return trip from Target. Krewson and her two young children, 2-year-old Jack and 5-year-old Taylor, were in the back seat.
"It was 21 years ago," Krewson. "We were all in the car. That certainly changed our life forever."
Krewson stayed in the same house and raised her children. She later married former KSDK (Channel 5) reporter Mike Owens.
Krewson noted there have been about 80 homicides in the city this year and said: "There are a lot of families in St. Louis who have that kind of tragedy in their background. I think about those 80 families more than others might."
In addition to crime, Krewson plans to make two other issues important themes: economic development and modernizing the city's often bureaucratic layers of government.
Krewson said she wants to look outside of the region to lure business to St. Louis. The city and its neighbors have often fought to shuffle corporations around the area, but recently the city and St. Louis County began working on cooperating on development priorities.
Krewson was first elected to the Board of Aldermen in 1997. There, she has established herself has a respected voice, pushing a number of initiatives, including the city's smoking ban, panhandling ordinances, and various business reforms aimed at streamlining government.
In 2002, Krewson lost the Democratic primary for Board of Aldermen president to James Shrewsbury.
In 2017, Krewson will face the board's current president, Lewis Reed, who lost his 2013 bid against Slay for the mayoral office.
Reed and Krewson aren't the only candidates expected to run in the Democratic mayoral primary, which has often served as the de facto general election in the heavily Democratic city. Slay's departure after 16 years has spurred many Democrats to seriously consider their options. While none has announced a run, at least five are considering it: Police Chief Sam Dotson, Treasurer Tishaura Jones, Collector of Revenue Gregory F.X. Daly, Alderman Jeffrey Boyd, Alderman Antonio French and the St. Louis Regional Chamber's Jason Hall.
Krewson lacks the name recognition of some of her potential opponents who hold citywide office. Still, she has been a reliable fundraiser. Krewson had about $226,639 in her aldermanic campaign account, according to the most recent financial disclosure period. Reed has about $129,337.
This summer, she said, she is "going to walk neighborhoods and knock on doors."
"I'm going to walk every area of the city," Krewson said. "North and south, east and west."
Get Government & Politics updates in your inbox!
Stay up-to-date on the latest in local and national government and political topics with our newsletter.