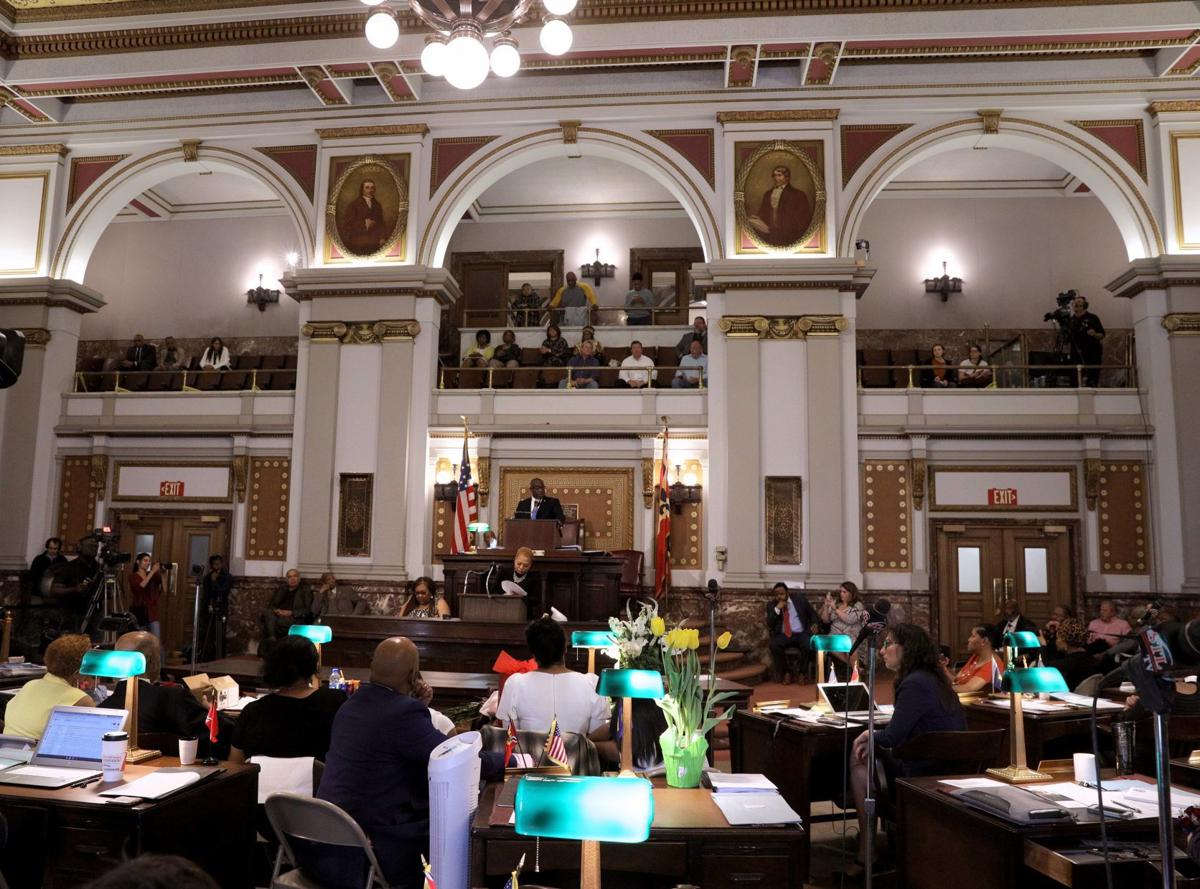 ST. LOUIS — The Board of Aldermen on Friday rejected putting repeal of the residency rule for most city employees before voters next year, dealing a political setback to Mayor Lyda Krewson.
The mayor in recent months has made scrapping the residency rule — especially for the short-staffed police department — a major priority.
The board's 16-11 vote Friday against the proposed city charter amendment was a reversal from its 15-12 vote on July 3 to give the same measure preliminary approval.
Several aldermen said Friday they wanted more time to consider making changes to the proposal, pointing out that sponsors didn't want it to go on the ballot anyway until November 2020.
They also suggested stepped-up efforts to attract more city applicants for certain jobs, including a new round of job fairs.
"I really don't think the city has done its due diligence in advertising for the jobs," Aldermanic President Lewis Reed said in an interview after Friday's session.
Reed was among four aldermen who switched their votes from yes on July 3 to no on Friday. He said it's possible that the board could take up the issue again, perhaps with modifications, in time to qualify for the same 2020 ballot.
That might have to wait until the board's 2020-21 session that begins in April.
Krewson expressed disappointment at the decision.
In a tweet, she said the city is 120 police officers below its authorized strength and also needs mechanics, forestry workers and truck drivers. "Telling employees where they must live is not competitive in hiring," she posted.
Later, in an interview, she added that while not a cure-all, removing the residency requirement would end one "impediment" to getting enough applicants.
In the floor debate, the bill's sponsor, Alderman Carol Howard, D-14th Ward, said the board already had spent more than 18 months working on the issue and now was the time to take a stand.
"It's not just about the police department," she said. "When (applicants) have to make a commitment to move into the city within 90 days, many of them back off and say, 'Never mind, I don't want the job.'"
She added that "when we're going to stay inside the River des Peres (near the city-county line) to hire people, we're really cutting ourselves short."
One of the aldermen who switched sides from yes to no Friday — Jeffrey Boyd, D-22nd Ward — in an interview last week suggested that Krewson and other residency repeal advocates consider a compromise on the issue.
Under such a deal, residency repeal would be placed on the ballot along with a re-vote on reducing the number of wards and aldermen. Voters in 2012 approved a charter amendment cutting the number of wards to 14 from 28; it would kick in before the 2023 city election.
Boyd and other black aldermen have been pushing for another citywide vote on the issue, saying many voters were unaware of its implications.
Krewson and other supporters of ward reduction say the voters have spoken and that the city, which has lost significant population over the past few decades, no longer needs so many aldermen to govern effectively.
The mayor on Friday repeated her disdain for a deal on the two issues. "Quid pro quo is, I don't think, a very good way to do business," she said.
On Friday, all 11 black aldermen present for the vote opposed the residency repeal bill while white aldermen voted 10-5 in favor of the bill.
Ward reduction was hardly mentioned during Friday's debate, with opponents instead focusing on concerns over the effectiveness of efforts to get city residents, particularly African Americans, to apply for jobs.
For example, Alderman Jesse Todd, D-18th Ward, said civil service tests can be unfair and aren't really needed for some jobs.
And Alderman Annie Rice, D-8th Ward, said statistics show that a smaller percentage of black households in the city than white households have access to the internet, where job openings are posted.
Alderman Megan Green, D-15th Ward, said with the legalization of medical marijuana in Missouri and recreational marijuana in nearby Illinois, that drug should no longer be included in drug testing for applicants.
Alderman Brandon Bosley, D-3rd Ward, said he worried that the measure also would allow current city employees to move outside the city and that sales tax revenue could dip as a result.
Howard said there's no easy way to track that and said a majority of city residents in general already commute to jobs outside the city.
Another opponent, Cara Spencer, D-20th Ward, suggested amending Howard's bill to limit repeal of the residency rule only to new hires. Spencer's proposal also called for allowing such waivers only for jobs that couldn't be filled with a city resident within 60 days.
In response, Howard said she didn't want to complicate the ballot proposition "with a lot of extraneous things."
After the measure's defeat, Spencer said she would consider introducing her idea as a separate bill.
Daily updates on the latest news in the St. Louis business community.