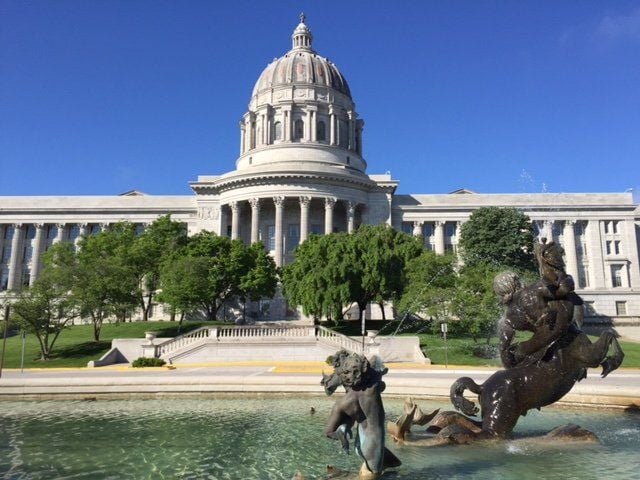 JEFFERSON CITY • After weeks of acrimony — including a 25-hour filibuster last week — senators on Thursday gave final approval to an overhaul of Missouri's utility laws.
The legislation would revamp and streamline how electricity rates are set in Missouri in exchange for a promise from utility companies that they upgrade the state's electrical grid.
Opponents worry the measure takes away oversight power from the state's Public Service Commission, making it easier for monopoly utility companies to raise rates on consumers. Proponents say consumers should expect more predictability in their electrical bills, and add that grid upgrades will spur job growth and improve reliability.
A bipartisan bloc of senators has thwarted similar legislation for years, but opponents relented on Thursday, allowing the measure to advance to the House.
They did not ease up quietly. In addition to their filibuster last week, a vocal minority held the Senate floor for hours on Wednesday even though the final language of the Senate version had already been settled and given first-round approval by the body.
On Thursday, Sen. Rob Schaaf, R-St. Joseph, who opposes the legislation, said that his side accepted a compromise measure last week "under duress."
He said proponents threatened to employ a rare parliamentary maneuver known as the "previous question" to force a vote on a version he did not favor — though Schaaf now believes backers did not have the 18 votes necessary to cut off debate.
"Basically, at that point we had a gun to our head and we had to act based upon the information available to us," Schaaf said.
Sen. Denny Hoskins, R-Warrensburg, said he felt Schaaf's side reneged on its agreement.
"You feel like you were betrayed," he said to Schaaf. "Well, I feel like I was betrayed as well."
Opponents of the legislation stopped stalling on Thursday after one of the opponents, Sen. Gary Romine, R-Farmington, said he was confident the House would be receptive to more tweaks to the proposal.
Senators approved the legislation 25-6, with two Democrats and four Republicans casting "no" votes.
The latest version of the measure caps rate hikes over a five year period to an average of 2.85 percent per year. That's down from a previous level of three percent and was a key factor in the hard-won concessions sought by Romine.
In another concession, the legislation's sponsor, Sen. Ed Emery, R-Lamar, added provisions that he said would reduce electric bills by $100 million this year by giving Ameren a green light to begin taking advantage of the recently approved federal tax cuts.
The legislation also would alter the way Missouri's utility regulators handle cases involving improvements to the grid. Utilities sought a plan that would change the accounting method for upgraded infrastructure so they can recover their investments.
In a statement, Ameren trumpeted the Senate's go-ahead.
"Customers want a state energy policy that makes rates more stable and predictable, while at the same time modernizing our grid by making it more resilient to outages and further protecting Missourians from cyberattacks," said Warren Wood, company vice president of external affairs and communications.
Consumer advocates, meanwhile, remained leery of the proposal.
The measure "makes it easier for monopoly investor-owned utility companies to raise rates and shifts the cost burden from our state's largest energy users to its smallest," said Cara Spencer, executive director of the Consumers Council of Missouri.
Kurt Erickson of the Post-Dispatch contributed to this report.