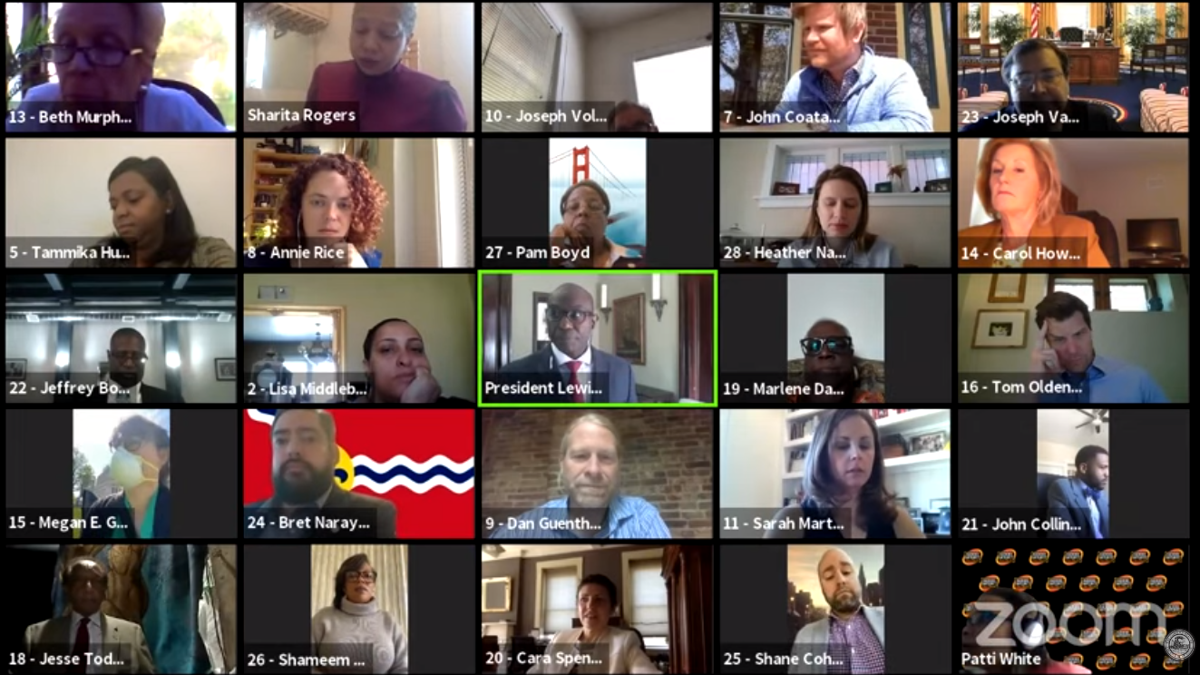 ST. LOUIS — An effort is underway at the Board of Aldermen to press Mayor Lyda Krewson to withdraw the city's 2017 application to federal officials that allowed the city to consider privatizing St. Louis Lambert International Airport.
Alderman Cara Spencer, D-20th Ward, said Friday said she would introduce an aldermanic resolution seeking the withdrawal.
If the mayor withdrew the application, it could blunt the goal of a newly launched petition drive to let city voters decide on the issue at the Nov. 3 election.
A city charter amendment proposed for the ballot this week by the Carpenters Union and the St. Louis chapter of the NAACP would require city officials to again consider privatization, which Krewson dropped last December.
The amendment also would require the city to agree to such a lease if a bidder offered to pay at least $1.7 billion, including $1 billion upfront.
"We should not be playing games with public assets," Spencer, who is running against Krewson in the Democratic mayoral primary next March, said in an interviewafter Friday's Board of Aldermen meeting. "We left it open ... for anybody to grab hold of."
Keeping the application with the Federal Aviation Administration in place, she added, distracts city leaders from serious issues facing the city now.
Krewson has said while she has no intention of restarting the process of considering private bidders to lease all of Lambert, she might keep the FAA application pending to see if there's some way to use it to develop unused airport land. She has yet to take a position on the ballot issue.
Sponsors say the coronavirus-related economic slowdown underscores the need for a major revenue infusion for the city, especially to aid African American neighborhoods hit disproportionately hard.
Spencer attempted to introduce her resolution at Friday's board meeting held by teleconference.
She was blocked by Aldermanic President Lewis Reed because she didn't email a copy to board members until 16 minutes into the meeting without advance warning. He said it's difficult to handle such items as quickly by teleconference.
Spencer noted that when the board meets in person, it's not uncommon to circulate new resolutions while in session.
Spencer, in an interview, accused Reed, who supports keeping the FAA application in place but hasn't taken a position on the petition drive, of delaying her resolution because of its content. Reed denied that and accused Spencer of staging a political stunt.
• The board passed a resolution asking the city Election Board to mail absentee ballot applications for elections this year to every registered voter at least 60 years old, who are at higher risk of contracting COVID-19. St. Louis County did that last month.
• Joe Vaccaro, D-23rd Ward, introduced a resolution urging city elected officials, including aldermen "who are able," and employees earning at least $100,000 annually to voluntarily take a one-week unpaid furlough.
He noted that city budget officials list 15-day furloughs for nonpublic safety workers as an eventual possibility if tax revenue shortfalls become more serious. Before that happens, he said, elected officials should lead by example.
• The board observed a moment of silence for George Floyd, a handcuffed black man whose death in Minneapolis police custody has spurred protests there and in other cities, including St. Louis.
Daily updates on the latest news in the St. Louis business community.