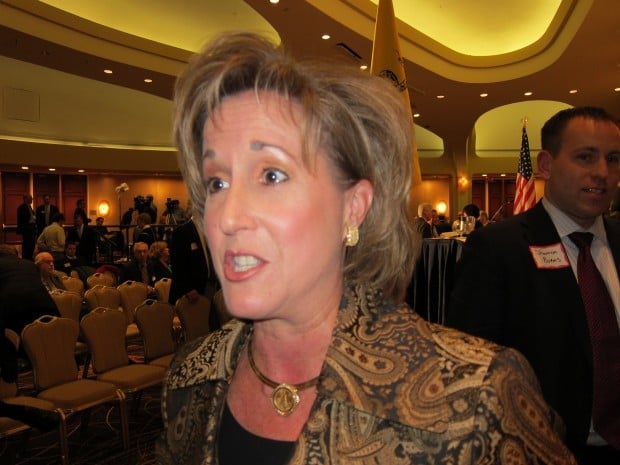 TOWN AND COUNTRY • If you're looking to catch up with Ann Wagner these days, you'd better be flexible.
The veteran Republican activist from St. Louis County — fresh off chairing a grueling Senate campaign that followed four years abroad — is busier than ever, thanks to her latest mission: trying to seize the top spot in the GOP.
In previous years, the fight to become head of the Republican National Committee was of deep interest mainly to political insiders like Wagner.
But the foibles of current Chairman Michael Steele — which include impolitic remarks and a party outing at a West Hollywood bondage club — have thrust the race to replace him into the national spotlight.
For the last two months, Wagner has traveled the country lobbying some of the 168 party officials who will pick the new chairman on Friday.
The campaign has tested her mettle, and not just because she has spent her career helping other people win elections. Selecting a new party chair is the epitome of horse-trading politics. Candidates need not only the support of committee members, but also the tacit approval of donors who fuel party activities. Balloting can last several rounds, allowing plenty of room for deal-making.
Though Wagner is not necessarily the favorite, the RNC chair is a job for which she has been prepping for the last two decades. While rising through the ranks of Republican leadership — from township committeewoman to head of the state party — Wagner's intense style has occasionally inspired fear in her own ranks. But she also has earned respect from across the aisle.
"She would do Missouri proud in that role," said Susan Montee, chair of the Missouri Democratic Party. "I think she would do a really great job, which, from a Democratic perspective, I hate."
Wagner, 48, lives in Ballwin, not far from where her parents operated a pair of carpet stores — Carpetime and the Last Yard — where she worked growing up. Republican principles were instilled at a young age for the former Ann Trousdale.
"I know what government overregulation meant to my father as a small-business owner," Wagner said. "Everything — from taxes to the size of the signs that hang in the front showroom."
Wagner graduated from Cor Jesu Academy, where she continues to serve on the board. She met her husband while he was literally cutting a rug — Ray Wagner worked at her parents' carpet store.
The pair rose to become one of Missouri's most prominent Republican power couples. While it was Ray's career that took them to Jefferson City in the early 1990s — he was an aide to then-Gov. John Ashcroft — Ann got a front-row view of bare-knuckle politics as the state GOP's liaison to the high-stakes redistricting process.
"It was pretty clear in the political world in those early days that she had a talent for it," Ray Wagner, now the government affairs chief for the parent company of Enterprise Rent-A-Car, recalled recently. "The student quickly became the teacher."
She was the state director for President George Bush's re-election campaign and later became the first woman to chair the state party.
In 2004, Wagner was a fundraising "ranger" for President George W. Bush — meaning she bundled $200,000 or more in contributions — a status that helped her land a presidential appointment as U.S. ambassador to Luxembourg.
The Wagner family took full advantage of the trappings of the life of a European diplomat — one of Wagner's sons attended boarding school in London, the other was captain of Luxembourg's under-20 rugby team.
After returning in 2009, Wagner jumped back into Missouri politics. Wagner was chair of Roy Blunt's U.S. Senate campaign, a race he won in November by more than 13 percentage points, a landslide in a state known for close elections.
Campaign chair is often a ceremonial position, but Wagner said she pressed for "full access." Andy Blunt, Blunt's son and campaign manager, insists Wagner was no figurehead.
"She had an office in the campaign headquarters. She used it," Andy Blunt said. "Ann Wagner kept us on message and kept reminding us what the election was about."
Now in her own race, Wagner continues to enforce message discipline. Supporters used the identical phrase to describe her: the "complete package." Even her page on Wikipedia — the online encyclopedia that anyone can edit — has been given a face-lift. The entry is now flattering enough that it has been flagged for being "written like an advertisement."
Wagner has taken a methodical approach to her RNC campaign, toting a coffee-stained, dog-eared roster of committee members with codes like "AS" — anti-Steele — next to their name.
In an interview at her daughter's swim meet last month, Wagner made clear her own opposition to Steele's bid for another term.
"He's taking a dive," Wagner said about Steele, after an actual diver jumped into the pool at the Principia School.
Steele's critics say he has generated too much attention for himself during his two years as chairman, straying from the core party functions of fundraising and winning elections.
"They've had enough drama over the last two years," Wagner said. "We shouldn't be showing off the chairman of the Republican National Committee. We should be showing off our nominees for president."
Even so, Wagner has plenty of drive herself. Her competitive nature comes through whether she is talking about her daughter's swim results or her own high school activities, such as starring in several musicals.
"I usually had the lead, except for 'The Sound of Music,' because I was just a freshman," Wagner said.
As a political operative, Wagner is known more for results than conviviality. Republican Catherine Hanaway, a former U.S. attorney and Missouri House speaker, said Wagner "expects excellence but rewards it with loyalty." Hanaway recalls her own once-chilly relationship with Wagner that culminated in "a lunch that was very much like the U.S. and Russian detente."
Wagner — whom Hanaway now considers a close friend — has been known to buttonhole junior staffers who, for instance, don't understand the nuances of ensuring their candidate works a room properly.
"Let's just say if you have one of those conversations, you will remember it," Hanaway said. "They are very memorable."
Wagner's campaign has nabbed endorsements from committee members in Oklahoma, Tennessee and Louisiana, among others. Those handicapping the race put Wagner at second or third, behind Reince Priebus, chairman of the Wisconsin Republican Party.
Still, the nature of the voting process — multiple ballots are drawn until one candidate reaches 85 votes — means a consensus can easily emerge around an underdog.
If Wagner wins, she will be the second major party chair with Missouri ties. The head of the Democratic National Committee, Tim Kaine, grew up in Kansas City and, like Wagner, attended the University of Missouri-Columbia.
Kaine left Missouri, however, for Virginia, where he later became governor. Wagner said even if she moved to Washington to run the RNC as the party prepares for the next presidential election, St. Louis will always be her home.
"I don't want to do this forever," Wagner said. "I want to win in 2012, then I want to come home to Missouri, which I love."
Get Government & Politics updates in your inbox!
Stay up-to-date on the latest in local and national government and political topics with our newsletter.