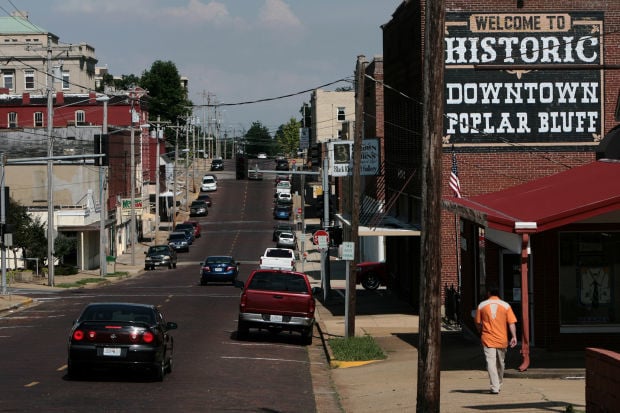 JEFFERSON CITY • Hardy Billington does not like homosexuality. A blurb promoting his 2006 book called legalizing same-sex marriage an "outrage." He has asserted that homosexual "lifestyles" kill people at a higher rate than smoking tobacco.
In 2012, Billington bought a newspaper ad in support of an effort to ban the mention of homosexuality in public schools.
Now, Billington, 65, is running to represent Poplar Bluff in the Missouri House.
Search the voters guide by address to see what will be on your ballot.
If Billington wins in November, no one will be surprised. Four-fifths of the voters in Butler County cast ballots for Donald Trump. No Republicans are challenging Billington, a longtime local GOP politico. He has a towering cash advantage over his apparent Democratic opponent, Robert L. Smith, a former circuit judge and assistant prosecutor in Butler County.
Smith, 68, said he signed up to run because he could not let Billington win office unopposed. The winner in November will replace House Speaker Todd Richardson, R-Poplar Bluff, who is term-limited.
"I've known Hardy for 30 years, and I knew he had published those ads," Smith said. "I don't think it's right to discriminate against people because of who they are."
It is unclear if opposition to Billington's views will register in this deep-red district. But evolving public opinion on gay rights could nonetheless keep him out of the mainstream in the Missouri Legislature as younger voters fill the electorate.
"I don't believe someone with such hateful and ignorant views should be an elected official," said Brett Keele, 17, a volunteer for local Democrats.
Billington did not return multiple calls for this article.
"He's not afraid to let anybody know that that's his position, his personal conviction," said Thomas W. GrahamJr., Billington's campaign treasurer. "That doesn't mean that he has any animosity towards somebody that doesn't hold that conviction."
In May 2012, Billington took out an advertisement in the Daily American Republic, Poplar Bluff's local newspaper.
In it, he advocated for the passage of House Bill 2051, the "Don't Say Gay" measure Missouri legislators were considering at the time. The 37-word bill would have banned the mention of sexual orientation in public school classrooms except in scientific contexts.
"We are encouraging and affirming individuals into the 'gay' lifestyle," Billington wrote. "If you truly love someone, you would steer them away from self-destructive behaviors, shouldn't you? Homosexuals need our tough love, not blind love."
He also said that "study after study" showed that homosexuality can take up to 30 years off of someone's life, "yet nobody seems to care."
Dr. Fred Rottnek, director of community medicine at the St.Louis University School of Medicine, called that claim "pretty spurious."
Politifact said Virginia Delegate Bob Marshall used an outdated study to back up his claims. The 1997 study, published in the International Journal of Epidemeology, studied gay and bisexual men in Vancouver between 1987 and 1992.
Researchers found that at the time, the life expectancy of a 20-year-old gay or bisexual male was eight to 21 years less than all males in that city.
Researchers have said advancements in treatment and public health mean deaths due to HIV have fallen precipitously since the 1990s.
And though Marshall said gay men face other increased health risks — including suicide and certain cancers — Politifact said none of the studies Marshall cited "focused on the life expectancy of homosexuals, and they certainly didn't conclude that gays die about 20 years earlier than heterosexuals."
"What might take years off of peoples' lives are young people growing up in communities where they hear this (rhetoric) spouted from people of authority," said Rep. Greg Razer, an openly gay Kansas City Democrat who grew up in the southeast Missouri town of Cooter. "Those teenagers then commit suicide, that's how years come off your life."
Gay rights have been a potent political issue in Missouri for years. In 2004, 70 percent of Missouri voters embedded a ban on same-sex marriage in the state constitution. Public opinion is shifting, however.
The Pew Research Center last year said a record 62 percent of Americans supported same-sex marriage, which the U.S. Supreme Court legalized nationwide three summers ago.
The polling also showed differences between generations, with 74 percent of millenials favoring same-sex marriage compared to 56 percent of baby boomers and 41 percent of the silent generation, those born between 1928 and 1945.
For the first time, Republicans polled split evenly on the issue. Forty-seven percent of Republicans and Republican-leaning voters supported same-sex marriage, while 48 percent of that subset opposed same-sex marriage.
Rep. Kevin Engler, R-Farmington, began serving in the Legislature in 2003, and he said he has seen generational turnover and a cultural shift within the Capitol's halls.
"There's still a lot of people (in the Legislature) that don't want to recognize the rights of the LGBT community," Engler said, but, he said there is a popular view, especially by younger lawmakers, that "someone should not be able to be fired strictly because of their sexual orientation."
Despite years of effort to the contrary, that is legal in Missouri.
Rep. Tom Hannegan, an openly gay Republican from St. Charles, said that members of his own party have said some "not-so-good things" about homosexuality since he took office last year.
"It's unfortunate that people have these views," Hannegan said, "and all I can do is offer a different perspective."