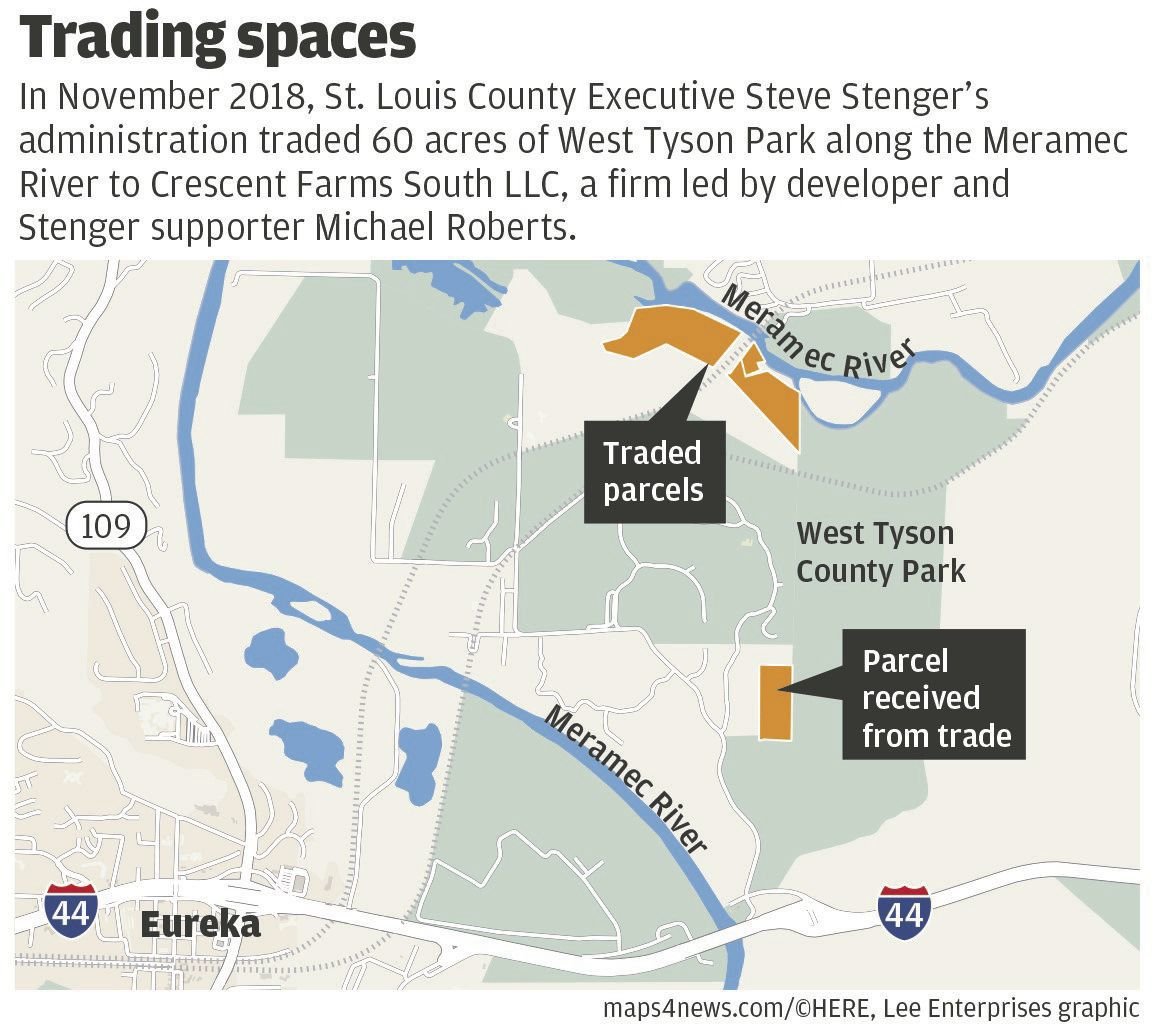 CLAYTON — St. Louis County officials say taxpayers got a raw deal in a land swap with a big contributor to former County Executive Steve Stenger's campaign last year, and now they want to reverse that agreement.
But the donor, developer Michael Roberts, said he disagreed with the county's claim and had no intention of trading back.
At issue is 60 acres of West Tyson Park, near Eureka, which the county traded in November 2018 to a company owned by Roberts, Crescent Farms South LLC. In exchange, the county got 15 acres nearby. Roberts donated at least $43,000 to Stenger's campaign through companies affiliated with him but has said he did not do so in exchange for any favors from Stenger.
Roberts has insisted that the county came out on top in the land swap. He said the 60 acres he received can't be developed and are worth about $2,000 per acre, or $120,000. He said on Friday the property is of value to him because it adds green space to his 10,000-square-foot colonial mansion on Lewis Road.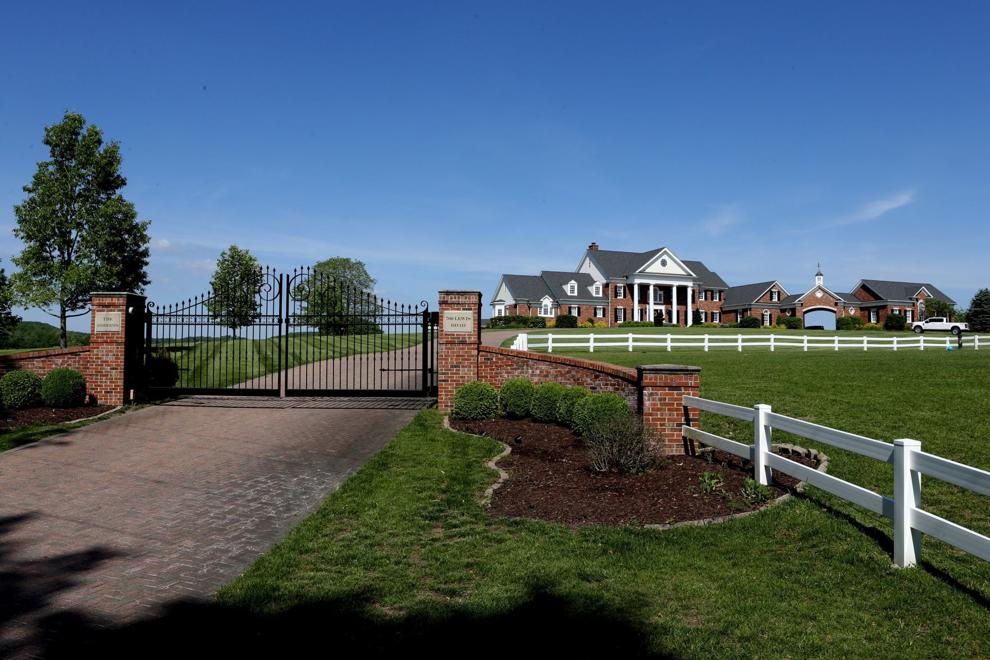 He said the 15 acres he traded to the county are worth about $450,000, are not in a flood plain and can be developed.
But appraisals ordered by the county said it was Roberts who came away with the more valuable property. Sutton Realty Co. of Des Peres found the parcel Roberts received to be worth $22,500 per acre, or $1.37 million, while the parcel deeded to the county was worth $37,333 per acre, or $560,000. The difference is $810,000.
The land swap was made possible by an ordinance approved in 2016, which allowed Crescent Farms South to lease the county property and vice versa. A clause at the end said the parcels could be exchanged two years after the lease agreement was signed. Stenger signed the lease on April 5, 2016. Three days later, according to Stenger's campaign finance report, one of Roberts' companies donated $10,000 to his campaign.
Asked if his donation was in exchange for the lease, Roberts said Friday, "Absolutely, positively, 100% no. We never discussed anything like that." He said he was unaware that the donation was made three days after Stenger signed the lease.
The land swap occurred on Nov. 2, 2018, a few days before county voters approved a proposition requiring a public vote before county-owned parkland could be sold. The proposition was in response to the Stenger administration's attempt in 2016 and 2017 to build an ice rink complex for the St. Louis Blues — whose owners also donated to Stenger — in Creve Coeur Lake Memorial Park.
Doug Moore, a spokesman for County Executive Sam Page, said on Friday that Page's staff had compiled a list of contracts under Stenger that seemed to favor his donors. The list also included the county's 20-year lease for office space at the former Northwest Plaza shopping center in St. Ann, which the County Council has said it has the authority to void because its owners gave $365,000 to Stenger.
But Moore said the county executive's office was not ready to share the list and officials were still evaluating what recourse the county had to undo them.
St. Louis County Counselor Beth Orwick said in a statement: "We've identified several insider deals where Stenger's campaign contributors benefited to the taxpayers' detriment. On its face, this land exchange seems like one. Unwinding it seems like the right thing to do. We hope Roberts agrees."
Roberts said Friday he wasn't going to trade back. He said, "I'm happy where I am."
He said he strongly disagreed with the county's appraisal of the property he obtained, which has been under flood water several times in recent years. He said it was a "worthless appraisal" and "wasn't worth the paper it was printed on" because it used a few developable properties that were not in a flood plain as comps on which to determine a value.
He also said it wasn't fair the county hired a company owned by Emerson Sutton Jr., who serves on the three-member St. Louis County Board of Equalization that rules on taxpayer disputes with the county assessor over property value.
Sutton was appointed by Stenger to the board in March 2015 and is serving on a term that expired in 2016. He said Friday he could not discuss the appraisals without the permission of his client, the county. And he said he was not authorized to speak about his work on the equalization board.
Moore, the spokesman for Page, said the county parks department used a list of state-approved appraisers. Of the seven contacted, three provided bids. Of those three companies, Sutton's bid of $1,900 was significantly lower than the other two, Moore said.
"Taxpayers deserve professional answers," Moore said. "The professional appraisal the county obtained stands up well against Mr. Roberts' guess."