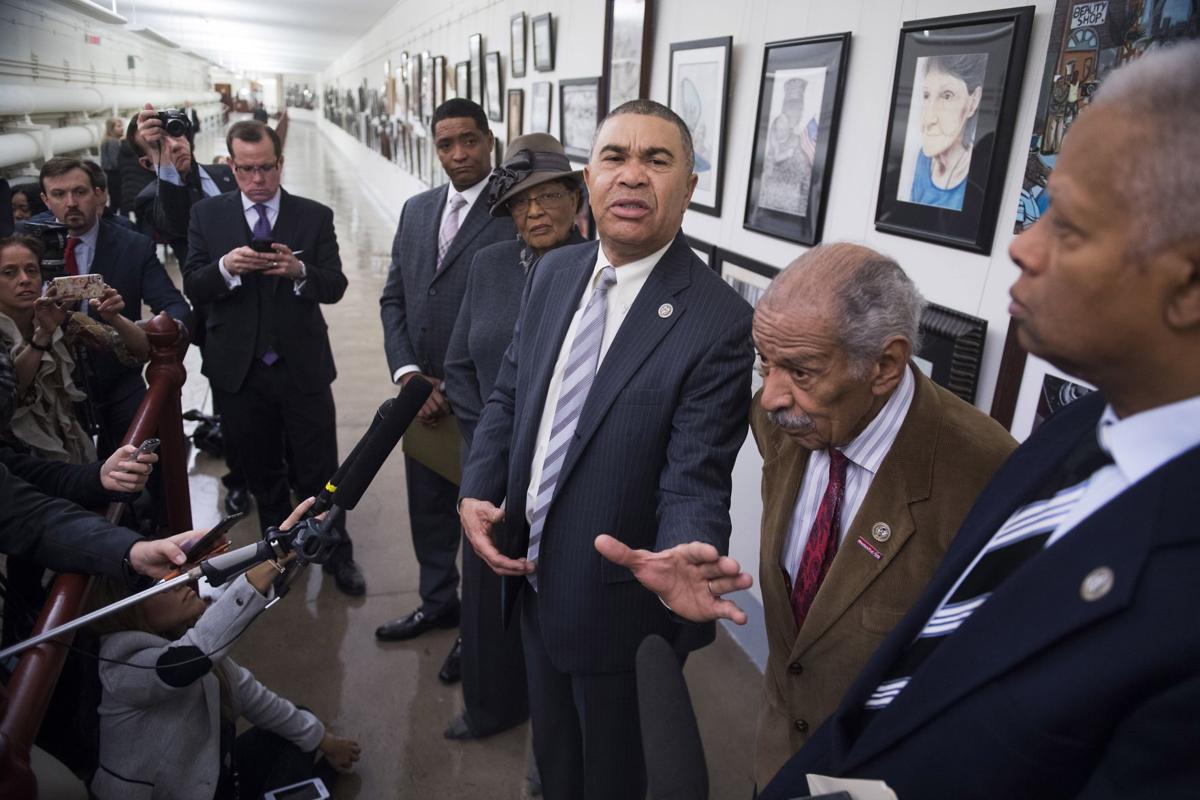 WASHINGTON • The Architect of the Capitol's office plans to remove the controversial painting by a St. Louis high school student on Tuesday after determining its content violated the guidelines of an art competition, even though it had hung on a Capitol wall for six months.
A spokesman for Rep. William Lacy Clay, D-St. Louis, whose art competition last spring chose the painting to hang along with 400 other contest winners, said he was unavailable for comment.
A spokeswoman for Rep. Dave Reichert, R-Wash., said Friday evening that her boss had been informed that the architect's office determined the painting violated the rules of the congressional art competition. Reichert's office had asked the Architect of the Capitol for a decision.
Most members of the House have annual contests in which the winning art piece is displayed in a tunnel between the Capitol and congressional office buildings. The contest rules say, in part: "Artwork must adhere to the policy of the House Office Building Commission. In accordance with this policy, exhibits depicting subjects of contemporary political controversy or a sensationalistic or gruesome nature are not allowed."
Monday is a federal holiday, meaning the next workday in the Capitol will be Tuesday.
The painting by former Cardinal Ritter Prep senior David Pulphus has created a controversy involving First Amendment, policing, the death of young black men and congressional authority.
Critics say it depicts police officers as pigs and distorts the facts of the police shooting death of Michael Brown in Ferguson, and should be taken down. Clay and other defenders say that it is a legitimate First Amendment expression of a young black man who grew up amid high-profile cases of young black men killed by police and that the Capitol should be the last place where that expression is censored.
Reichert issued this statement after being informed of the decision by House Speaker Paul Ryan:
"The Congressional Art Competition is an opportunity to celebrate the creativity of students in every corner of our country – and visitors from around the world see their talents on display when they walk through the halls of our Capitol.
"However, with any competition there are rules, and these rules exist for a reason. This painting hung in clear defiance to those rules and was a slap in the face to the countless men and women who put their lives on the line everyday on behalf of our safety and freedom."
The painting hung for months until a conservative Internet site wrote about it and a FOX News host pushed for it to be removed. Several Republicans in Congress separately removed it from the wall and dropped it off at Clay's office, and Clay would return it every time.
In an op-ed in the Post-Dispatch, St. Louis freelance writer Etefia Umana and Pulphus said that critics in Congress had misplaced anger and that they should be more concerned about the issues that led Pulphus to paint what he did.
"David's only comment is, 'The art speaks for itself,'" the op-ed said. "It has spoken loudly."