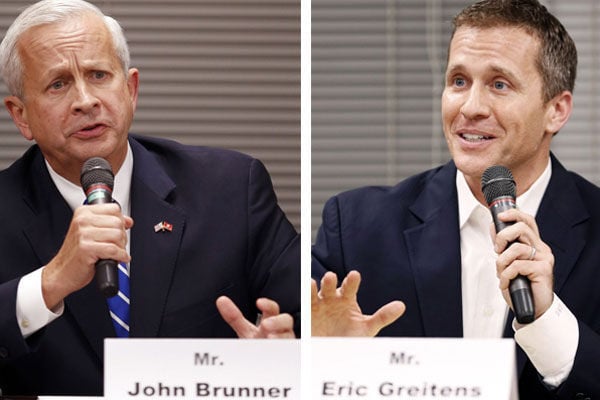 ST. LOUIS • Both the federal government and the state of Missouri require that when entities spend money to support or oppose political candidates, they must reveal where that money came from.
Yet the funding source for a federal political action committee set up to attack Missouri gubernatorial candidate Eric Greitens remains a mystery in both Jefferson City and Washington, thanks to some creative use of the rules.
In essence, the super PAC has avoided Missouri campaign disclosure requirements by filing with the federal system instead — and has effectively circumvented federal disclosure requirements by running all its money through a nonprofit corporation listed at the same address as the founder of the super PAC.
It's unclear whether the super PAC has broken any law. But it has definitely highlighted gaping loopholes in both the state and federal campaign finance systems.
"They're gaming the disclosure laws" to hide the sources of their money, said Brendan Fischer, association counsel at the Campaign Legal Center, a Washington-based nonpartisan reform group.
Missouri regulators have left the issue in the hands of the Federal Election Commission, which in turn "has been asleep at the switch," said Fischer. "They have consistently declined to enforce the law."
The super PAC, a Virginia-based entity with the ubervague name Patriots for America, has been at the heart of a longstanding grudge match between Greitens and businessman John Brunner. Both are seeking Missouri's Republican nomination for governor this year, along with former Missouri House Speaker Catherine Hanaway and Lt. Gov. Peter Kinder.
Patriots for America was set up in November by Adam McLain, a former Brunner campaign staffer. The super PAC also has apparent connections to Brunner's former campaign chief of staff, Paul Holzer, a Post-Dispatch inquiry found this week.
Still, McLain has insisted the super PAC is his own venture, with no ties to the Brunner campaign. As such, it's allowed to raise unlimited money, as long as there's no coordination with any candidate.
The super PAC has been aggressive in attacking Greitens, to the point that Greitens complained bitterly to Brunner in a telephone confrontation last year that Brunner secretly recorded, and which was later publicized.
Yet there is no record of Patriots for America in Missouri's campaign disclosure system, where political campaigns operating in the state are supposed to divulge the sources of their funding and how their money is being spent.
One potential defense for that lapse is the fact that the super PAC has filed disclosure forms with the FEC. "It's possible" that could legally relieve the PAC of the responsibility of filing in Missouri, said Liz Ziegler, general counsel for the Missouri Ethics Commission.
So those federal filings would answer the funding questions that aren't getting answered in Missouri, right?
According to Patriots for America's federal filing, its sole monetary donor is a recently formed nonprofit corporation called Franklin & Lee, which contributed more than $84,000 in January and February.
And where did Franklin & Lee get that money? No one knows. As a nonprofit, it isn't required to divulge its donors in the way that a super PAC is.
Little information is available about Franklin & Lee. But its mailing address in the tiny town of Paquoson, Va., is the same as one of the listed addresses for McLain, the former Brunner staffer who set up the Patriots for America super PAC, according to campaign records.
McLain also shares an address with the super PAC itself — in the same town as the nonprofit, about four blocks away, according to a Paquoson map.
McLain didn't return emails seeking comment this week.
When a reporter called the Boston attorney listed on Patriots for America's documentation to ask if anyone else could speak for the super PAC, the attorney's office referred questions to Holzer, Brunner's former campaign chief of staff. Someone answering Holzer's phone Friday said he was unavailable, and hung up.
Despite the involvement of its two former staffers, Brunner's campaign has repeatedly denied it has any connection with the super PAC. A Brunner spokesman didn't respond to multiple messages seeking comment for this article last week.
Since the U.S. Supreme Court's 2010 Citizens United ruling that unleashed corporate political spending, reformers say it's become common for super PACs to game the rules in various ways to make the money harder to follow.
Fischer, of the Campaign Legal Center, said one unusual aspect of the Missouri situation is that the super PAC in question chose to file as a federal committee, even though its operational focus is on a state gubernatorial candidate.
He suggested that is a testament to the FEC's reputation for lax enforcement — that the super PAC's organizers may have felt that even Missouri, known nationally for its refusal to impose ethics standards on campaigns, would subject them to more scrutiny than the FEC would.
"The Missouri Ethics Commission has deferred their responsibility to the FEC," said Fischer, " ... and the FEC is not going to enforce the law."