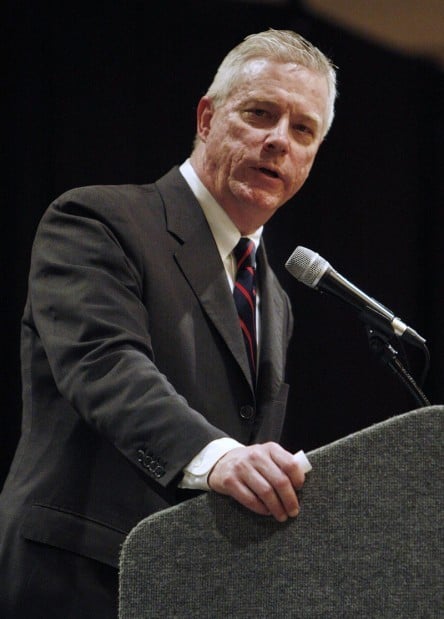 ST. LOUIS • Missouri Lt. Gov. Peter Kinder now says his campaign will repay the state for $35,050 in hotel bills following a story in the Post-Dispatch that revealed taxpayers picked up his tab while he attended sporting events, society galas and Tea Party rallies in and around St. Louis.
"We're voluntarily making this payment. It is not required by law," Kinder said in a press conference. "I want to go beyond what is required to put this behind me.
"I seek to move this nimbus off the horizon, and let's get to the real issues that concern this state."
Kinder said he has directed the state to use half of the money to support school dropout prevention programs, and the other half to supplement funding to a mentoring program for children with incarcerated parents. It will be at the Legislature's discretion to honor that request, or not.
The newspaper reported Sunday that Kinder — a Republican widely expected to run for governor next year — spent an average of more than one night per week over the last five years at a hotel in St. Louis or St. Louis County courtesy of state taxpayers, far more than any other statewide elected official. The stays cost taxpayers $35,050 over that period.
Kinder told reporters today that he "will never apologize" for those trips to St. Louis, and said the check he will write to the state next week from his campaign coffers is not an indication of wrongdoing.
On the contrary, Kinder maintained that all of his publicly funded travel was in the direct interest of his government duties. Furthermore, he assured reporters that none of the trips were made primarily for campaign purposes.
"We had a strict rule," Kinder said.
During the press conference, though, the Missouri Democratic Party released a statement that said Kinder emceed a political fundraiser for Auditor Tom Schweich during one of Kinder's taxpayer-funded stays in St. Louis. Kinder's office confirmed that he attended that event, but said the lieutenant governor also attended an event at the St. Ambrose Parish Festival earlier that day, as well as a breakfast meeting regarding urban issues the next morning.
During the press conference, Kinder said "after-hours functions" were not uncommon when his travel was "otherwise official business."
Bill Kenney, Kinder's chief of staff, added that the lieutenant governor's official schedule goes into greater detail and lists more events than do expense reports and invoices. However, Kenney said, the state Office of Administration has lost all records of Kinder's calendars prior to June 2009.
Now, Democrats are calling for additional review of Kinder's expenditures, though the lieutenant governor maintains that two separate state audits should suffice.
In a written statement, Matt Teter, the executive director of the Missouri Democratic Party, countered, "Now that Peter Kinder has admitted to defrauding the taxpayers of Missouri, it's time for a serious independent review."
On Monday, Kinder said in a radio interview that he would use a condominium paid for by his campaign during future stays his official business in the St. Louis area. The two-bedroom condo is in Richmond Heights and also will be used for campaign staffers, a campaign spokesman said.
"It's a little bit more expensive than I can afford, but we have decided to put this behind us," Kinder said on KFTK-97.1 FM.
Kinder said the lease was signed last week, as the newspaper prepared to publish the story.
"I may be in St. Louis more," Kinder said on the radio. "It's the economic engine of our state."
Since 2006, Kinder has spent more than 300 nights in and around St. Louis, including many at the Chase Park Plaza and Four Seasons at the Lumière Casino, at the expense of taxpayers. Kinder billed the state while he went to charity balls hosted by campaign contributors, a World Series party and the wedding of a political friend.
On three occasions, Kinder charged the state to attend Tea Party events — including one where he was introduced as "our next governor." Footage from another event Kinder charged taxpayers to attend is posted on his campaign website.
Public employees are prohibited from using state resources for personal or political purposes. According to Missouri regulations, the state government will foot the bill for travel only if "limited to those expenses authorized and essential for transacting official business of the state."
While Kinder enjoyed a government discount — usually around $120 — he had far more stays than any other statewide elected official.
Missouri Attorney General Chris Koster, for instance, has 29 hotel stays in Missouri since 2009 — including eight while he was trying a murder case in Kansas City. In that same time, Kinder had more than 150 hotel stays in the state.
The state Democratic Party on Monday called on Kinder to release more details about his travel schedule and reimburse the state for trips that were not related to state business.
"Peter Kinder is asking Missouri taxpayers to pay for his odd and extravagant lifestyle," Teter, executive director of the state Democratic Party, said in a statement. "Peter Kinder can live the high-life in luxury hotels and casinos if he wants, but when he asks Missouri taxpayers to pick up the bill, it becomes an issue of very serious public concern."
Kinder had refused to speak to the Post-Dispatch about his travel bills. Last week, he hung up the phone on a reporter attempting to ask about his hotel stays. Kinder did not respond to a message left on his phone Monday.
However, in a round of interviews with conservative radio hosts, Kinder defended use of taxpayer resources, citing two reviews of his office by former state Auditor Susan Montee, now the chairman of the state Democratic Party.
"Reporters ought to ask her about her audit," Kinder said on the Jamie Allman show on KFTK (97.1 FM).
One of Montee's audits, in 2007, faulted Kinder for using his state-owned vehicle for personal use.
Kinder at the time said he was following the advice of the Office of Administration, which — incorrectly, Montee suggested — said Kinder could reimburse the state for nonofficial travel in his state car.
Last year, another audit from Montee's office criticized Kinder for "numerous mathematical errors and inconsistencies" in leave and compensation time records, as well as lack of independent approval when inputting purchases into the state's accounting system.